Microsoft is betting big with their first hardware on the market and they are getting success. Microsoft Surface RT was sold out after just weeks available and it is now listed as out of stock on Microsoft's website.
This is not a big surprise if we look at how they have been investing in marketing and particularly, the new innovations in design and user experience. The impressive reviews from consumers are consolidating the success of Surface RT. However, many people still decide not to go with this tablet/netbook because they are not interested in limitations of the RT environment. The upcoming Microsoft Surface Pro is much more anticipated because it will bring consumers a complete Windows 8 Pro experience.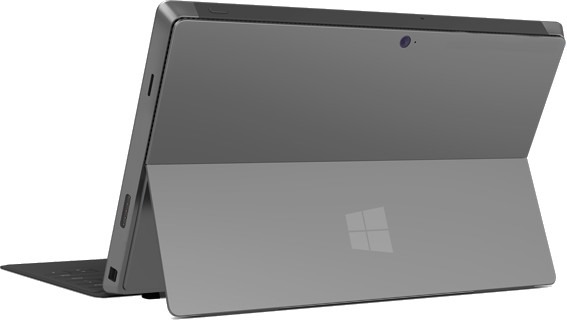 Read also: Microsoft Surface RT vs Surface Pro
Microsoft Surface Pro runs on the Windows 8 Pro, not the scaled down version like on Surface RT. Therefore, you can run almost all apps/software you installed on Windows 7. This is the most obvious difference compared to the Surface RT. In addition, the Pro version has a higher resolution screen, better battery life, 4GB RAM (2GB RAM more than on Surface RT), the storage is also bigger at 64GB and 128GB. In terms of design, Surface Pro a bit thicker than the RT version, and also heavier. Another notable difference is that the Surface Pro comes with a Stylus and its processor is also much more powerful with the Intel Core i5 processor.
The Surface Pro is expected to hit shelves in January 2013. Recently, a German retailer allowed consumers to pre-order this device and they are listing it at $1,035D for 64GB and $1,163 for 128GB edition. The prices have already include Value Added Tax. It is also showing that delivery date is around 3-4 weeks, so it even could be released in the holiday season, which is pretty great news for Microsoft fans.
The price in the U.S. will be absolutely lower and I would suggest the price of $899 for 64GB version, $999 for the 64GB edition with Touch Cover and $1099 for the 128GB.
Update: Microsoft confirmed that Surface with Windows 8 Pro will be available at the end of January 2013. It will come in two editions, the 64GB standalone version will be priced at $899 and the 128GB standalone version at $999.
The device packs the powerful Intel's next generation Core i5 processor, giving a graphics boost for its 10.6-inch 16:9 ClearType display that runs at a 1920 x 1080 full HD resolution.
Notably, the Surface Pro will  include a Surface pen with Palm Block technology. The technology helps us write and take note easily on the screen without worrying that we can accidently place palm on the screen. And of course, you still can use the Touch Cover or Type Cover but they will be sold separately.
What are your thoughts about the pricing? Is it competitive enough to compete with tablets like Apple iPad, Google Nexus 10 or other Windows 8 devices like Samsung ATIV Smart PC and Lenovo IdeaPad Yoga 13?
Disclosure: As an Amazon Associate, I earn from qualifying purchases. The commission help keep the rest of my content free, so thank you!