LG finally graduated from its run of the mill mid-range Smartphones with its Optimus 4X HD, which is the Korean company's first ever quad-core venture. Unveiled at the Mobile World Congress in Barcelona in end-February, the LG Optimus 4X HD was launched along with the 'phablet' Optimus 3D Max. Despite its more conventional build, 4X is every bit as impressive as the latter and has been capturing the imagination of Smartphone users ever since. Judging by its success in US and Europe, it's safe to say that LG has finally arrived.
Design & Hardware
To start off, it has a 4.7 inch display, fit snugly in a 5.21" tall and 2.68" wide body. Even in dimension, it is at par with the likes of HTC One X and Samsung Galaxy S III. But its generous body is by no means cumbersome, that's to the 8.89mm thickness which makes it easy to hold. The back cover has a somewhat woody look, even though it feels like plastic. The single volume button is camouflaged well in the silver stripes on the left edge, the 3.5mm jack is on top beside the power button while the Micro USB port on the bottom edge of the handset.
Display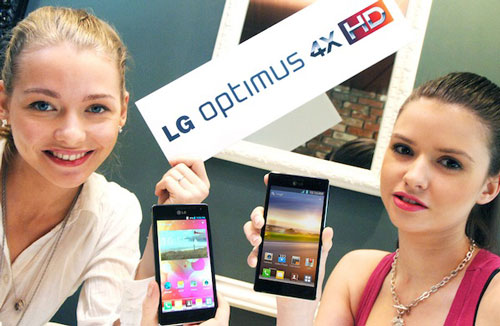 The 4.7 HD IPS display with a resolution of 1280 x 720p looks brilliant but from a big TV manufacturer like LG, that is perhaps expected. The IPS display does afford bright contrast or vibrancy of the Super LCD of Evo 4G LTE or One X, but it is not poor by any means. It accommodates wide viewing angles and all the colors look good. As it uses RGB layout instead of PenTile and a pixel density of 312 PPI, the pixels are not noticeable. There is no problem in viewing the screen in sunlight either. The Gorilla Glass cover is a necessary addition, but a thick black stripe on the edge of the bezel makes it look like there is an unnecessary gap between the contents of the screen and your finger.
Software & performance
After rolling out handset after handset equipped with Gingerbread, LG has finally incorporated Android Ice Cream Sandwich into the LG Optimus 4X HD. It works smoothly with LG's UI because LG seems to have given the OS some customizations. The default homescreen does not do the advanced OS justice with a dock of four cartoonish icons. However, the app drawer looks pretty much like the stock version, which is pretty fantastic. The customized icons and LG's forced white skin don't look good to a lot of users, but you can easily change it.
Optimus 4X HD has a quad-core NVIDIA Tegra 3 processor clocked at 1.5GHz, which catapults it to the hall of fame of advanced Smartphones. With 1 GB of RAM, the processor not only acts as a perfect platform for Android ICS, but is perfect for gaming as well. The battery is quite good too, lasting a day with constant internet use and a few phones calls.
Camera
The phone has an off center 8-megapixel camera on the back. It has great solid color accuracy and dynamic range, which makes it better than a lot of other high-end phones' cameras. There is room for improvement, though; especially in the focus department. As a result, even under bright light, the photos look mellow. There is a 1.3-megapixel front snapper for video chatting. The camera lets you shoot videos of 1080p resolution, but the outcome is not as impressive as the specification. It has the same problem with focus. The 'autofocus' shakes up the image too much for our liking. There are some effects to play with, but it can hardly hide the mediocre video shooting performance.
Can Optimus 4X HD compete with the Galaxy S III
For now, LG Optimus 4D HD's greatest competitor is Samsung Galaxy S III, both releasing around the same time. In terms of the design, both look clean and stylish and scales can tip either way if only looks were to be considered. In display, Optimus 4X HD uses 'true HD', while Galaxy S III has AMOLED display- in this respect, S III's richer and fuller color dominates. Both have similar camera specifications, even though S III has 1.9MP front snapper (compared to 1.3MP of 4X HD); but in terms of true assessment that hardly matters. Both run on Android ICS, but the UI makes all the difference; while Samsung's TouchWiz is good, LG uses a much easier and smoother Optimus 3.0. In terms of performance, both are well poised and almost equally fast. All that being said, 4X is well equipped to give Galaxy S III a run of its money.
Disclosure: We might earn commission from qualifying purchases. The commission help keep the rest of my content free, so thank you!