Are you a gadget freak? Lenovo helps calm your mind with the launch of the superb successor of ThinkPad X1 – here comes ThinkPad X1 Carbon with its demanding features and ultra-thin look. Previously no company had come up with any model to compete with Apple's MacBook Air. Lenovo, with its ThinkPad X1, was among the first Windows laptop producers to take directly on MacBook Air. With the launch of ThinkPad X1 Carbon, Lenovo keeps up to their promise of making the world's lightest laptop – the thinnest Ultrabook.
Lenovo Thinkpad X1 Carbon – The Look
With a dashing black matte exterior, Lenovo ThinkPad X1 Carbon looks quite sophisticated. The front, unlike other laptops is tapered not to a curved but sharp edges. There are very few vents and grills to distract your view from the smooth black body. The designs are minimum too, and this perhaps gives the laptop and clean and structured outlook. You can feel its extremely light weight when you take this laptop in your hand. ThinkPad X1 Carbon has a latch-free carbon fiber lid which contributes to its light weight and can be operated very smoothly. One amazing feature of this laptop is that, the screen can be pushed behind almost 180 degrees, which means it can lie almost flat like a book!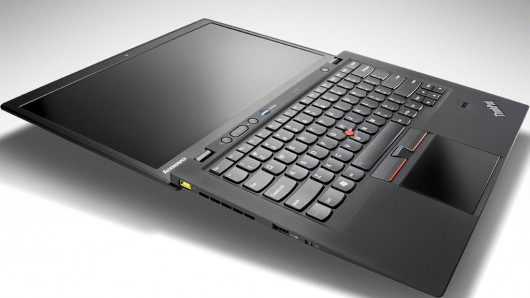 The Screen, Keypad and Trackpad
With a giant screen of 14 inches, this ultra thin ultrabook is sure to create a roar when it comes to the market. The screen does not have a glossy coating enabling it to be viewed properly indoors as well as outdoors. Gone are the days of using the traditional broad keys; the island-style keypad rules the laptops these days and ThinkPad X1 Carbon is designed with the same arrangement.
The keys of Lenevo ThinkPad X1 Carbon do not jump on to each other so it is very comfortable using it. X1 Carbon had a wide trackpad too, which allows a greater area for your fingers to scroll smoothly. The button-free Synaptics unit is very responsive too. Lenovo ThinkPad X1 Carbon responses easily to pinch zooming or four-finger applications. The backlight is present too, which is an essential feature which all travel-laptops must possess.
Hardware Specifications and Other specs
Apart from the other features of the device, X1 Carbon is installed with a four-in-one card reader, USB 3.0, a Wi-Fi switch, USB 2.0n port, but the most exclusive port designed on this laptop is the SIM card slot. With the help of this port you can use the DATA services via Internet , without any Wi-Fi or dongle connection. Installed memory is of 4 GB with storage capacity of 128 GB in the hard drive. It uses 3rd Gen Core i5 1.8 GHz CPU with a Cache memory of 3 MB.
The amazing software of Dolby Home Theatre V4, helps you improvise on the sound settings. The speakers of ThinkPad X1 Carbon are placed on the bottom of the device which emits a relatively high sound which is not always pleasing. The tonal quality and bass are the lagging feature of the sound system.
Battery
The battery life is a major drawback of this laptop. It offers only 6 hours of battery backup. Moreover any external battery slice is also not available for this device. But the RapidCharge Technology is quite promising.
Warranty Life
Lenovo ThinkPad X1 Carbon offers a warranty life of 3 years. The online customer facility is available to the users 24×7.
Price and Availability
ThinkPad X1 Carbon is priced between $1399 – $1499 . This unique laptop is yet to hit the market. It will be available around the end of August 2012 both online and in offline stores.
Pros
To be honest, for a 14 inch laptop, 3 pounds is an incredibly light weight. The ultra modern sophisticated look gives it an edge over other laptops.
Cons
The most disappointing feature of ThinkPad X1 Carbon is its sky rising price. Also, for such a priced laptop, the battery backup is not up to the mark. Options which are consumer-friendly like HDMI are missing. Though this premium product of Lenovo is basically designed for business purposes, it is suitable for both professionals and home users too. It is a very good option for the programmers, developers and gamers. The consumer-friendly technology is a plus point but it is far from being the cheapest option.
Verdict
In short ThinkPad X1 is a good Ultrabook to have in a budget range of $1500. Really a great Ultrapad to have in the recent times. Let me know if you are planning to buy Thinkpad X1 and what is your opinion about the gadget if you have already bought one.
Disclosure: We might earn commission from qualifying purchases. The commission help keep the rest of my content free, so thank you!