Apple's latest entry in the market, MacBook Air has a big burden of expectation on its shoulders with a lot of speculation before its launch- was all the pre-launch buzz justified? Let's have a look.
The look: Hardware and Design
You can tell that Apple has hit the nail on the head with MacBook Air because its exterior looks pretty much the same as its earlier versions. It has a wedge-shaped (0.11 inch at front and 0.68 inch) aluminum unibody that easily serves portability. It is strikingly thin- which is saying something when every laptop and notebook company in the market is trying to make their products as thin as possible- and weighs about 2.96 lbs. Even though Apple no longer remains the only giant in the ultrabook competition, it is still at the top because it does not compromise anything for the sake of making it thin.
You even get a built-in sensor that lights up the keyboard in low light ambient conditions! The trackpad is phenomenal and ages ahead of its competition- on first look, you would be searching for a button but then you realize the whole thing is a button. It's difficult to explain how this makes it infinitely easier to handle it. Apple has become something of a veteran when it comes to multi-touch, so it's no surprise that MacBook Air's multi-touch feature is a pleasure to fingertips.
The Audio and Video Experience
Specs-wise, MacBook Air has an impressive repertoire: 13.3 inch, 1400 x 900 display. But somewhere it falls short of the excellence you associate the 1080p display of Sony Vaio Z with. If you have seen MacBook Pro's 2880 x 1800 display, Air certainly leaves you craving for more. There are rumors of tantalizing upgrades, so perhaps waiting a few months is a wise choice. The Face Time camera of MacBook Air is now HD, so the details are sharper, the colors don't seep but it still looks like a poor cousin to the iPhone's front-facing camera.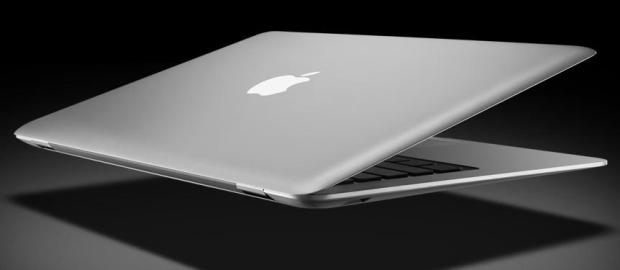 The internal speakers of MacBook Air will not disappoint you with loud, clear and crisp sound and on this latest version's speakers score higher than the last one in terms of clarity. The high and low notes still sound a little blunt but the mid-range tones sound more luscious. It's still difficult to catch the subtle notes of bass, so we can't completely do away with external speaker just yet.
MacBook Air review Software
The OS X 10.8 Mountain Lion is slated to release in the coming weeks and it is supposed to be an embodiment of 'hardware and software made for each other'. The trackpad makes it possible to swipe, pinch and tap away in and around apps. OS X can dim the screen to stop precious battery life from MacBook Air. It starts up quite and resumes work pretty quickly. There is a 'natural' scrolling option which enables you to move your finger up and down the trackpad and it works like a touch screen. Apple has promised a free upgrade to Mountain Lion if you buy a new MacBook Air and it's a very easy process to get an upgrade from Mac App Store.
MacBook Air review Performance
With 1.8GHz Core i5 processor, 4GB RAM, integrated Intel HD 4000 graphics, its performance is healthier than last year's Air in all aspects. Whether it is launching of apps, flash videos or opening multiple tabs at the same time- everything is faster and smoother. On battery life, it is hardly fair to blame MacBook Air for running out of juice frequently because of its ultra-thin exterior that prevents accommodating a big battery. But this Air, Apple has claimed, there will be 5 good hours of wireless productivity.
MacBook Air review Apps
With OS X waiting to pounce on MacBook Air, it has a wider range of built-in apps than ever. It's difficult to sum it all up in so many words, but some of the most popular ones are iPhoto, iMovie, GarageBand , Mac App Store, Face Time, Safari and so on.
Final Verdict
The only thing to put a tab on as a 'con' is the WiFi, which has not been improved at all. But it has a lot of things working for it- high-end graphics, good battery life, USB 3.0 are some of the features that makes it an absolute must-have.
So, in the end, we can say MacBook Air, though stumbling in some areas, has passed the test of expectations with flying colors.
Disclosure: We might earn commission from qualifying purchases. The commission help keep the rest of my content free, so thank you!