Last week, I was informed that my friend's birthday was much closer than I anticipated. It was in fact about a couple of days away. I'm all for purchasing gifts online, in store purchases is equivalent to paying retail price to me, it's like a rip off compared to online discounts. However, due to the fact that shipping gets more expensive the more I wait, I knew I had to act quickly to receive the gift on time. This involved a ton of online searching, however I failed to look at the resource right under my nose (or desk to be exact), my iPhone. Here are five applications that can make the last minute birthday or Father's Day gift search easier for you.
eBay for iPhone
eBay is an easy and common choice for any last minute gift givers looking for a bargain. However, many of these last minute gift givers don't enjoy the long shipping times that come with purchasing on eBay. Despite this, if you are looking for a gift, eBay may be your one stop shop. Books and other gifts can be found at unbeatable prices, from sellers from around the world. eBay's buy-it-now feature allows you to pick up a deal without having to go through all of the red tape that comes with purchasing through an auction. eBay for iPhone allows you to know when you lost an auction, when a sale is final, and when you won an auction. Also, eBay's push notifications allow you to know right at the moment when your item has been confirmed shipped. This allows you to be certain that your recipient will be happy on their birthday, if all goes well with shipping. eBay for iPhone is free to download, so check it out today.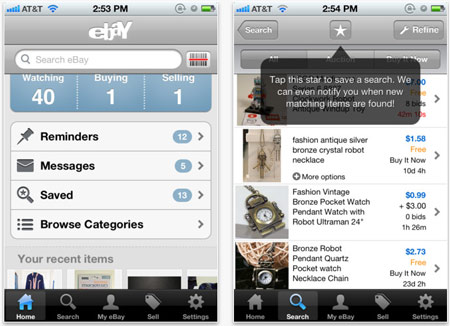 Apple Store for iPhone
The Apple Store application for iPhone is one of my favorite shopping applications on the App Store today. The key features found on the application make it a hit in my book. For starters, you can shop the Apple Store right on your iPhone, without having to leave your home. If you do, however, need the item to be available in the same say, you can choose the ship-to-store feature. My favorite features are the ones available once you are in store. When the application is activated, it will immediately recognize when you have found yourself in one of their stores. The application will launch a special page just for the store, allowing you to check-in for an appointment, get Genius Bar help, check out an upcoming workshop, and more. You can also use the EasyPay feature to pay for an item on your phone. Simply scan the barcode, select to pay, and enter your Apple credentials to pay as if you were purchasing a song on iTunes. It's that easy. The Apple Store application is free to check out, so do so today!
Groupon for iPhone
You may be surprised at the fact that Groupon has made itself on the list. Groupon is a great last minute gift giving application for iPhone. Groupon allows you to use a coupon to uncover amazing deals in your city. Groupon for iPhone allows you to email these coupons to various recipients for them to enjoy. From boating trip coupons to half off on pizza, give the gift of a coupon with Groupon. the Groupon application is a free iPhone application available on the App Store today.
Gilt for iPhone
Gilt is one of those hidden gifting treasures on the web. In a figurative and literal sense, Gilt is hidden because it's still relatively new and unknown by some. Literally, Gilt is hidden because it's an invitation only website. Getting an invitation isn't hard to do, however getting one is special and opens up deals on clothing, things to do around town, gifts for the home, children, and more. Gilt makes designer brands cheaper, at members only prices. Gilt for iPhone is your one stop Gilt shop, from Gilt City to Jetsetter. Gilt for iPhone allows you to order these brands straight from your phone, making them available to your recipient in no time. Gilt for iPhone is free to download, allowing you to have more money available for treating your special someone (and yourself) to a gift or two.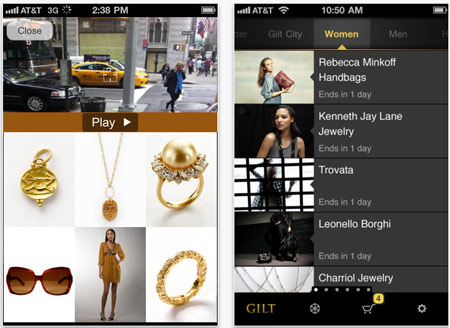 Fandango for iPhone
Fandango may seem like the largest stretch in terms of gift giving last minute. However, it can be the most appreciated and quickest gift you can give on your iPhone. Fandango, the movie reviews application we all know and love, allows you to also check out movie times and purchase movie tickets in the application. With a credit card or PayPal account, you can purchase tickets to an upcoming showing in minutes. Fandango is great for gift giving because you are able to email the movie ticket to a recipient with just an email address. This is done simply by having the ticket emailed to them through guest checkout rather than yourself. They can print the movie ticket straight from their email, and there you go, memories from a movie they can share with you for a long time. Fandango, like the other applications on this list, is free to download.
Disclosure: We might earn commission from qualifying purchases. The commission help keep the rest of my content free, so thank you!