I've been a fan of Keychron since I started using the K2 a year ago. That was the best wireless mechanical keyboard that I'd ever used, therefore, I'm so excited to try out the latest Keychron K8. Let's see if the K8 is worth the upgrade from the K2.
Unboxing & Testing Video
Design & Performance
The Keychon K8 comes in a wide variety of versions, you can choose the backlight (White or RGB), plastic or aluminum frame, switch option (Red, Blue, Brown), and switch type (Gateron mechanical, Keychrone optical hot-swappable, Gateron hot-swappable). My K8 is the one with RGB backlight, aluminum frame, and Gateron mechanical brown switch.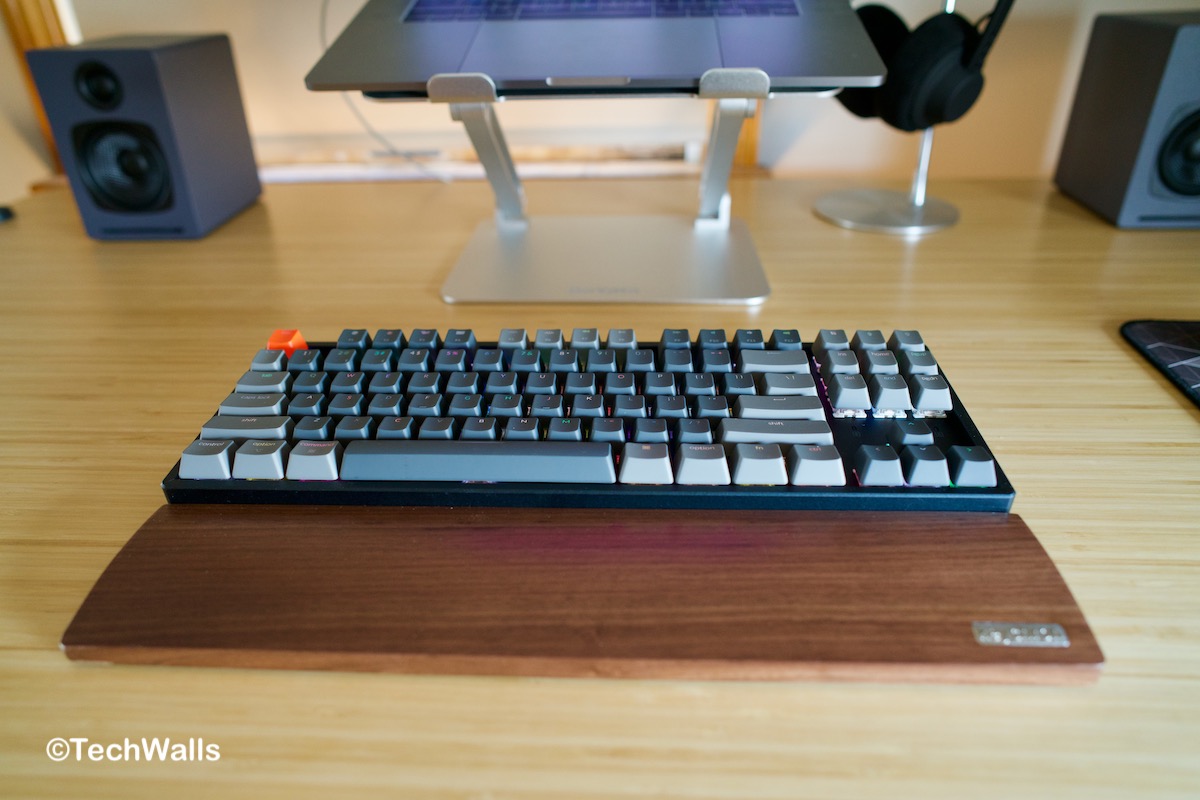 In terms of key layout, both the K2 and K8 are tenkeyless but the K2 has a 75% layout which is a more compact version without getting rid of any key. In fact, the K8 has 3 more keys which are right-Option, Ins, and Voice Assistant but they are not really important. They arrow keys are also well separated from the rest, so you can find and press them easier. There are also 3 light indicators for battery, Bluetooth, and Caps lock which are helpful to check status of the keyboard sometimes.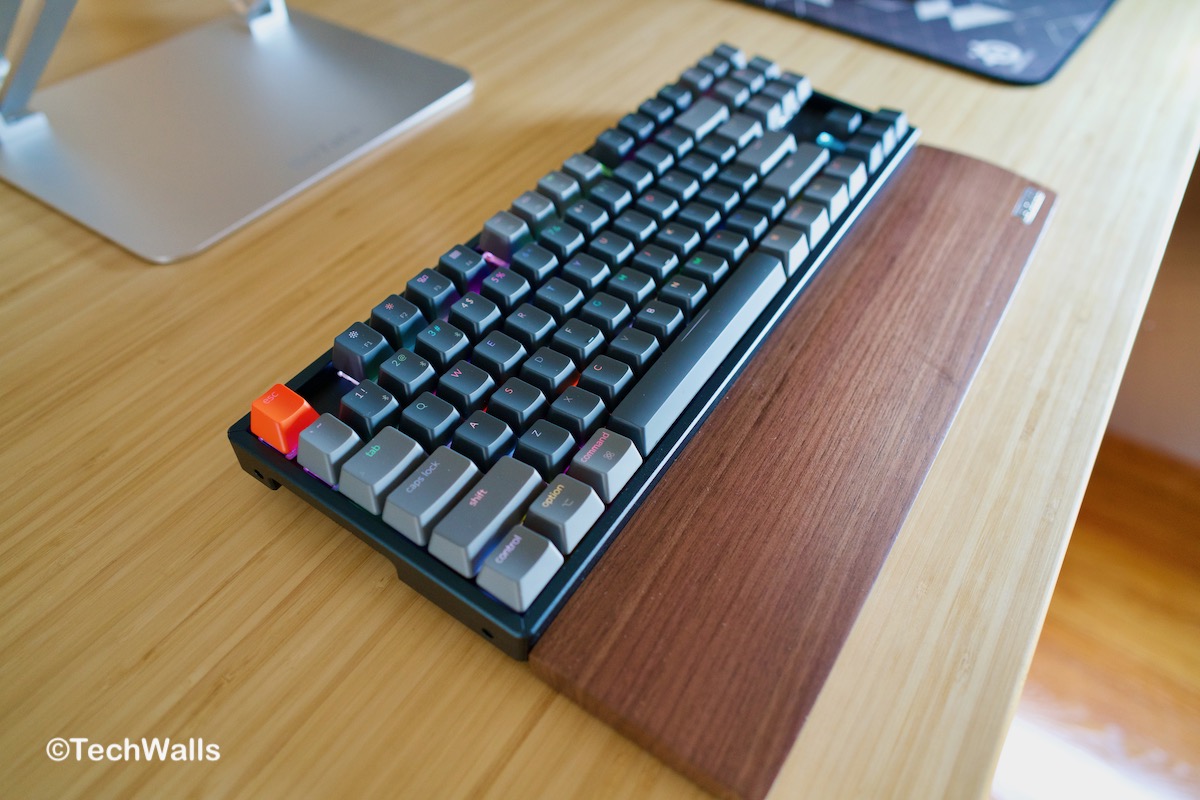 The K8 features two adjustable angled rubber feet but I don't open the feet at all because the bottom has already slightly inclined. I'd recommend you to use the keyboard with a Keychron palm rest as it makes your wrist much more comfortable.
An important feature of the K8 is that it offers hot-swappable versions; That means you can customize your keyboard with different types of switches without soldering. The feature is hard-core users only and most of us just stick with one type of switch. I like the Brown switch because it is a tactile, non-clicky switch; I find it most suitable for office environment because the keys are soft and don't make loud noise.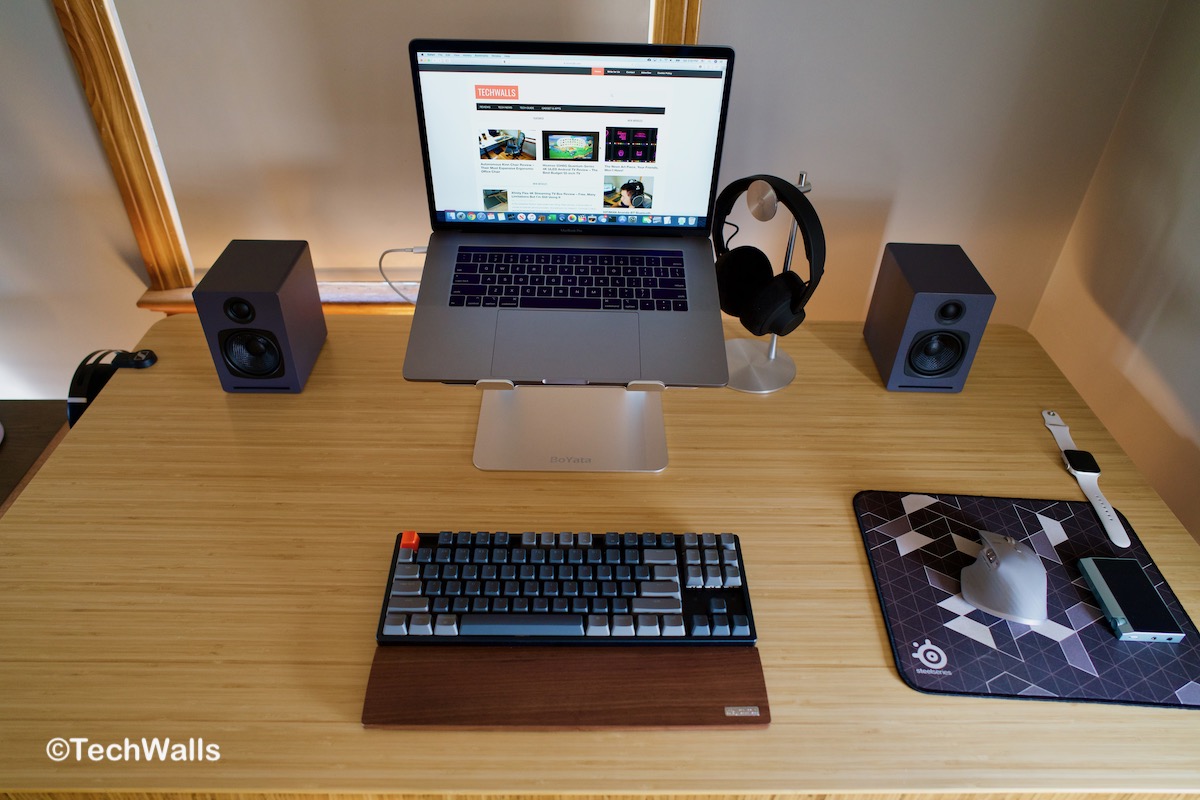 The keyboard is powered by the same 4,000mAh battery which could last up to 240 hours with backlight off. That means you can use it for a month or more without recharging. You can charge the keyboard via the USB-C port, a full charge takes around 2-3 hours.
As compared to my original K2, the K8 is obviously a better choice since it has a sturdy aluminum frame and Bluetooth 5.1. The older Keychron keyboards have Bluetooth 3.0 which has lower latency and slower reconnecting. The Bluetooth 5.1 is an important improvement as it takes less than 1 second to wake up the keyboard. My old K2 keyboard needs about 2-3 seconds to wake up; This sounds insignificant but it is actually quite important to deliver a smoother user experience.
Recently, Keychron has updated the K2 to the version 2 with some new features including Bluetooth 5.1 and Caps lock backlight, therefore, there is no more difference here. I actually still prefer the compact 75% layout of the K2 because it looks great next to my MacBook Pro. You can see the side-by-side comparison between the K2 and K8 in this video.
Conclusion
Pros
Sturdy aluminum frame
RGB backlight with lots of effects
Consistent Bluetooth connection
Fast wakeup time
Great battery life
Reasonable price
Cons
The Keychron K8 is a great keyboard and it has the same switch type, same keycaps, Bluetooth 5.1, and same price as the K2. Therefore, the choice between the 2 keyboards totally depends on your layout preference. If you are using an old Keychron keyboard with plastic frame and Bluetooth 3.0, this might be the time to upgrade to the aluminum K8 or K2 version 2.
Disclosure: We might earn commission from qualifying purchases. The commission help keep the rest of my content free, so thank you!