Hi-res audio is on its way to become a mainstream as we are seeing more devices and services released in the last year. Listening to lossess audio files has become a commonplace for most audiophiles nowadays, so digital audio players (DAP) seem to be the best option in case you want to bring your hi-res audio with you.
You don't necessarily have to spend thousand of dollars for a DAP like Astell & Kern because the more you spend, the less satisfied you will be. There a lot more affordable options like the FiiO X5 or the Sony Walkman NW-ZX1. Here we are taking a look at another mid-range DAP, the iBasso DX90.
Unboxing & First Startup
Design & Features
I love the design of all my previous DAPs, especially the Walkman NWZ-ZX1. The iBasso DX90 didn't look bad at all when I saw the product images on Amazon, however, I was totally disappointed when I took it out of the box. The device is all black and made of plastic so I can understand why most average consumers won't spend a few hundred bucks for it. The dull look is absolutely not something to desire for. I also expect a high-end device with a sleek design for the price.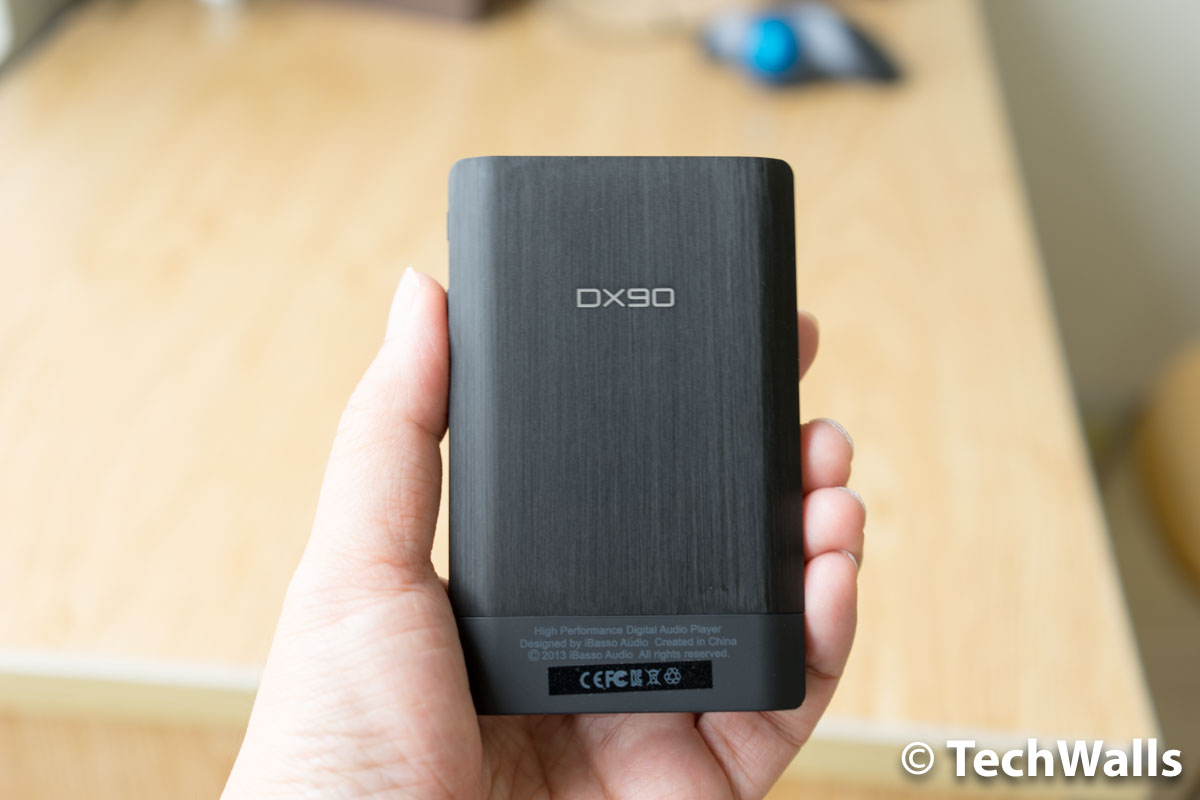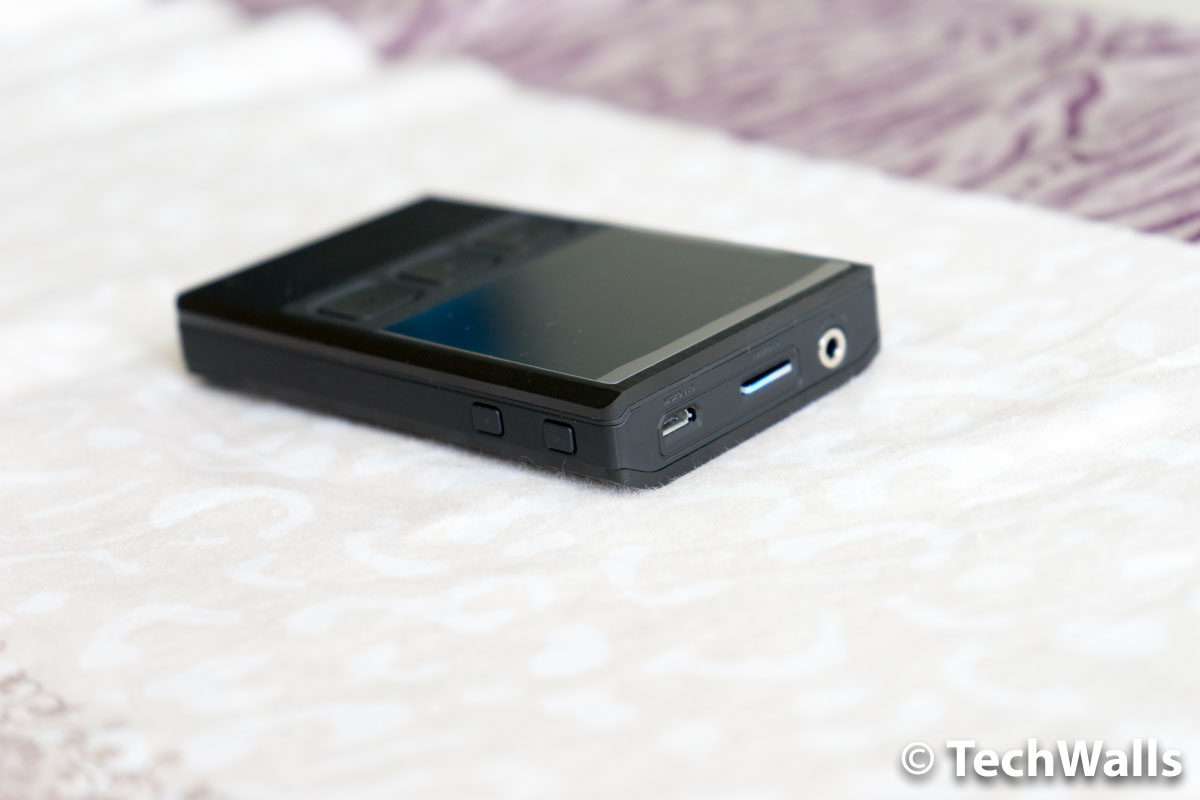 Inside the box, there are the DX90, a rubber cover, a screen protector, a micro-USB cable, a burn-in cable and a coaxial cable. The DX90 even looks more horrible when you put it in the included black rubber cover, so I prefer not to use it.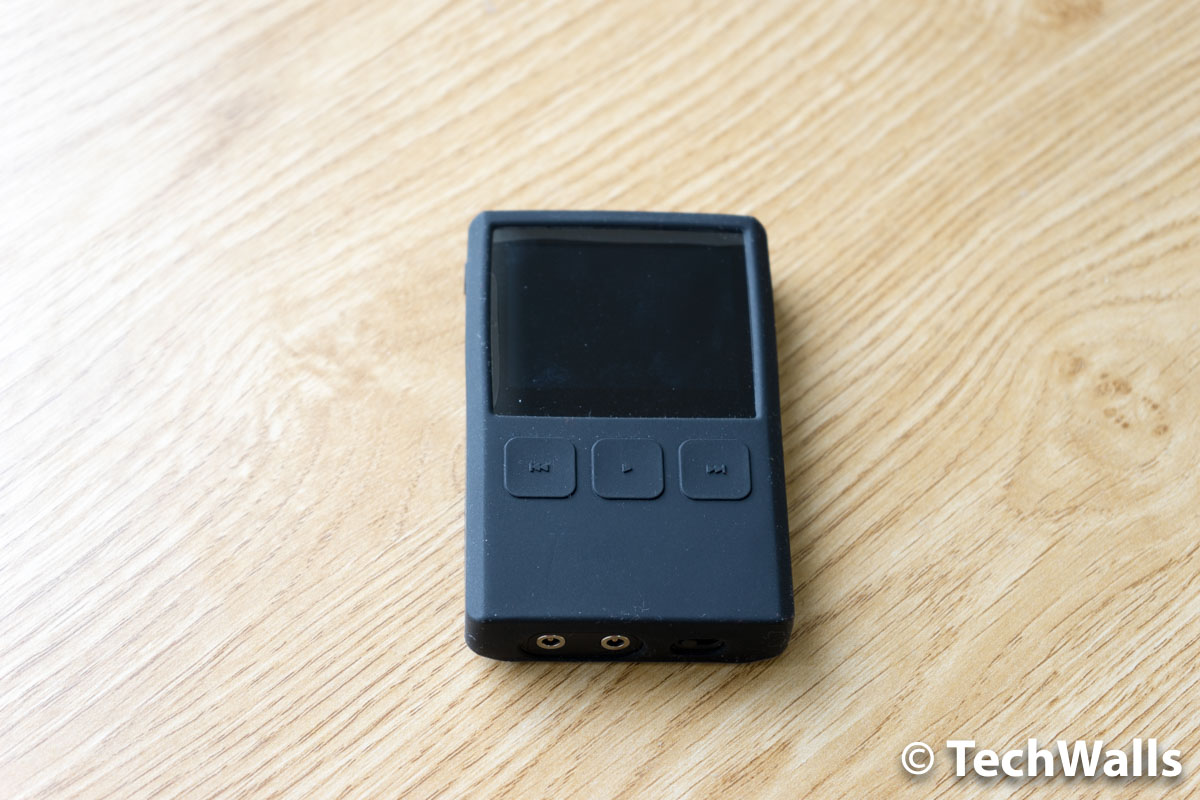 The iBasso has 8GB of internal storage, but you can easily plug in a microSD card of up to 2TB to expand the storage. The microSD card slot is put on top, along with the micro-USB port and Coaxial Output port. The volume rocker is placed on the right edge while the Power button and a lock switch are on the left. On the bottom, you can find a headphone port, a line out port and a gain switch.
A great advantage of the DAP is the 2.4″ IPS capacitive touch screen with the resolution of 320 x 240 pixels. This is absolutely not a beautiful display but it is quite responsive and makes navigating between menus, settings and looking for a song become easier. Besides, you can always use the 3 physical buttons right below, including the Play/Pause, Previous and Next buttons.
Another notable feature is the removable battery. DX90 uses the same 2,100 mAh battery as the battery on Samsung Galaxy S3 phone, so it's quite easy to find an extra battery for the device. It takes more than 3 hours to charge the battery with a wall charger. The battery life is not as impressive as on other DAPs. I managed to use it for a whole week with nearly 1 hour of listening per day, it means could last roughly 7 hours.
You can also connect the device to your computer to use it as an external DAC. It is better than most sound cards in your PCs or Macs.
Audio Quality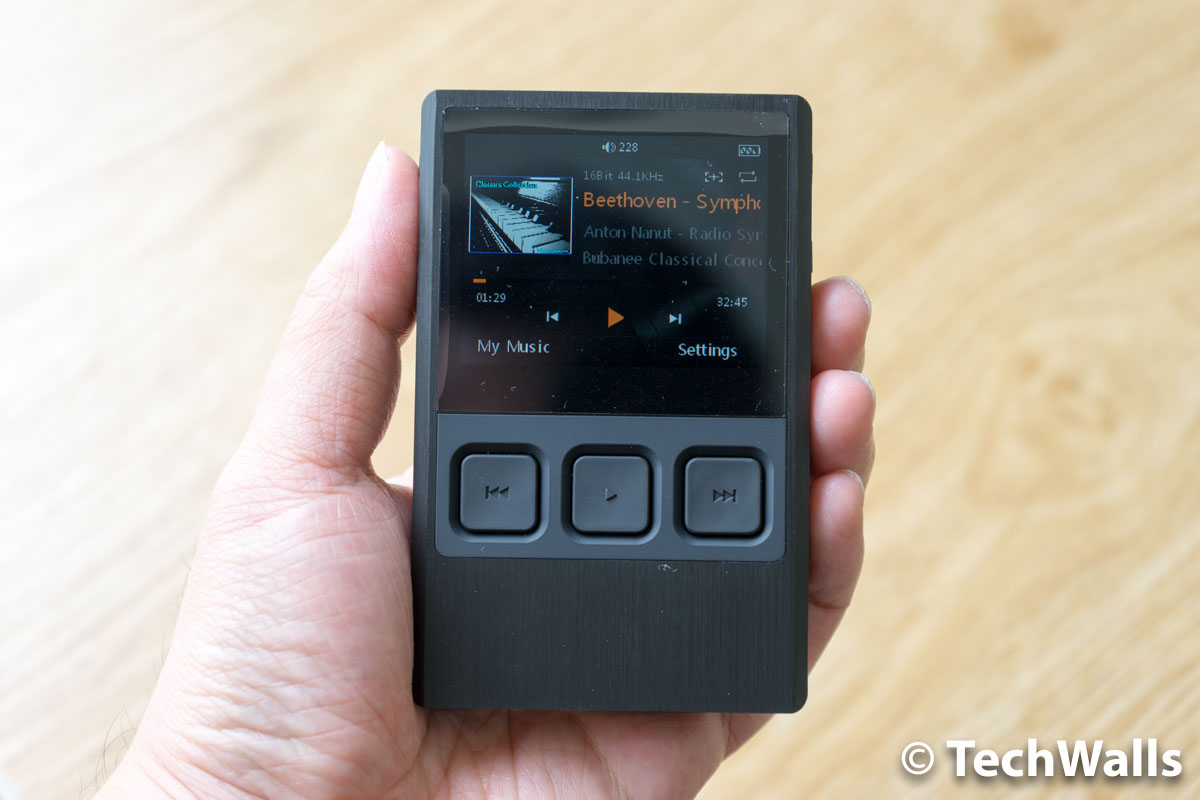 I didn't expect much from the DAP after seeing its poor build quality. Fortunately, the audio quality is not that bad.
I paired the DX90 with 2 headphones, which are the Bang & Olufsen BeoPlay H6 and HiFiMan HE-400i. Some albums included in the test are The Very Best of Beethoven (2015), Chesky Records – The Ultimate Demonstration Disk (2014), Delirium (2015) by Ellie Goulding and Cinema (2015) by Andrea Bocelli. I left everything at default settings and EQ off for the test.
The DX90 uses Dual ES9018K2M DAC Chips to deliver a better dynamic range and deal with crosstalk. Their performance is quite amazing. The DAP is powerful enough to drive my headphones, I don't have to crank up the volume to maximum to listen to music. More importantly, the sound becomes a lot clearer and it is not as muddy as when I play music on my computer. This really helps contribute to the better stereo imaging and my ears no longer get fatigued when listening to loud and busy tracks. Another notable improvement is that the device handles quick transient attacks very well, so you really can enjoy your music better.
Conclusion
Pros
Great sounding
Touch screen
Affordable price
Cons
Cheap design
Average battery life
The iBasso DX90 is among the best sounding DAPs at the low price range. This doesn't look like a high-end device but it really helps improve your music experience.
Rating
Design & Build Quality - 5
Features - 9
User Experience - 8
Battery - 8
Audio Quality - 9
7.8
Good
A very capable mid-range digital audio player
Disclosure: As an Amazon Associate, I earn from qualifying purchases. The commission help keep the rest of my content free, so thank you!