I write this post after receiving responses from HostGator and Godaddy. I am a little disappointed as they can't help me get my stolen site back.
2 weeks ago, I received an email from a blogger that I've known for a year. He showed interests in my new Android blog at DroidState and offered me a good price. After all agreements are set, he said his Paypal account was limited and he wanted to pay me with an Amazon gift card. Then, he forwarded me an email confirming that he sent the gift card to my email and I will receive it within a few hours. I totally believed him and this was my stupid mistake. The confirmation is fake and after I transfer the site, he disappeared forever.
I tried to contact both HostGator and Godaddy but my efforts were useless. HostGator said that they don't take responsibility for website trading while Godaddy is not helpful at all. I called Goddaddy support and they guided me to send an email to [email protected] or [email protected] but I always received the same email:
Dear Mr. Do,

Thank you for your message. If you have any questions and/or concerns regarding the domain name droidstate.com, please contact the current registrant directly.

If the current registrant is not willing to assist you, any dispute over the registration of the domain name will need to be sent either to the registrant, through an ICANN-approved arbitration provider (http://www.icann.org/dndr/udrp/approved-providers.htm) or the court system.

Please note that per ICANN's UDRP, registrars cannot make any changes to a domain name without direction from a court or arbitration forum.

It is never necessary to name GoDaddy.com, LLC in a dispute. We will abide by any decision from an ICANN-approved arbitration forum or a court of competent jurisdiction.

Please be assured that if we receive notice of a pending legal dispute we will lock the name so it cannot be transferred or otherwise modified. Likewise, when we receive a decision we will update the name accordingly. If you file a dispute concerning the domain name, please forward a copy of the filed legal documentation to [email protected].
If I follow their instructions, I will lose more money than the value of this website. So, I decided to stop.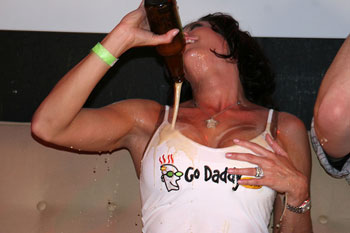 I don't blame them because this is my fault and the transferring process looks normal. This post is just intended to warn bloggers of scams in website trading. If you receive a private offer like this, be sure to receive your money before transferring your site. It is difficult to know who are good people on the Internet. I am also disclosing name and email of the guy who stole my website. He is Ashley Clarke, email is [email protected] (I'm not sure if he will continue using this email). Anyways, be sure to avoid this guy in case he contacts you to buy your website. Another mistake I made is not using Escrow to transfer the site. Escrow is the safe way to protect both buyers and sellers as it is government-licensed site to sell domains in the US. When we sell a website, we get protected and guaranteed form payment. When dispute appears, the resolution process will also be solved much faster.
Do you have any experience in website trading? Could you suggest us a safe way for both buyers and sellers?
Disclosure: We might earn commission from qualifying purchases. The commission help keep the rest of my content free, so thank you!