Networking with bloggers is essential if you want to build a strong online profile and land larger, higher paying gigs as well as get some great links for prestigious sites. I'm going to give you a short guide that talks about how to make connections with other online authors and gain authority in your niche on the web.
It isn't enough to just run your own site and then use this credential to win over friends – making friends online is similar to making friends in real life – showing off your shiny stuff does not make you very endearing. Showing how your shiny stuff can help out your friend is a much better way to create a mutually productive relationship.
Unprovoked Links
This, I think, is one of the best ways to get noticed by other bloggers. I know that whenever I see I am getting referrals from a site, I go and check out what that post is saying about one of my posts or my site in general. Not only does this get some pretty important people taking a look at your site, many times they will leave a comment or send an email thanking you for your link. (This is what I do if the site seems reputable and if the post is well put together).
This technique, however, works less and less when your blog and the blog you are linking to are farther and farther apart on the traffic scale. If I were to link to Mashable from my geeky products blog, chances are, they wouldn't care. At all. If I link to a bit less known of a blog, however, my link has a great chance of being noticed by the blogger. Note that this also depends on the type of blogger that you are linking to. I know that I try to respond to every reputable link I get, but many bloggers just prefer to write quality content and not deal with responding to trackbacks and such.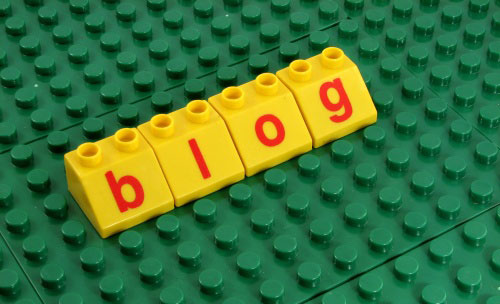 Guest Blogging
Guest blogging is a great way to build a long-term relationship with a blogger. Not only are you showing off your ability to write quality posts, you are also showing how these skills of yours can help them out, and honestly, this is what bloggers really care about. They will go out of their way to help you if you can give them something in return.
Guest blogging is a perfect way to kick off this relationship, but it's also a great way to ruin your chances. Submit poorly written guest posts on an untimely basis and you can guarantee that the blogger you are writing for will want nothing more to do with you. Getting a guest blogging gig does not mean your "in," it means you have a chance to prove yourself.
Social Media Activity
Following the blogger that you would like to foster a relationship with on their various social media platforms is another awesome way to get their attention. But, more than just following them, it's important to be active in re-tweeting their tweets, liking their posts, and even commenting on their shares they put on their Facebook page. If you're around for long enough, they'll notice you eventually!
Commenting and Community
Commenting and community is probably the best way, overall, to network with other bloggers. What is the prized possession of a blogger? His site. If you work in a positive way to make that site a better place for community members, then you will definitely have the respect of this blogger. If you work hard to comment constructively on his posts and help moderate comment trolls, chances are, he'll recognize your name when you email him about something! If he knows you're actually an active member of the blog, and not just claiming to be, he'll be more inclined to help you out!
Disclosure: We might earn commission from qualifying purchases. The commission help keep the rest of my content free, so thank you!