Not too long ago, Matt Cutts indicated that the next wave of Google algorithm updates was going to include a focus on guest blogging. This caused a uproar in the internet marketing and blogging community, but that isn't a surprise, as any time Matt Cutts so much as sneezes he causes an fervor.
This, however, is one of those announcements that introduce a very real potential threat to the livelihood of millions of internet marketers. Guest blogging has long been one of the easiest and most popular ways to build back links and exposure to new readers.
But after the Panda and Penguin updates, guest blogging went to new extremes of spamminess. Desperate and clueless internet marketers and SEO newbies no longer had their article directories and blog networks to rely on for easy back links.
In response, hundreds of websites sprung up with no purpose other than to generate easy back links. These sites are easy to spot. The same topics are rehashed over and over again. There are few comments, and virtually no social signals. The low quality of these articles often rivals that of the most awful spun submission you have ever read.
But, even with all of that, Matt Cutts went on to say that guest blogging does play a very real and critical role in helping searchers find new, valuable content. Because of that, guest blogging isn't going to be penalized and devalued in the same way blog networks were earlier in 2012.
How to Write Guest Posts that Will Beat New Algorithm Updates
You have to go back to the basics. Write content that is geared towards readers, not search engines. The beautiful thing about writing a guest post for a blog is that you don't really even need to optimize it for the search engines most of the time.
Of course, some blogs may ask you to optimize your post for a specific phrase. But most of them only want a high-quality piece of content they can publish on their blog so that they can take a break from writing.
If you focus on providing unique, valuable, easy-to-read content, you won't have to worry about the new algorithm updates one bit. Not only that, but you will also stand a better shot at getting featured on a major blog, and that is what will really lead to huge increases in readership and subscriber rates.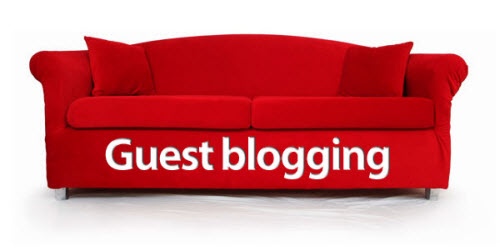 Where You Shouldn't Post Guest Blogs
If you find a site that seems only dedicated to providing an easy outlet for SEO and back links you should stay away from it. Just a few years ago article marketing directories were all the rage. It was easy to tell the difference between high quality sites and the most garbage ridden waste lands.
Despite all of that, article marketing is still effective today if done correctly. The same is true with guest blogging. Don't associate your site with the garbage guest blogging sites and you won't have anything to worry about.
Remember to stay focused on creating content rich in value and everything will come together for you. Make this a key component in your guest blogging campaign and success will happen.
Disclosure: We might earn commission from qualifying purchases. The commission help keep the rest of my content free, so thank you!