The time to bring the Internet war, thus the drone battle, to the skies looks all set to take shape as Google acquires Titan Aerospace, maker of solar-powered unmanned aerial systems that reports say was wooed by Facebook recently for its plan to beam connectivity from up above.
New Mexico-based Titan Aerospace, with 20 employees, builds drones that can fly for up to five years to gather high-resolution images of the Earth and perform voice and data services. Google wants to elevate that capability to collect images and provide Internet access to the distant places of the world, as well as to support other missions such as disaster relief and environmental protection.
In early 2014, Facebook was reportedly in talks to buy the startup business, but negotiations failed, landing the social network giant to acquire U.K.-based aerospace company Ascenta instead. Meanwhile, Google managed to eclipse Facebook's offer and finally purchased Titan for an undisclosed amount.
Read also: FedEx challenges Amazon's delivery method using Drones
The search giant intends for Titan Aerospace to its Project Loon team in developing high-altitude balloons that are designed to provide Internet access to remote areas that are totally offline. The technology is also advantageous for Google Maps because it will surely enhance the service with more accurate naming and plotting of places.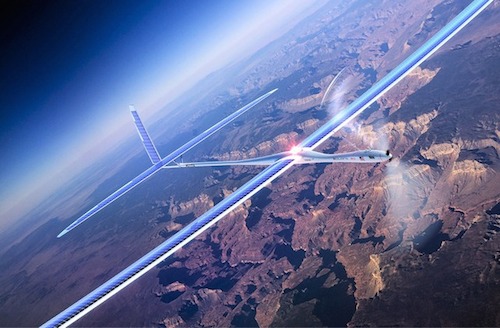 Titan has been building a dragonfly-shaped battery-powered unmanned aerial system that carries solar panels fixed on its wings to sustain the flight for a longer period. This drone is designed to beam one gigabit a second of data, which is substantially faster than current broadband offerings in the market, according to Titan.
These drones are scheduled to hit the market next year, but there are obstacles that it must first address such as the limited power supply at night and the smaller payloads that it can contain.
Additionally, Google and Facebook alike must take into consideration that the technology they want to use to beam Internet signals across the globe where access is largely impossible is that this kind of unprecedented technology is still in its infant stage.
But there seems to be no stopping Google and Facebook from taking their competition to a literally higher level and it appears a connectivity distributed by high-altitude drones is the next big thing in telecommunications.
It is also a lucrative way of reaching out to millions of new users that will boost Google or Facebook's customer base by bringing more people online without charge, but possibly profiting from the Internet service alone by marketing bandwidth to service providers.
Disclosure: We might earn commission from qualifying purchases. The commission help keep the rest of my content free, so thank you!