FedEx is grabbing the limelight now. We all know that Amazon recently disclosed their new way of supplying goods using Amazon PrimeAir – a delivery drone that can deliver your goods automatically using its in-built GPS system.
Now FedEx – one of the most famous international courier companies has reciprocated on this development. FedEx reportedly mentioned that they have a drone expert staff under its belt. He is FedEx's Chief Information Officer Robert B. Carter and surprisingly he owns one drone of the same kind.
During an earnings conference call on Wednesday, FedEx's CEO and Chairman Frederick W. Smith shared laughter with his executives as he mentioned –
"He (Robert B. Carter) reported that it can operate about eight minutes and carry about four Budweiser beers. There are two enormous transportation networks that are built around moving light packages and freight, and they are FedEx and UPS. The size and scale of these operations are so big, that it's almost amusing, some of the comments about delivering items by drones"
FedEx vs Amazon – the Delivery Dilemma
Jokes apart, FedEx have a lot of study regarding drones and its mode of delivery. As the CEO said, it is very tough to replicate the idea of drones doing the delivery in the near future. In some recent news, I read that Amazon mentioned that they are 'almost done' with developing pilotless flying vehicles that would deliver packages weighing upto 5 pounds in as fast as 30 minutes.
As of now, it is very uncertain when we would see some drones flying above our head. But what's certain is the benefit that the shipping industry is making due to the rising online sales. President and CEO of FedEx Services Mike Glenn stated that the shipping industry is just at the tip of the iceberg when it comes to the profit angle. Some statistical groups are claiming that the online sales are going to reach 10% of the total retail sales by 2017.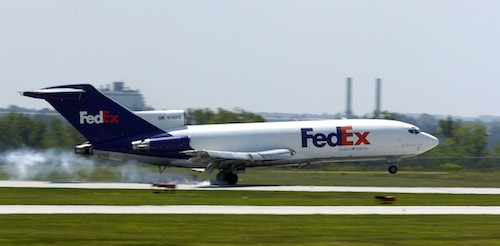 Expense and Technology – FedEx fighting both
Mr. Smith stated the other day that the biggest problem they are facing is the expense to deliver materials to respective residences (as many of them are offering free home delivery above a certain amount), if it's not a bulk order. He said –
"So, in certain situations, an Amazon.com, or some very large e-retailer, they can unquestionably do local deliveries should they choose to do so. But for the vast majority of products moved, it's almost certain that they will be moved by one of those three large networks and then some of the smaller regional players for as far as the eye can see."
All in all, FedEx doesn't see drones delivering goods and reducing the delivery expenses in the coming days. But nobody knows what new technology will develop tomorrow? Who had even thought about these drones a year back! With the world moving forward, I can see a very high competition between Amazon and FedEx regarding this delivery system. But who cares, at the end of the day it's us who will benefit from it!
Disclosure: We might earn commission from qualifying purchases. The commission help keep the rest of my content free, so thank you!