Google today added a new product to its line – Google Helpouts. It is a simple website which will allow the users to get in touch with some professional experts and pay them accordingly.
Services will be provided through video chat. Google is projecting that Helpout will be used for cooking tips, guitar lessons, home repair and even healthcare. Google Helpout – first announced on August is now live with small set of collaborations like Weight Watchers, Sephora and One Medical. Google is positive to recruit anybody who can share their professional expertise with them taking into consideration genuineness and full background check.
Video chat services will be offered for a wide range of prices – starting from free volunteers to $20 per hour. Users can rate the experts they speak with and the experts on the other hand can block users using some specialised tools. Either way, Google will take a 20 percent cut and will offer a money back guarantee if things doesn't fall into place.
Google will be aiming to maximize its profit with this tool which is more kind of a cross-platform Hangouts tool. Till now, Google has decided that it will make this tool available only for the web and Android users as they are not sure how to cope with Apple's Store policies and margins.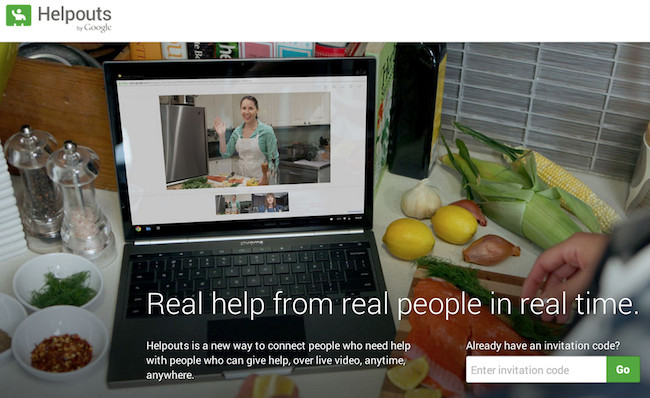 The website for Helpouts looks very much similar to the custom version of Google+. It even shares some features with the Hangout on Air. Each expert will have a unique landing page where users can start a Helpouts immediately or schedule one for future. Users will be identified with their Google+ profiles so that there is no ambiguity regarding the identification of the caller. None of the details will be posted publicly on Google+ and if both parties nod, a Helpouts chat can be saved for future reference. Some selected policies doesn't correlate with the Health section of the Helpouts. Google says that it will apply stringent rules surrounding the identity and privacy of the user. It also noted that any Helpouts regarding health will be a HIPAA compliant.
Though it's a small launch, Google's Vice President of Engineering Udi Maner was quite optimistic regarding the future of Helpout. He mentioned that the current scepticism is quite normal as the same happened when the public was introduced to online shopping on the early days. He stressed that these kind of resistances are part and parcel and in the end 'convenience and efficiency' will win over anything. Helpouts will certainly fulfil these two things as per the demos shown today. The pragmatic side of the question is whether Helpout seriously benefit people? To me, whatever it may be – On any given day, it will be much more helpful than a Random web search or a Google How-to video.
Disclosure: We might earn commission from qualifying purchases. The commission help keep the rest of my content free, so thank you!