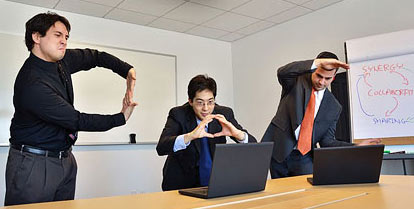 In case you didn't notice, yesterday was April Fools' Day and it was much awaited by the tech industry because all people want to see what Google would bring this year. We didn't have to be disappointed as they continue with their smart pranks. Here are the most interesting ones.
Gmail Motion
On Gmail login page, users could see Google announce a new feature, Google Motion with the ability to open, write e-mail with body language. "To use Gmail Motion, you'll need a computer with a built-in webcam. Once you enable Gmail Motion from the Settings page, Gmail will enable your webcam when you sign in and automatically recognize any one of the detected movements via a spatial tracking algorithm. We designed the movements to be easy and intuitive to perform and consulted with top experts in kinestetics and body movement in devising them."
Google Hires Autocompleters
If you enable Google Instant, you could see a link saying that Google is recruiting autocompleter experts to help predict users' search queries. However, they require you to have good typing skills (at least 32,000 WPM).
Top Youtube videos in 1911
YouTube presents the top viral videos in 1911. They said that Youtube celebrated its 100 year anniversary and the homepage was a reproduction of how you viewed it 100 years ago. Check out some of the most popular videos of the time.
Chromercise
Chromercise is the finger fitness program help you increase your hands' strength and dexterity while browsing the web faster and fitting into sleeker gloves.
Disclosure: As an Amazon Associate, I earn from qualifying purchases. The commission help keep the rest of my content free, so thank you!