Soundbar has been always considered a simple way to upgrade your TV. And now we have a soundbar for computers with a very affordable price.
We're going to review the GOgroove SonaVERSE UBR Soundbar in this post.
Unboxing Video
Design & Features
The GOgroove SonaVERSE UBR has a very compact size, it is a lot smaller than my TV soundbar. Its width is actually just a little longer than my Macbook Pro's. Besides, GOgroove positions the drivers at an angle so that the sound is projected directly to our ears. This is understandable because this soundbar is designed to place on the table, below a monitor or alongside a laptop.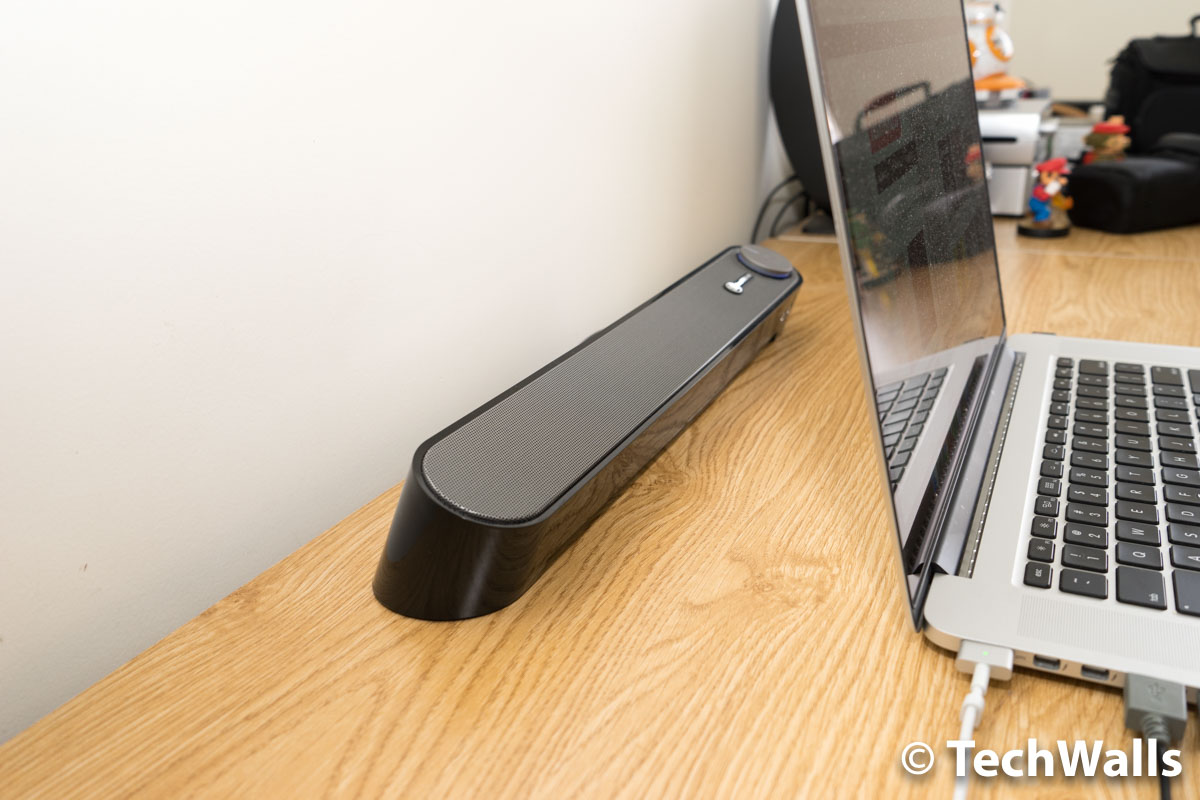 The soundbar uses a plastic casing and a front aluminum grille. You can easily power on the speaker by turning the volume knob and then adjust the volume with the same knob. I love that there is a blue LED lighting around the knob when the speaker is on, it looks quite attractive in the dark.
Near the bottom, you can also find 2 ports, one microphone port and one 3.5 headphone port.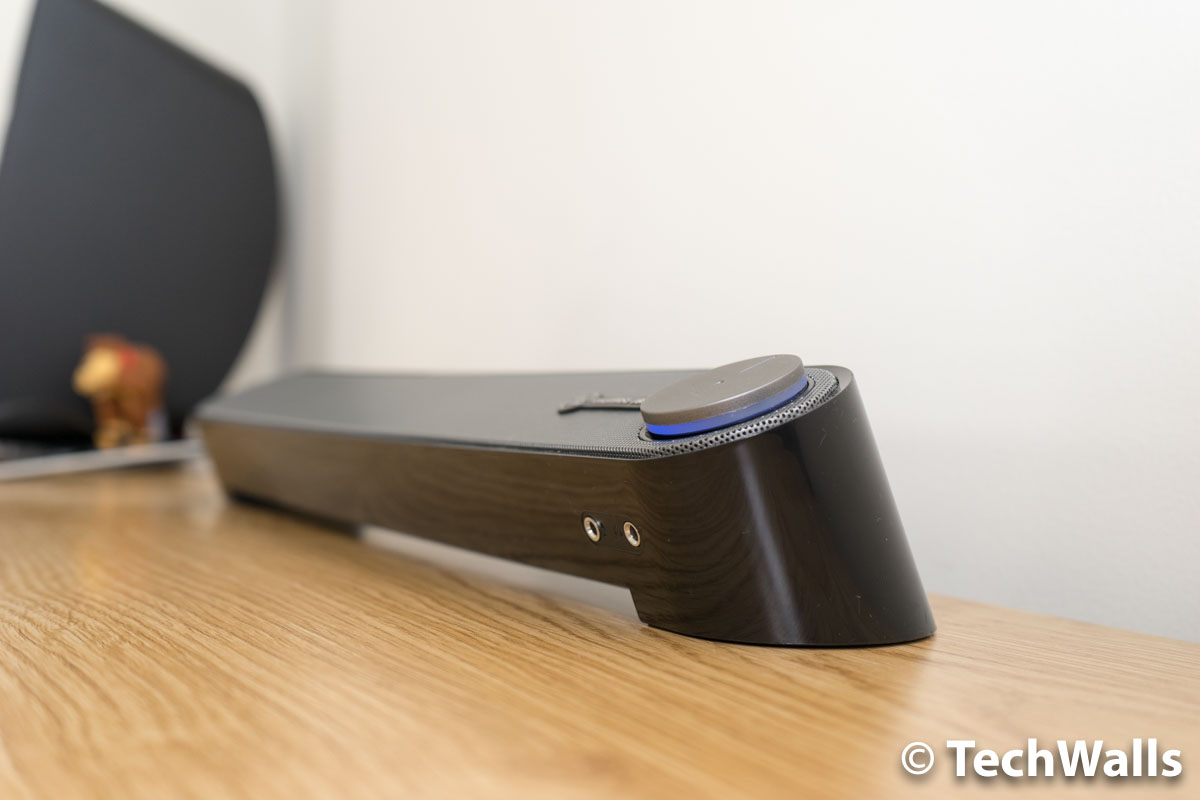 I am a little disappointed as the soundbar doesn't feature Bluetooth technology for wireless music streaming. It requires you to connect to your computer all the time, the USB cable to provide power and the 3.5mm aux cable to send audio signal. This can become quite a mess if you use it with your laptop.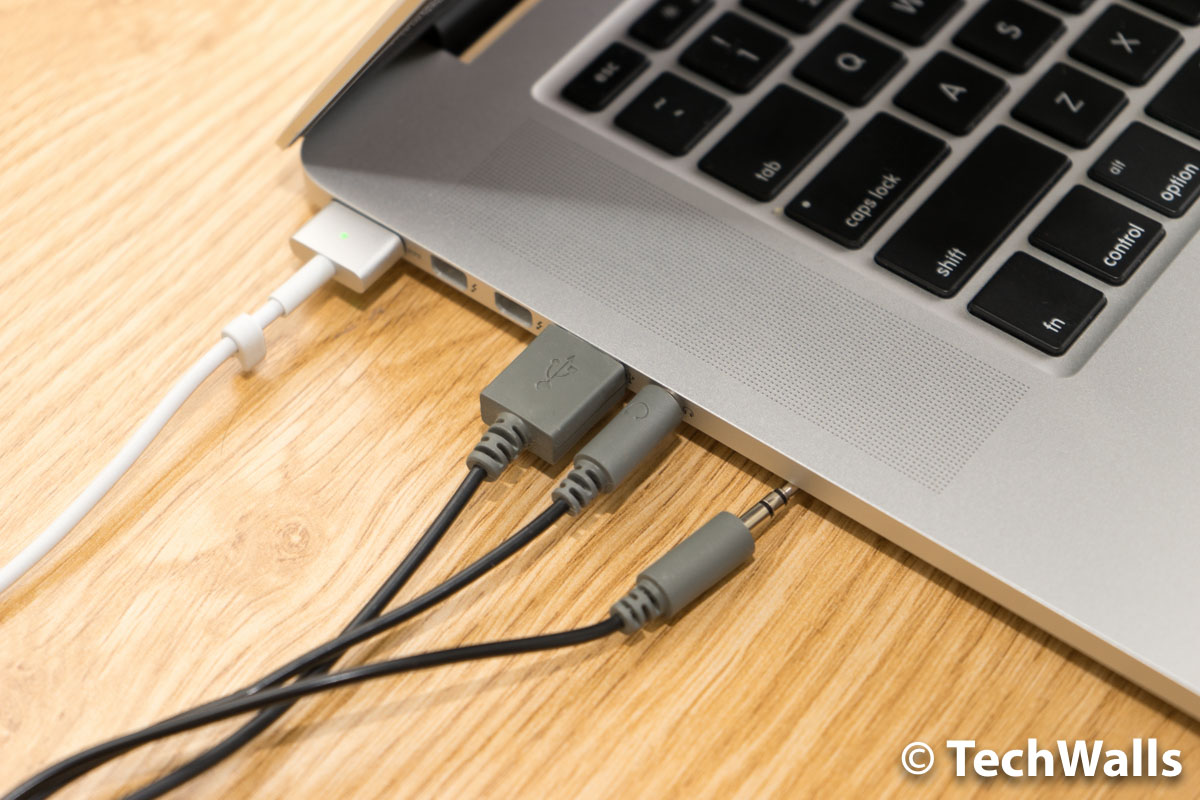 Audio Quality
Obviously, the built-in speakers in my Macbook or any other laptop are not good enough, especially when listening to music or watching movies. Therefore, I always look for speakers to improve the audio quality and complement Mac's design at the same time. I expected the soundbar could pump out high-quality sound out of my Macbook, and it actually significantly improves the sound. Check out the sound test in the video below.
The sound coming from the soundbar is a lot warmer and louder than the Macbook speakers. You can hear that the low mids are more present, and you can hear the vocals clearer. Besides, there is no noticeable distortion when I use it at a moderate volume level. The distortion only appears when I crank up the volume, the sound also sounds harsher then and shows a lot of limitations.
Having said that, the audio quality is totally acceptable, especially in a cheap product like this. It performs pretty well as long as you don't need to rock your apartment.
Conclusion
Pros
Compact design
Better sound than integrated speakers
Cheap
Cons
No Bluetooth, a lot of wires are required
Just acceptable sound
The GOgroove SonaVERSE UBR soundbar costs just a few dozen bucks and it actually delivers a better sound than any built-in speaker. This would be a great purchase if the speaker was equipped with Bluetooth connection. I really hope the next version will have this feature.
TechWalls Rating
Design & Features - 6
Audio Quality - 6
6
Average
A cheap upgrade for your computer/laptop's built-in speakers.
Disclosure: As an Amazon Associate, I earn from qualifying purchases. The commission help keep the rest of my content free, so thank you!