In a recent review, I mentioned the service GeoSurf and I thought it was the best Geo tool on the market. However, there is another tool that offers very similar functionalities along with some advanced features as well, that is GeoEdge. Both GeoSurf and GeoEdge are the geo targeting tool allowing us to view websites in different geographic locations.
The tool will benefit media agencies in monitoring their own campaigns effectively, seeing their local competitions and making smarter decisions. Another use of the tool is for advertisers as they would be able to improve efficiency, validate campaigns, boost inventory value and target new prospects. If you are a blogger or publisher, you can also take advantage of its features to immensely reach the right readers, identify geo-traffic sources and boost regional value.
In this article, I will do a review on GeoEdge's features and compare them to GeoSurf's so that users could get a suitable decision on which tool they will pay for.
Features
The GeoEdge PRO allows us to view up to over 100 locations (there are just 80+ global locations in GeoSurf). To start using the service, you just need to install its proxy toolbar which is available on both Firefox and Chrome (beta). You can also install the GeoEdge VPN client to direct your desktop's traffic through GeoEdge's global proxy network, then you can view and monitor any content and ads inside applications and softwares. The client currently supports Windows and MAC.
Take a look at the GeoEdge Pro toolbar: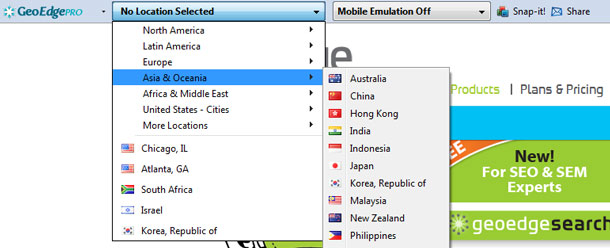 In my opinion, I think the toolbar is much neater than GeoSurf's and it looks good enough on Firefox. If you are worried that the toolbar could take your valuable web browser's estate, you can turn it off and use GeoEdge on the status bar of Firefox. In general, the toolbar gives us a better using experience and excellent ease of use and usability. More importantly, it has already been available on Chrome although it is just beta version, I haven't seen this feature on GeoSurf yet.
Apart from features like Location proxies and Mobile Emulator, you can also see the button Snap-it. When you visit a website and click on this button, you will be moved to a page that builds a consolidated view of pages and ads from several geo locations. This would lead you to the advanced GeoEdge analytics, you can log into your account at the GeoEdge site, then inside your My Account area click on Analytics.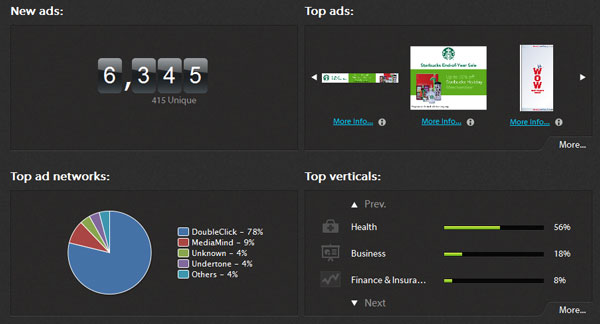 This tool gives publishers a systematic way to enforce their compliance rules in real-time with a consolidated view of how content and ads appear in any country. Advertisers and Media Buyers can analyze and identify international media opportunities and ads by locating the best performing media for their specific ad inventory.
Plans and Pricing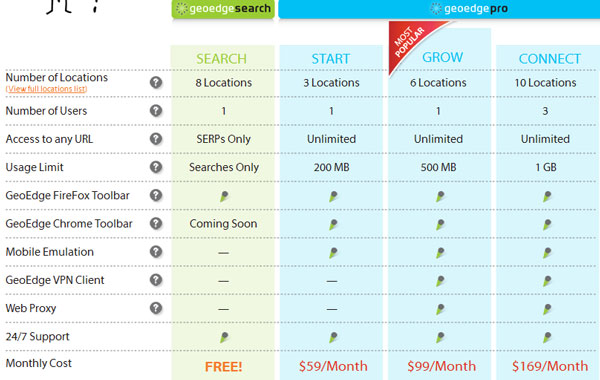 For people who are running SEO campaigns for their clients or even for their own websites, they could take advantage of the free GeoEdge Search plan. It allows accessing up to 8 locations but we can use these locations for search engine result pages (SERPs) only. So you can't use it to access any other URL.
For other packages, the pricing varies from $59/month, $99/month to $169/month. The expensive packages give users more locations, number of users and some advanced features like GeoEdge VPN Client or Web Proxy.
This tool is not for everyone as its price is still quite high (it seems higher than GeoSurf). However, many online marketers or SEO in large companies will find it reasonable because it has some great features. I myself see the free package is enough for me at the moment as my site is not geo targeted.
How about you? What features you like in GeoEdge and will you pay money to use it? Let us know below.
Disclosure: We might earn commission from qualifying purchases. The commission help keep the rest of my content free, so thank you!