I heard about GeoSurf a few times before writing this article as the product was reviewed on some famous tech blogs like TechCrunch or JohnChow. Honestly I didn't care about a Geo-Targeting tool as I thought it is unnecessary for publishers like me. However, I accepted to review GeoSurf because I want to know why it has become so popular in the blogosphere recently. Is this just a tool to determine the geolocation of visitors to a website?
GeoSurf 4.0 Features
GeoSurf is a simple but powerful GeoTargeting toolbar. In my first impression, the toolbar looks nice and clean, however, it is quite big and then takes away some screen estate of my web browser. If you don't like the big toolbar, you can turn it off and show the tool on navigation bar only.
Another drawback is that I couldn't find the GeoSurf extension for Google Chrome, the toolbar is just compatible with Firefox and Internet Explorer at the moment. There is a solution to use it on Chrome or any other browser as they also offer GeoSUrf VPN which can change the entire machine's IP.
It took me less than 5 minutes to install the toolbar on Firefox and get used to its interface and functionalities. Here is how the toolbar looks like:

The slogan of GeoSurf is "Surf locally without being local" and its primary functionality is a proxy surfing toolbar. The feature can benefit advertisers, webmasters and online marketers a lot if they have to deal with geo targeting and need to target specific countries or some states in the US. The service allows users to check out how websites show up in over 80 countries and locations around the world. This blog doesn't really need the feature because I run only Adsense ads here, however, I still want to see how the ads will change in different countries and it was quite fun playing with the tool. I also figured out that my ads are not displayed properly in some countries like China, probably their ISPs are still blocking Google now. On another site, I am running an advertising campaign that focuses on the US and Canada market and I found GeoSurf very useful in this case. I had no way to check if the ads are showing correctly in those countries and I even had to ask my friend there to capture screenshots of my website.
Maybe you are wondering why I don't use free proxies and a lot of anonymous surfing websites out there. Their problem is that they are not consistent and free proxies could die any time, some even couldn't work in just a few seconds. That was really painful experience. GeoSurf provides an easy way to surf websites in different locations, just choose location and click on the button Apply. The loading time of web pages is amazingly fast as if you are really surf locally.
Another notable feature of GeoSurf is the Mobile and Browser Emulator. This could save users a lot of time, especially if you are a web designer or webmaster who needs to check compatibility of a website with different phones and browsers. I could see there are just 26 smartphones (no iPhone 4S or recent smartphones) and 9 web browsers in the list now. Anyways, it is not too difficult to expand the list, it is constantly growing based on requests of customers.
GeoSurf Plus
GeoSurf Plus is the new advanced feature of the new GeoSurf 4.0. It allows exploring the eco-system of sites with display advertising by just 1 click. When you visit a website and click on the new button, a report on advertisers, mediators, campaigns and creatives will be generated. For example, here is the short report of MySpace.com:

To get more details, just click on the button More Insights.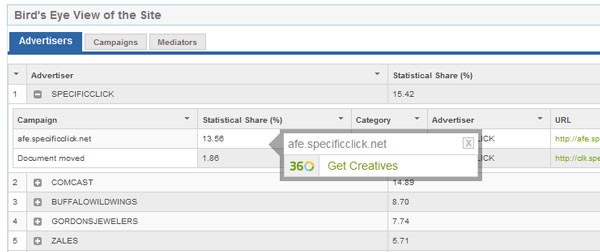 All information of advertising banners, advertisers and mediators involved in the campaigns will be revealed. This gives us a vivid picture of how a website is making money online and moreover, we can also view insights about the website like classification of campaigns, monitored pages and sites in the same category (with detailed info such as monthly unique visitors, campaigns and advertisers). This could help online marketers discover their competitors with less efforts for manual research time and therefore could dramatically increase productivity.
However, you can't view the report on many popular websites because their database includes just a few thousand websites now. Of course people can submit their sites for inclusion, they said that submitted websites will be added within 24 hours and data will be gathered in one week.
Some people complained that the pricing plans for GeoSurf are too high for normal users. The lowest price is $29/month for the silver plan which includes 1 location, 100MB usage and 1 user. Before deciding, you can try any plan for free in 5-day trial with access to GeoSurf Plus Beta which is available in all plans. I think the price is totally affordable for professional marketers.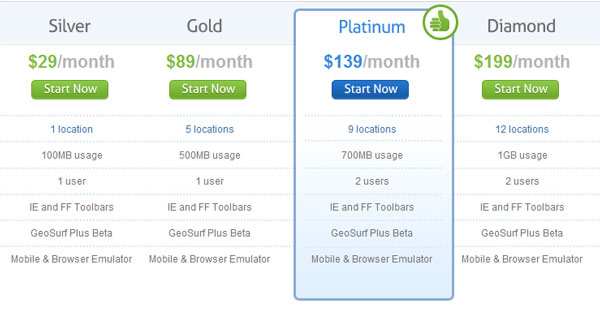 Let me know your thought about the premium proxy toolbar and how do you find it useful for your online business.
Disclosure: As an Amazon Associate, I earn from qualifying purchases. The commission help keep the rest of my content free, so thank you!