Here I am presenting a complete review and comparison between world's two best theme framework for WordPress, Genesis and Woo themes Framework. Both of these frameworks have been developed by well established online companies.
Genesis is developed by extension web company of world's famous blog, copyblogger. The company name is Studiopress.
Woo Themes is developed and maintained by many pro web designers and developers.
What are the similarity between these Theme frameworks :
Both of these theme frameworks are known for their solid core structure, their user friendly admin panel and their inbuilt rock solid SEO features. One more thing is common between both the themes, and it is their price. The price is made very competitive and that's why they are so much popular.
LET'S START TEST : Our main focus will be in these areas
Design options (discussion on in built design options)
SEO
Support Forum
1. Design Options
GENESIS DESIGN OPTIONS
The latest version of this Genesis theme framework provides the design options which are good enough for regular users. For advanced users, genesis provides custom function.php and stylesheet. Genesis also supports custom templates, like landing pages, portfolio pages or blog pages. These options are not included with framework, but are usually included with child theme. If we move to genesis design option panel, we see it gives option for selecting layouts. Total six different layouts are provided by genesis.

One is full width, two one sided, two are double sided sidebars and finally one- one sidebar on each side.
The next option available is to select, wither you want to use custom image for logo or wanna use dynamic text. Now you can select which navigation you want to include, primary or secondary. You can also select wither you want include drop down option or not.
Genesis also provided option to include breadcrumbs, comments and trackbacks. You can enable them for posts, pages.

Genesis also gives control on how to display the content at homepage. You can select the full content or excerpt, now with excerpt you may also include thumbnails. If you want only a certain category to get displayed on homepage, you can do it with Blog Page settings.
You also get custom fields for adding scripts at header and at footer. This is best place to add Google webmaster and Google analytic scripts. You can also add any other scripts like, infolinks or knotera etc.
WOO THEMES DESIGN OPTION PANEL
Over here we're gonna compare the woo themes famous production, Canvas. Canvas is also available for woo commerce.
The very first thing is, support for short codes. Woo Theme shortcodes include buttons, infobox, alert box, lines, and many more. And this functionality is integrated within the WordPress post and page editor.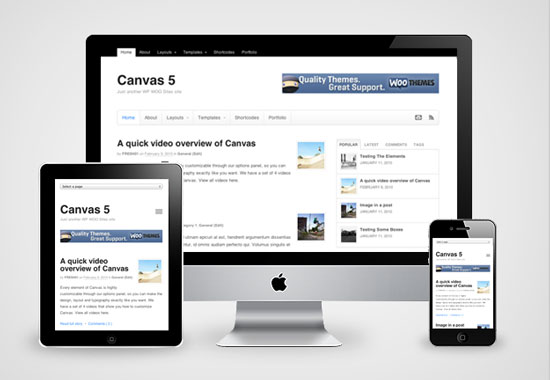 Theme options include, uploading of custom logo images. You can also upload custom favicon. Selecting the width of total theme, selecting the layout. You can also select options to enable or disable sidebars. Integration of custom scripts both in header and footer.
Woo themes also support dynamic resizing of images, so as to select them for thumbnails. Now no more image cropping. Ads ready widgets. You can integrate banners on header, sidebars, below posts.
Canvas also supports child theme and custom widgets.
Custom template for each kind of sites. You want to create a blog, select the blog template, or wanna create landing pages, select the full width template.
Woo themes also enables its users for selecting custom fonts for different types of blocks. Example: select fonts for navigation, header, taglines, H1, H2, H3 tags and many more.
COMPARISON
So we come to conclusion, that Woo themes gives more option for design, but more dynamic design, the more time it will take to load which in return will affect your SEO. Whereas Genesis provides those design option, which help you make your own custom blog, without compromising with SEO. Genesis wins.
2. SEO (Search Engine Optimization)
So what are the SEO features, which make these theme frameworks outstanding? When it comes to SEO, themes like Thesis, Headways and Pageline also needs to be compared. But I am also considering the price as important factor and so I can't include them here for comparison. For the price of one Thesis Developer Licence, we can buy almost three genesis child themes including the theme framework.
GENESIS SEO FEATURES
Genesis is used by many probloggers world wide, and many of them make millions every year from their websites and blogs. Blogs like, problogger.net, copyblogger.com and many other use this theme framework. So there must be something which is attracting them.
Genesis lightweight, along with its elegant design. Genesis is known for increasing conversions, sales and for increasing reader base. And that's why all these problogger have chosen genesis.
Genesis theme is completely compatible with wordpress seo by yoast. I mean, when you will install genesis, you get seo option on your dashboard. But after installing wordpress seo by yoast, that genesis seo option will be removed.
So lets do SEO : Genesis provides lots of SEO features.
Adding custom site name and description. Google no more uses keywords, but it still gives area to add it up. You can apply nodp and nodir to your complete site. No and nodir means that your blog will not be indexed by open directory projects and yahoo directory.
You have full control on robot.txt files. You can apply noindex and noarchive to complete site, page, posts, search pages, category archives, date archives, tag and author pages.
You also get option to append the site name to either left or right using any custom separator. Example : MONEY MAKING TIPS – TECHWALLS
Now for every post, page, category , tags and even author pages, you get new set of SEO options from genesis. These options are, to add custom description, add keywords and add SEO friendly title tags.
WOO SEO FEATURES
Woo themes also provide area for site name and description. But it has no integration with WordPress SEO by yoast plugin. Woo themes also provide custom meta options for each pages, posts. But I have seen a problem, even after adding the custom description, my description is not shown in Google, instead Google creates its own description and displays it.
Woo themes heavy CSS files as compared with that of genesis theme. So in terms of SEO, Genesis will always be ahead. Also Genesis uses very less scripts as compared with woo themes.
3. SUPPORT FORUMS
Both of these theme companies have forums. Woo Themes forums are open for only members. So if you have any question regarding their theme, you can contact them, but only after purchasing the theme. Genesis forum, is just so awesome, they are really very responsive. They also allow subscription for any member, but for specific theme support you have to move to member only area.
Hopefully the review will help you decide the framework to be used on your WordPress site. You can check out the Studiopress Genesis and Woothemes site for more information. Let us know what you prefer as well.
You are wondering what is my choice? Genesis of course.
Disclosure: We might earn commission from qualifying purchases. The commission help keep the rest of my content free, so thank you!