Taking videos with an iPhone is often awkward, unproductive, or both. Whenever you breathe or move, the iPhone bounces up and down unseemly, and the video is automatically amateur, no matter how sophisticated the cameras on these things get. (Unless they can account for accidental motion, which they can't. Yet.)
Galileo Motorized iPhone Stand
The Galileo iOS-Controlled iPhone Stand lets you use your iPhone as a camera! Now, your device has the chance to become the video-shooter behind some of your most awesome home films! This stand is also vital for anyone who regularly uses Face-Time with a loved one who is far away from home. Instead of being forced to hold your iPhone during the entire conversation, or try to lean it up or balance it against another object, you can just stick it in the Galileo motorized stand!
This camera dock for the iPhone and iPod Touch works great for those who have another iOS device, and for those who do not! You can control the 360 degree movement of the Galileo stand from a different device such as the iPad, or from a web browser!
The possibilities for Galileo are endless – a baby camera, the intelligent brain of a DIY built robot, the next camera for your epic movie, a creator of panoramic real-estate pictures, and more! Unfortunately, you can't pick up the Galileo immediately, but you can pre-order one for $85.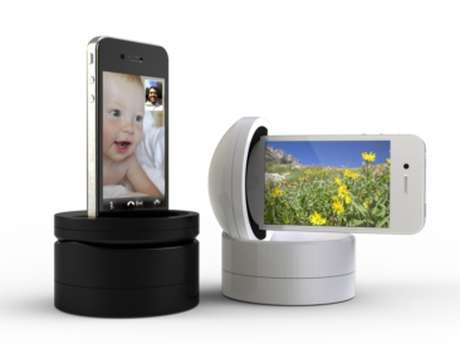 The Project On Kickstarter
Galileo is just a prototype right now, and needs funding on order to be mass produced on the technology market. The device is a Kickstarter project, and currently has $54,000 worth of funding, and requires $100,000 to get funded. If you want to help them out, then visit the link and donate any amount of money. Just keep in mind that if you don't donate at least $85, you can't get a Galileo for quite a while. (Well, until you see it everywhere in stores.)
Josh Guyot and JoeBen Bevirt are the geniuses behind Galileo, and are also the designers and creators of the GorillaPod, another great stand for your iOS devices. Even if you wouldn't use the stand to Face Time or take pictures very often, it also serves as just another regular charger stand for your iPhone and iPod Touch.
Reward Details
You can get the Galileo in Black, White, or Green, but the Green is a special limited edition Kickstarter version that is more exclusive and requires that you fork over more of your precious cash. ($85 is the regular price, like I said above, but the special edition green color costs $95.) The incentive for paying more is that you will be one of only a handful who were able to get their paws on this sleek color – if Josh and JoeBen get their project funded, they will not be making the green version, only the black and white Galileo stands.
Just for kicks, if you want to know what the highest reward amount for pledging is, it is a whopping $1,300! If you pledge this incredible sum of money, you get 10 black Galileos and 10 white Galileos! I'm not sure what you would do with that many, other than sell them off to your friends, but there is 1 backer who decided to take this route, so there must be some sort of benefit.
Disclosure: We might earn commission from qualifying purchases. The commission help keep the rest of my content free, so thank you!