The new addition to the history of the iPad was released on Wednesday, this addition is known simply as iPad. Along with the release, there was also a release of several updates to existing iLife applications and even an addition to the line. The new addition to the iLife for iOS line was finally iPhoto. The last to be added, it was seen as a long overdue addition, with iMovie and Garage Band already having been on the App Store for a while now. While we are happy to see it appear, does it meet the expectations that we hope of it? Let's take a look at iPhoto for iOS to find out, plus a little surprise for you at the end.
Interface
I am not really the type of person that focuses too much on the interface if, in the end, I am able to find it very useable. However, iPhoto is a bit different. iPhoto for iOS has an interface that you don't want to look at for a while, it's just not attractive in any way. There is so much going on. The screen design, the glass shelf, the idea of the shelves in general, it's all a bunch of something I could live without. However, if you are a die hard user who wants an interface that is great is helping you do what you downloaded it for, then iPhoto is the application you'd like. Like the desktop version, iPhoto for iOS is divided between Albums, Photos, Events, however the one thing new to iPhoto for iOS is Journals. We will go more into that later in this review.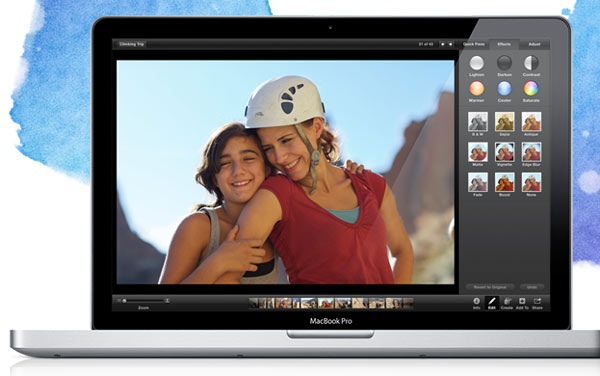 Features
iPhoto for iOS allows you to organize and edit your photos, easily. However, ease of use doesn't mean a skimp on features. iPhoto for iOS has many of the same features as iPhoto for Mac, please a couple more. newly released ones. When editing photos, it takes many of the Mac features and makes then navigational on an iPad or iPhone. The effects on photos are laid out in a well organized page, allowing you to selecting each effect before choosing the one you feel is best for your photo. If you want a quick edit, you can just click to auto correct. The bottom left corner is where you find many of these features, including white balance adjustments and cropping.
To make adjustments to a certain area, just tap and hold. You are revealed with several brushes, including the one for red eye, repair, lighten, darken, and more. Once your photo is ready, why not share it? Click the share button, and you are shown everything from sending your photo to journal, adding it to your camera roll, Twitter, Flickr, Facebook, and more. Journal is to photos (and even videos) as iMovie for iOS is to movies directly. Journal allows you to collect a bunch of multimedia, and edit to make a story or photo book out of it. There is also iCloud support. I wish they incorporated the full books features found in iPhoto with iPhoto for iOS, including prints (cards, etc). Maybe in the next update? I hope so!
Price
iPhoto for iOS is available on the app store for $4.99. This is the same price as Garage Band and iMovie for iOS. Some early reviewers are hoping for it to become standard, replacing the native photos app. While we can wish, that is quite doubtful. Especially if it is seen as a popular application, Apple will most likely not have it become standard. It will be a lost in revenue.
Conclusion
iPhoto for iOS is a great application for individuals who have been waiting forever for this to become a possibility. It seems like it should have been apart of the release of Garage Band and iMovie when they were released, however Apple seemed to want to make this an event of its own. There are some drawbacks, including the price and the gaudy interface (glass shelves, really?), but other than that, it gets the job done and then some. If you are looking for a great photo editing application and willing to fork over $5, I urge you to make it apart of your device. If not, there are many great affordable applications (including Camera+, a favorite of mine). However, price doesn't have to get in the way of your enjoyment of iPhoto. We have something that can help you out a bit…
Giveaway Time!
You've read the review and want iPhoto for iOS, but the price may seem to turn you off from it. We have a solution, the team at TechWalls is giving away a free copy of iPhoto for iOS to three lucky readers. To enter, simply follow instructions below and comment saying one thing you love about the new iPad and iPhoto. Even though I can't enter, I'll tell you that by far, my favorite part of the new iPad is the retina display and the HD video capabilities.
We will pick winners from entries received during the contest periods. Your odds of winning will depend on the number of entries you submit below. So, make sure to fill in exactly your email so we can know who to contact. The contest is available for everybody in the world until March 18th, as long as you have Internet connection. You can join the contest using Facebook or email address, so let's get started now!
Disclosure: As an Amazon Associate, I earn from qualifying purchases. The commission help keep the rest of my content free, so thank you!