Flexible screen is considered as the biggest revolution on mobile devices after touch screen, and it could come sooner than we expected. The year 2012 could mark the significant milestone with the release of the first bendable screen phone from Nokia and Samsung.
At Nokia World 2011 in London, Nokia introduced Kinetic, the concept of a flexible screen smartphone with twisted interface. The 5 inch screen prototype came with 2 apps for us to try, photo viewer and music player. Users can twist the screen forward or backward to zoom in/out pictures or select music track to play. Besides, we can move the phone in a convex position to choose an icon and move it in concave position to move back to previous page.
Apart from Nokia, Samsung will also join the market as Robert Yi, Samsung's spokesperson, stated in a recent press conference that bendable screens will be an important part of the next generation of Samsung smartphone. The flexible screen will be available on Samsung smartphones first, and on tablets later. If the development is going well, we can even see the first product in early 2012. Earlier this year, there was the concept phone, Galaxy Skin, using the technology in a project carried out by design students. It could use the material graphene for its AMOLED screen with high-resolution of 800×480, 8MP camera, 1Gb RAM and an 1.2GHz processor.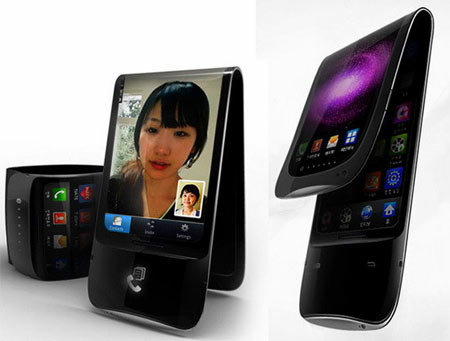 The advantages of the flexible screen has been mentioned for a long time. It is not only the next step of touch screen, actually, it brings more benefits than what the touch screen offers. Here are some of the most important pros of flexible screen:
More rugged and endurable as it is not easy to be broken like hard screen.
Can make foldable screen and eliminate the screen size limitation. There would be a tablet that could be fold into a smartphone and put neatly into your pocket.
Offer great experience in gaming and watching movies on mobile devices.
On the other hand, there are still some restrictions of the flexible screen, especially with the prototype Nokia Kinetic we've seen above. Users can't operate the screen with one hand and it is not really intuitive, I think it will be better if flexible screen is combined with touch screen. One more problem is the price tag of devices using the new technology, it will be very high and can't reach mid-range consumers at first. Anyways, if the phone could actually appear in 2012, this will be the foundation for a giant leap for smartphone market in upcoming years.
What is your opinion about the flexible screen and its future?
Disclosure: We might earn commission from qualifying purchases. The commission help keep the rest of my content free, so thank you!