Android smartphones have a big advantage over iPhone, that's the designs coming from different manufacturers. Therefore, we can see varieties of products with their unique designs and they give us a lot of choice for a smartphone. There are always a lot of ideas from designers for Android smartphones, this post will introduce the best 5 concepts that can please the most fastidious consumers.
1. Samsung Galaxy Heaven
Samsung showcased a first prototype of Samsung Flexible AMOLED 4.5 inch WVGA display screen earlier this year, the screen is just 2 mm thin and can be morphed into any shape. The Samsung Galaxy Heaven would use the flexible AMOLED display and therefore, it can be used as a projector and a wristwatch as well. The greatest thing about this phone is that users can design their own smartphone.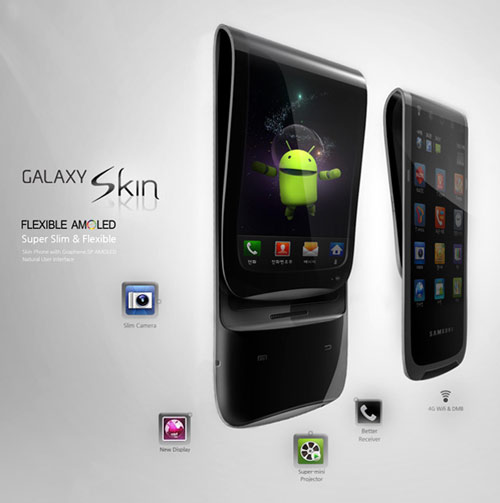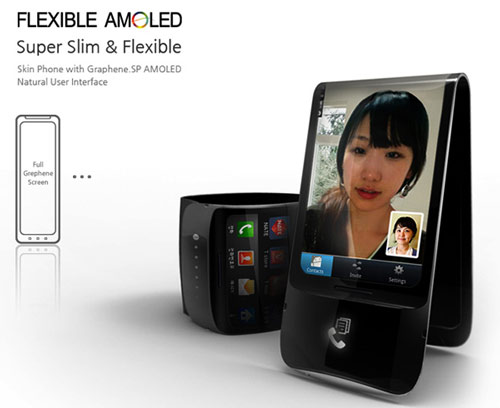 2. Samsung Bang & Olufsen Phone
The BoPhone M concept is inspired by Bang & Olufsen and Samsung classic designs. The combination would give users a powerful smartphone and the sound gear of the Bang & Olufsen brand.
The Android smartphone will come with a dual-core 1.5GHz processor and a 4.3 inch WVGA Super AMOLED Plus display in a slender design. Accompanying the phone is an enhanced B&O dock that has a curved and teardrop design and gets the top acoustical technology.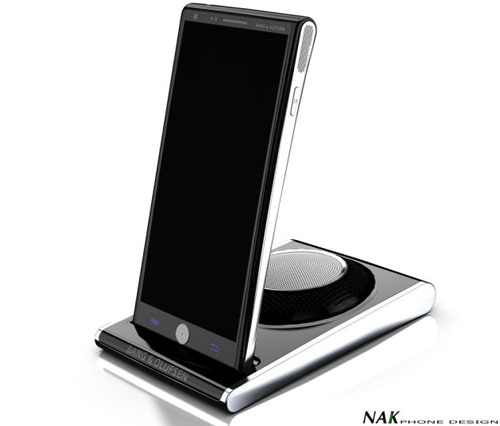 3. Flip Phone
If you are bored with current smartphones that looks too dull and standard, the Flip phone with its ultra-sleek 3-panel design is another choice for you. All the three panels are flexible AMOLED touchscreens which are built with Gorilla Glass, it has steel meshes holding each screen together and the rest of the device is made out of aluminum.
4. HTC Tube
HTC tube is the Android cartridge-powered ecosystem integrating phone, tablet and laptop. The phone can be docked into tablet and paired with a keyboard dock to become a full-fledged laptop.
The smartphone is available in a Starter, Smart and Ultimate Edition. The Starter will feature Android 2.2 on a 800MHz processor whereas the Ultimate uses a 1.5GHz Dual core CPU with WP7/Android 2.2 via dual boot.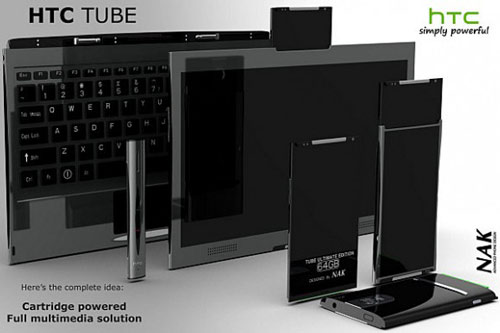 5. Skinny-Jeans Phone
If you don't have big pocket and still want to use a big screen smartphone, this will be a great choice. The device is as thin as half a Samsung Galaxy S II at its thinnest point, therefore it is very easy to slide into your pocket.
It features a 4 inch OLED screen with scratch resistant glass at front, 2 inch OLED screen at bottom, and dual speakers for stereo sound. The bottom screen will show some quick notifications like Twitter notifications, Mail notifications, time, date, and battery level.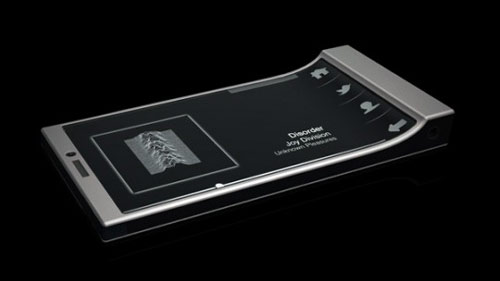 The technology and materials to produce the smartphone concept have been already available, so we can expect they will hit the store in a very near future. When do you think they will come out?
Disclosure: We might earn commission from qualifying purchases. The commission help keep the rest of my content free, so thank you!