Now up and ready to download, the first version of Firefox 11 Aurora has been released for Windows, Mac, Android, and Linux not long after the stable version 9 build release, and once again the most notable change belongs to the android update. The reason the android version has the most notable differences is because of the new native android interface. Also for the first time the browser finally has Adobe Flash support which other browsers like Opera have offered for a while.
However although it may look like it, the changes are not merely aesthetic as the browser has been stripped of a multitude of its features such as Firefox Sync which allowed users to synchronize data like bookmarks and history to other devices running Firefox. An example of this is transferring your bookmarks to your android phone, tablet or other device. Another thing lacking from the new release is Mozilla's coveted add-on system which is a huge inconvenience for many people. Some good news though is that Mozilla has promised that both these features will be integrated into Aurora at a later date.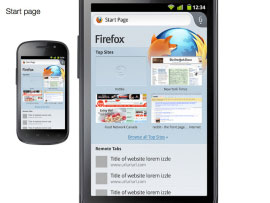 Meanwhile, Firefox 11 Aurora for desktops gets a  few useful changes as well the first of which is that Windows 7 and Vista users will no longer see the User Account Control (UAC) for Firefox after the browser's installation. This is something Firefox has needed as browsers like Chrome have not required your interaction with the UAC at all. The second addition to the desktop version is that after the initial installation, the browser now adds Chrome to its list of browsers meaning you can now import all your personal data.
Now onto the more technical aspects of the browser, although the temporary loss of these two functions are a inconvenience some testing on my part has indicated that aurora is indeed a much faster browser. From the data gathered we can assume that although site-loading only shows speed gains of around half a second to a second, starting up an app shows a drastic increase in speed of around 40-50%.
Other changes in Firefox 11 Aurora are aimed more at developers. For example more HTML5 code is supported, Tilt support now allows for 3D web page visualization, and the HTML5 video controls have been redesigned. For mote information check out the Firefox 11 Aurora changelog.
My opinions on Firefox Aurora is that as of yet it is not a huge update, but  still a step in the right direction. Reasons for this include the lack of add-ons and Firefox Sync however considering Mozilla has promised to reintegrate these features the problem this presents is not that big. Also from what  I can tell this update is primarily focused on the android community and is a great update for them due to the new native interface. Keep your eyes on this Android users!
Disclosure: As an Amazon Associate, I earn from qualifying purchases. The commission help keep the rest of my content free, so thank you!