I always prefer stick vacuum over full-sized ones because it is much more lightweight and compact. The problem is that it is so difficult to find a high-quality stick vacuum at the moment.
Actually, I used two stick vacuums, which are Dyson DC35 and Bissell Lift-off Floors, however, they brought me horrible experience. The Bissell one almost has no suction power while the DC35 is unusable because of its low battery life.
Electrolux UltraPower Studio is the newest stick vacuum I review, and I expected a lot because this comes from Electrolux, the world's second-largest home appliance manufacturer. The UltraPower Studio unit is sponsored by Electrolux but the review is 100% based on my opinion after using the product. Now, let's see if this is a good vacuum cleaner for your home.
Unboxing and Operating Video
The video below shows how I unboxed and operated the vacuum on hard floor and a small rug. Check it out:
Design and Features
The product includes just a stick vacuum along with its charging dock. The charging dock could be mounted to the wall, however, you need to make sure your wall is strong enough to withstand weight of the vacuum. Overall, this is the most good-looking and modern design I've seen on a vacuum cleaner so far.
Electrolux made it lightweight, portable, and still very sturdy. That makes me feel so comfortable cleaning my house, no more worries about cords or exhausted because of heavy weight. You can see some more product images right below and you will understand why I love the design.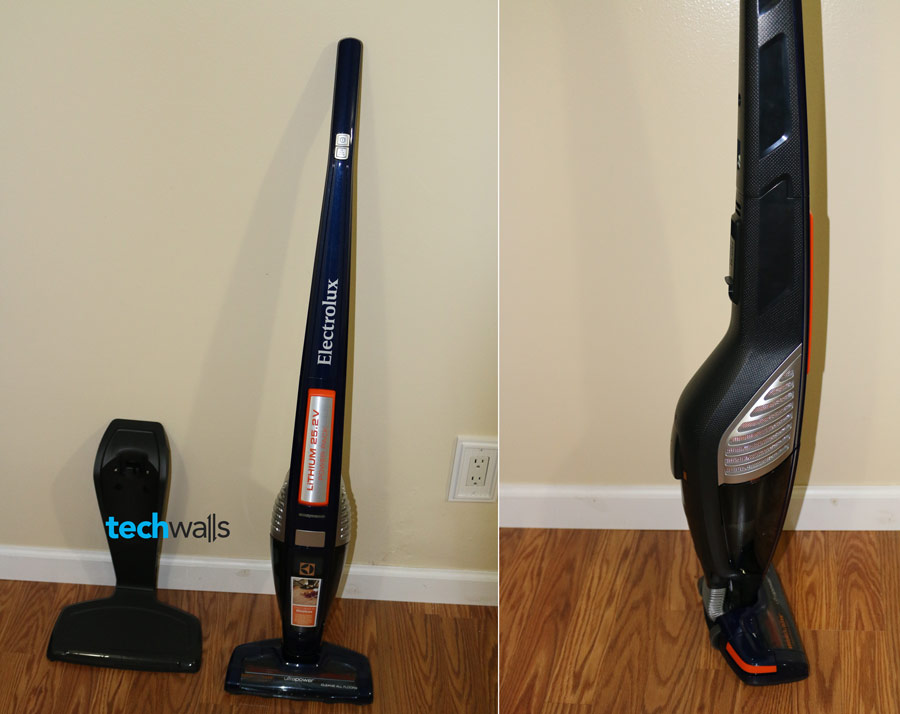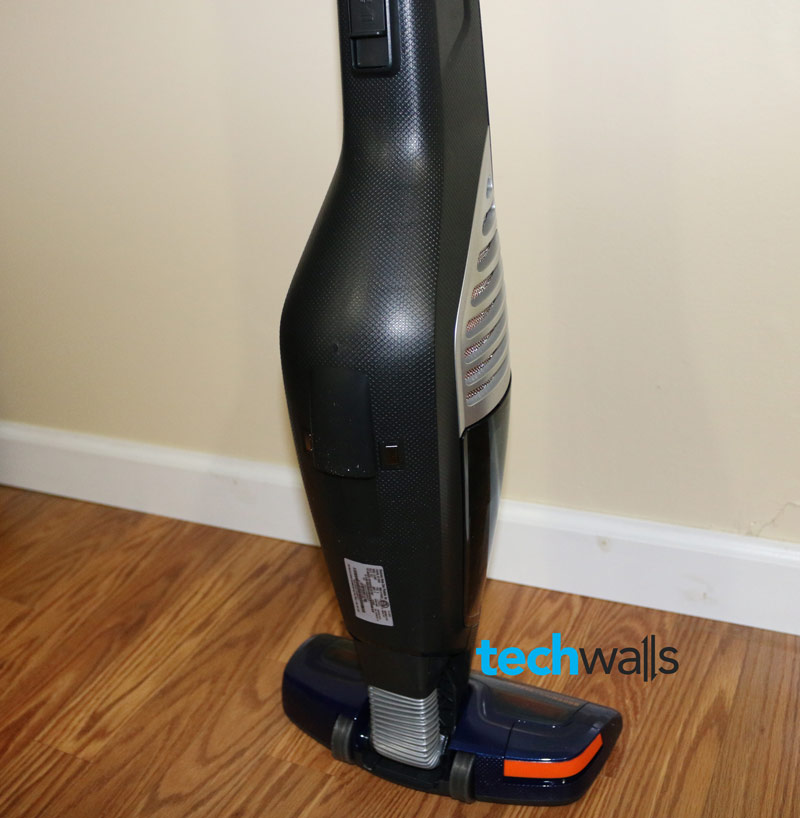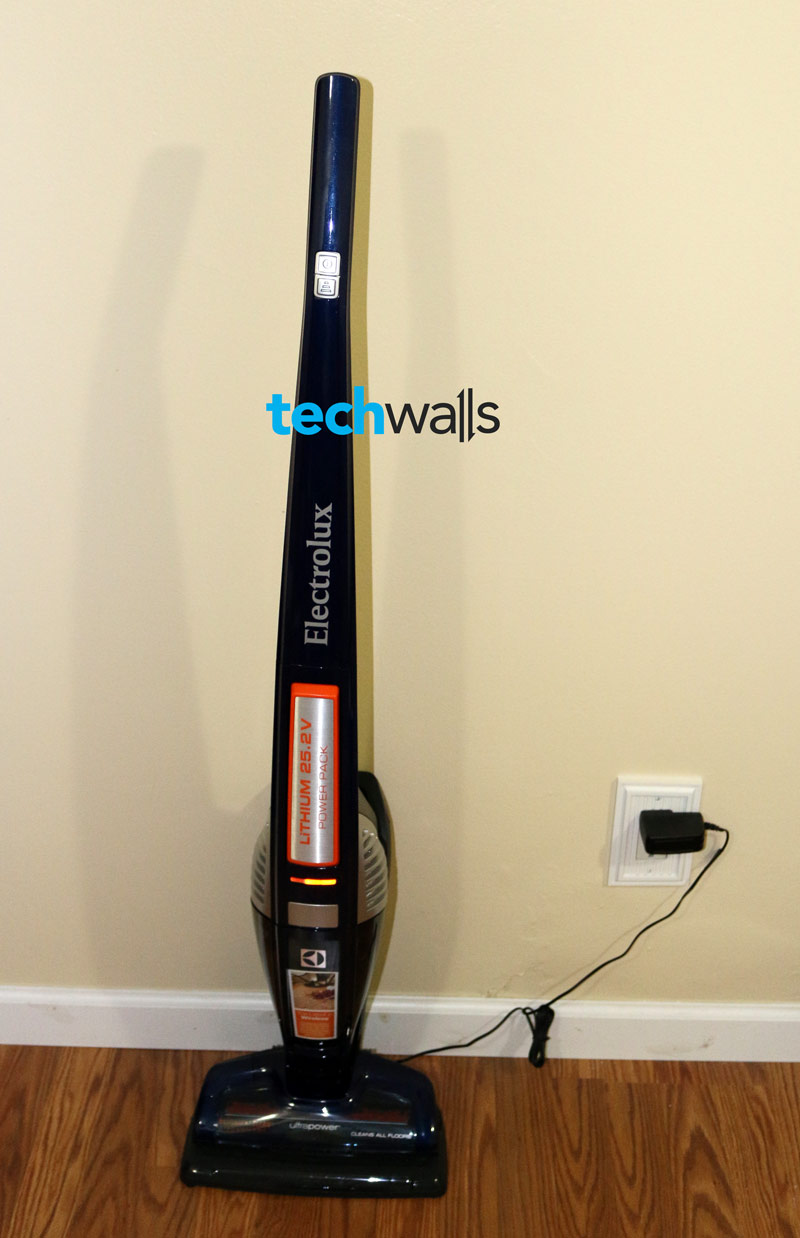 In terms of cleaning experience, the UltraPower Studio is awesome. You really won't be disappointed with the compact vacuum. It comes with 180-degree swivel nozzle that helps you easily change cleaning direction. A nightmare of using vacuums is when their heads are tangled up with hairs and fibers, Electrolux solved this issue with Brushroll Clean Technology. You will just need to keep the vacuum stand, press on pedal on the right of the head while turning on the vacuum, keep for a few seconds and then you will see all those hairs are cut and sucked into the container. Notice that this feature doesn't work with thicker threads.
The only disadvantage of this vacuum is that it is still too big to clean small spaces like corners or under the bed. It will be great if they could attach another small hose to this vacuum.
I have no complaint about suction power of this stick vacuum. Of course, it is not as powerful as full-sized cleaners, but it still does its job pretty well on hard-wood floor and carpet. It has 3 power settings, make sure you turn it to the Booster mode when you want to clean your carpet.
The battery life of the Electrolux vacuum is advertised to last up to 60 minutes. It seems to be correct if you use it in Silent mode. When you switch to Normal or Booster mode, it will last from 25 minutes to 40 minutes. A full charge will take about 5 hours. This is still a very impressive battery anyways.
Besides, the vacuum features the bagless cyclonic technology. So, we don't have to replace bag and the vacuum will still keep its suction power even when the container is filled up.
It is very easy to open and empty the dust container. As there is no bag to replace, Electrolux recommends to quick clean the inner filter every emptying and clean the whole filter after every 5th emptying.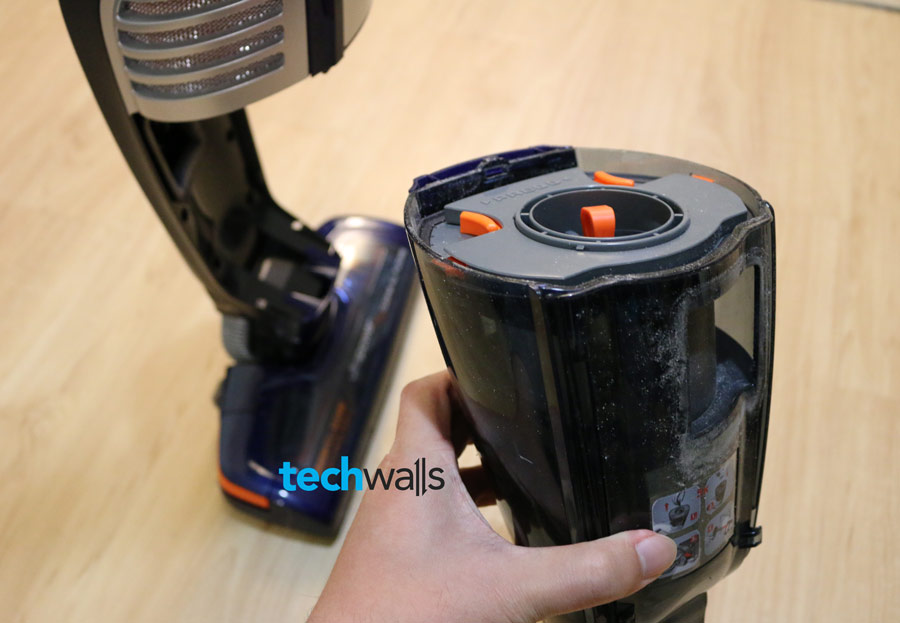 Pros
Modern, lightweight and compact design.
Powerful enough to clean carpets and hard floor.
No bag to replace.
Great battery life.
Easily get rid of tangled hairs in brushroll.
Cons
Not as powerful as other vacuums at the price range.
Can't reach small spaces.
I love using this Electrolux UltraPower Studio vacuum to clean my apartment and that's why I'd recommend the product, I just wish it came with some attachments.
TechWalls Rating
Design & Features - 7
Performance - 8.5
7.8
Good
A great vacuum if you just need to clean the floor.
Disclosure: As an Amazon Associate, I earn from qualifying purchases. The commission help keep the rest of my content free, so thank you!