The Edifier S2000 Pro is just my second pair of bookshelf speakers. I used a system with the Creative E-MU XM7 speakers and Sound Blaster X7 DAC/Amp 2 years ago; I really loved them but its sound quality couldn't beat the convenience of soundbars. So I used some TV soundbars for my living room since then. I've tested the Edifier S2000 Pro for over a month and I can't come back to any other system. Let's find out why in the review.
Unboxing
Design & Features
In terms of design and features, the Edifier S2000 Pro totally outclasses my previous systems. The product comes with two bookshelf speakers and a remote control. I'm very surprised with its elegant and luxurious look. The speakers are fairly heavy since the enclosure is made of thick wood. The combination of the black piece with two genuine birch sideboards looks amazing and it could easily blend into any furniture. Other details like the gold feet and leaning-back front panel make the look even more appealing.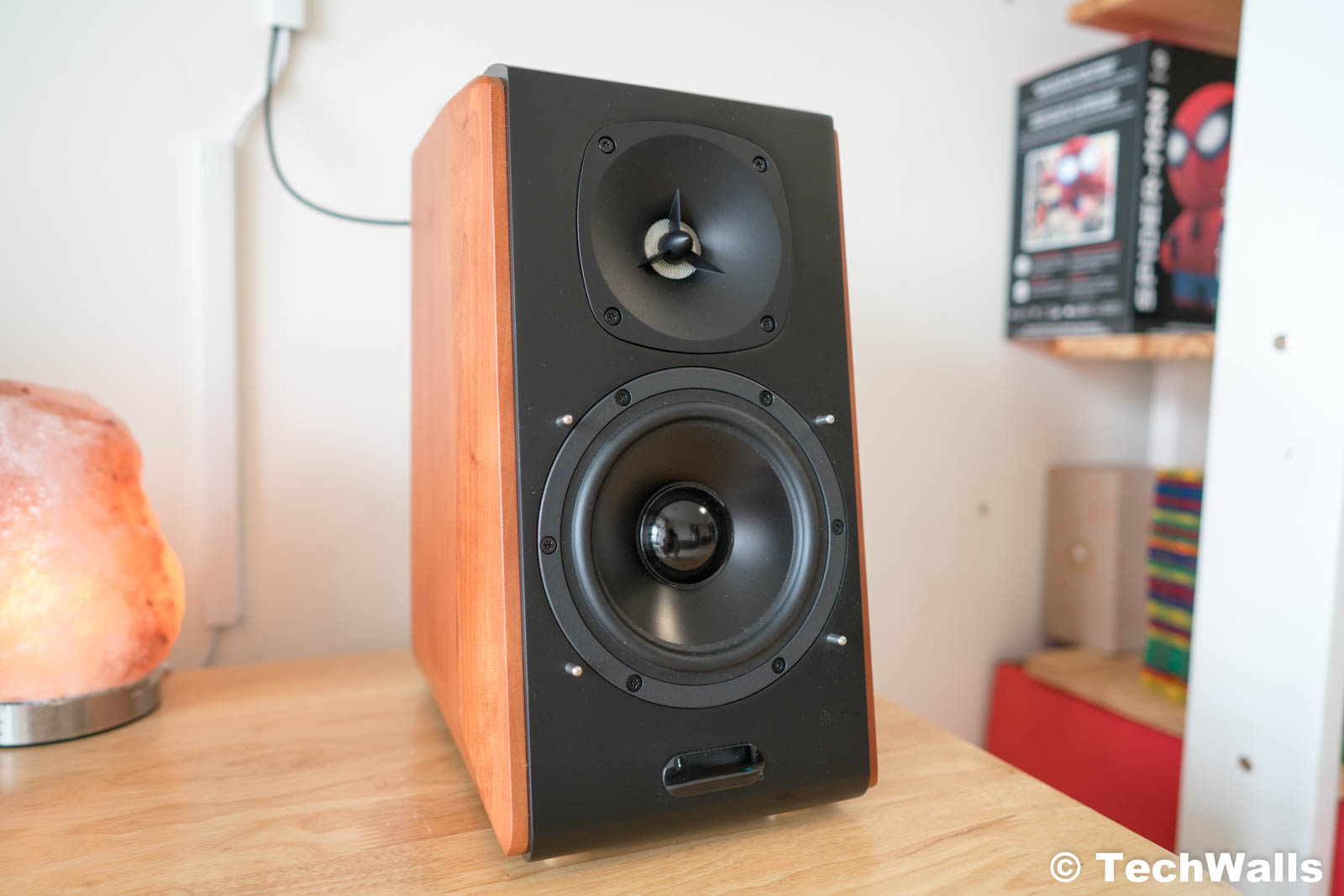 The right speaker is the primary unit since it has all controls and connections. The left speaker only has one port to connect to the right speaker. Notice that it uses a proprietary 5-pin connector to connect the 2 speakers, it is said to separate treble and bass and reduce interference. Here you can also see a small display showing the current input and indicate sound mode when you make the change.
Inside the box, they provide some cables including a 3.5mm-RCA cable, an RCA to RCA cable, a speaker-connecting cable, and an optical fiber cable.
On the back of the right speaker, you can find the volume dial/input selection, treble dial, bass dial, AUX in, Balanced XLR input, Speaker out, Optical in, Coaxial in, and a power switch. I just wish that they could add the HDMI (ARC) port so that I could connect it to my TV and control the speaker easier. At the moment, I'm using the Optical port and always need to use two remote controls to power on/off or adjust volume. This is a little inconvenient as compared to my previous soundbars.
Notably, these are Bluetooth speakers, so you can also pair it with your TV or listen to music from your mobile devices. Edifier uses the CSR8645 chipset for Bluetooth 4.0 connection, it features the aptX decoder for lossless audio playback.
The remote control allows changing between inputs, and switch between some preset modes like Monitor, Dynamic, Classic, and Vocal.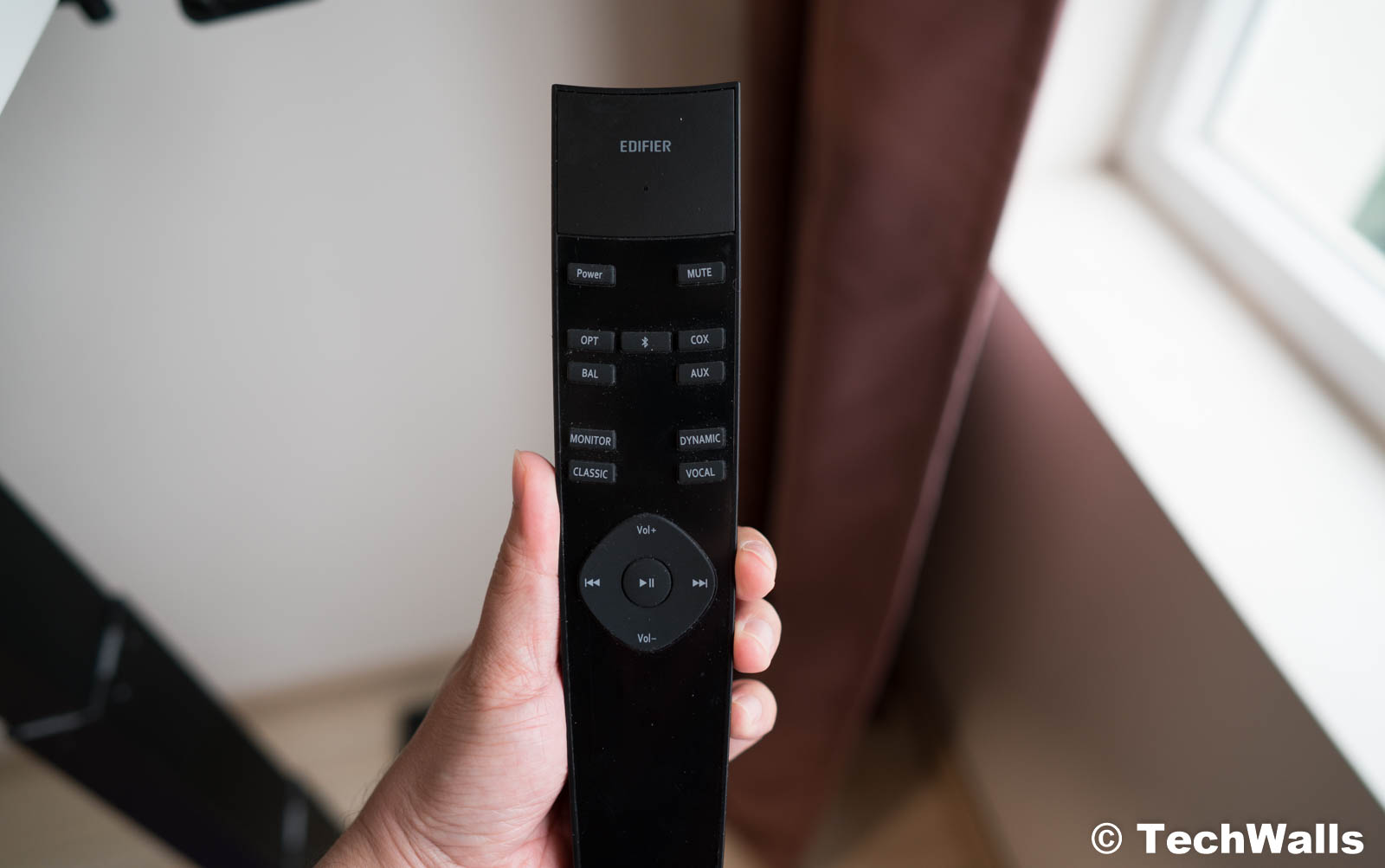 I really love the clean setup since it doesn't require any receiver or DAC/Amp. Just place the two speakers on 2 sides of my TV, plug some cables, and they are ready to use.
Read also: The Best Bookshelf Speakers – Reviews & Buyer's Guide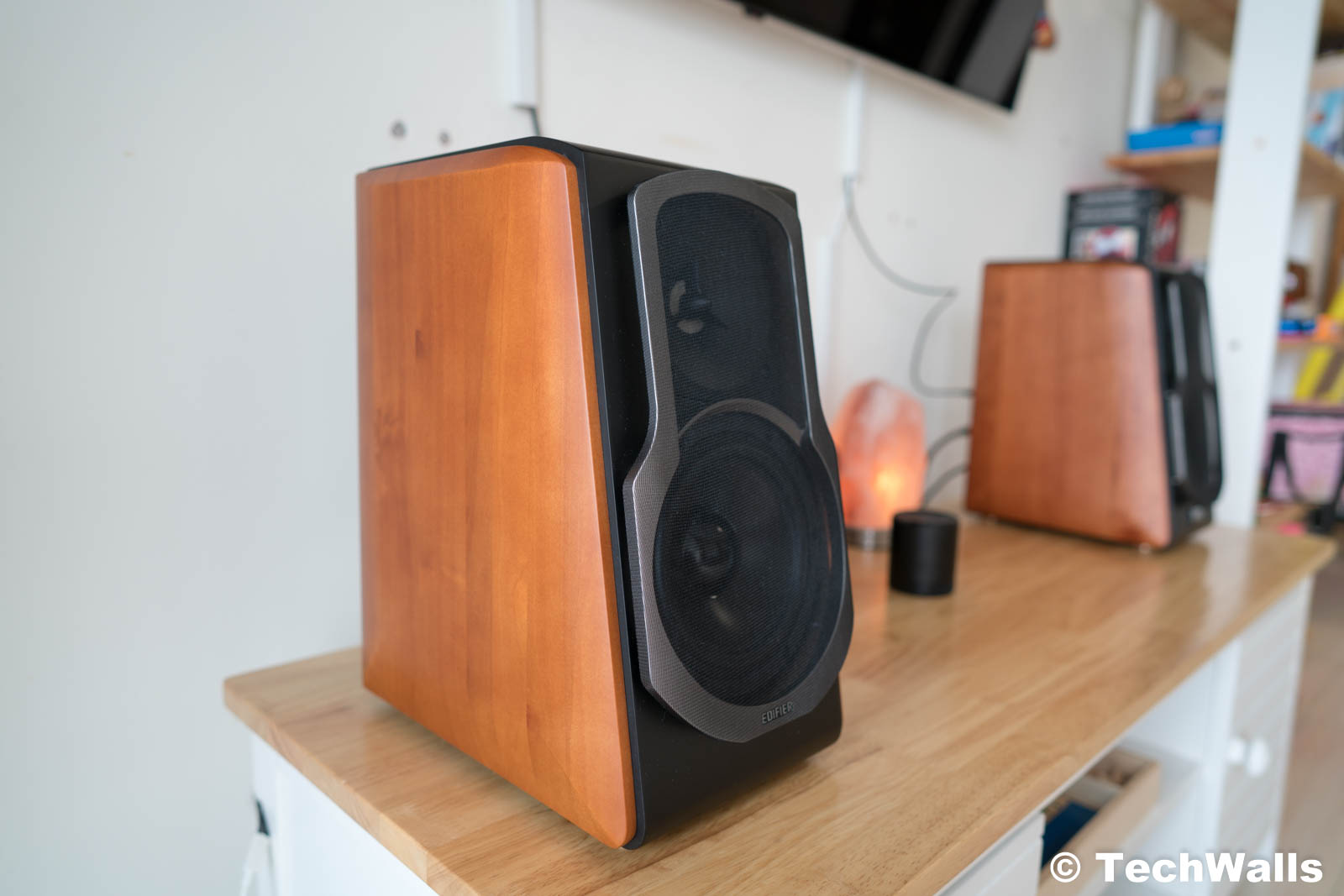 Audio Quality
Before diving deeper into the audio quality, let's check out some specs of the speakers.
Onboard DAC (digital-to-analogue conversion) and ADC (analogue-to-digital conversion): Burr-Brown PCM1802 Texas Instrument
Digital Audio Interface Transceiver for optical and coaxial inputs: Burr-Brown PCM9211
Digital amplifier chips: Texas Instruments TAS5754
Tweeter unit: Planar diaphragm tweeters
Mid-range and bass driver: 5.5 inch
Power output with limited distortion:

L/R (treble): 12W+12W
L/R (mid-range and bass): 50W + 50W

Input sensitivity:

Balance input: 700±50mV
Auxiliary input: 600±50mV
Bluetooth input: 350±50mFFs
Optical input: 350±50mFFs
Coaxial input: 350±50 mFFs

Noise level: ≤25dB(A)
Signal to noise ratio dB(A): ≥94 dB(A)
Rated sound frequency response range: 48Hz~20KHz
Now, let's check out the sound test below.
There are just 2 bass ports on the back but the low frequencies sound really good and there is no need to add a subwoofer here. I am using the speaker in a 650 sq ft living room and the bass is very powerful. I even had to set the bass level on the back to less than -4.
There are 4 preset sound modes on the speaker, which are Monitor, Dynamic, Classic, and Vocal. Edifier even printed a frequency response graph comparing all those modes on the outside of the box.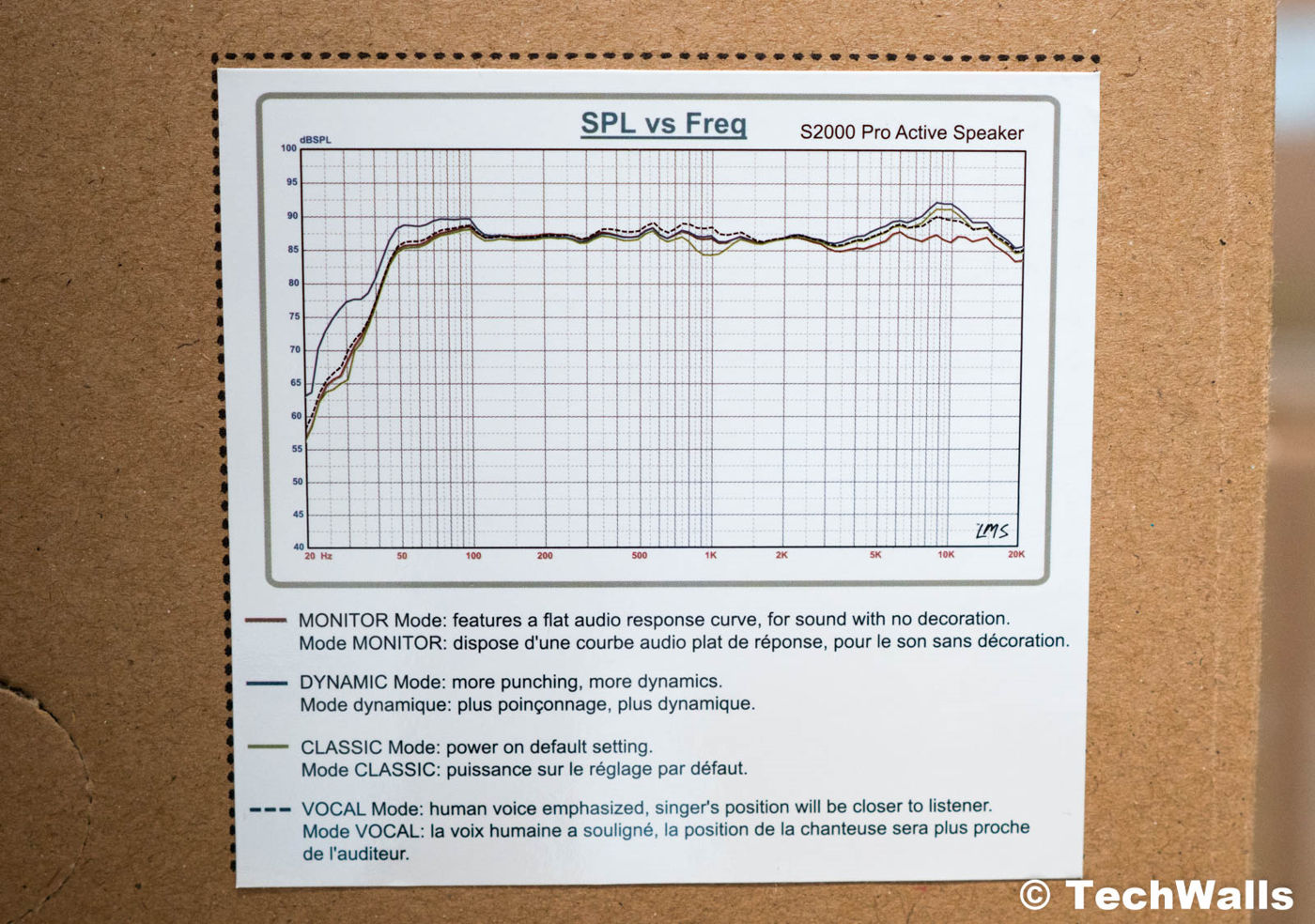 The two modes I use the most are Monitor and Dynamic. The Monitor mode has the most neutral sound while the Dynamic mode has some boosts in the lows and highs. The frequency response is almost flat down to 50Hz; if you want to fill the lows for a better sub-bass, you will need a subwoofer. However, it's totally unnecessary for most average consumers who are using the speakers in a medium-sized living room.
Considering the fact that the Edifier S2000 Pro is even cheaper than my previous system from Creative, it is very interesting to see it even has a better performance. I'm not a professional audio expert but I can guarantee that the speakers are amazing. Once you hear a good sound, you will enjoy your music collection and won't be able to leave your couch.
What I love most about the sound is the clarity of the mids. I no longer can hear a muddy sound and faded vocal like my recent speakers. Instead, the Edifier speakers show off the mids, reveal a lot of details and you will absolutely enjoy the clear mids. The treble is also very well tamed, it is thick and clear while not too bright to ruin your music.
The stereo imaging of the bookshelf speakers is just average. Obviously, they can't compete with multi-channel systems. The sound is amazing but you won't feel the surround effects when watching movies. Having said that, the soundstage is quite good for the size and when comparing to other bookshelf speakers.
Conclusion
Pros
Beautiful design and top-notch build
High-quality components
Clean setup, doesn't require a receiver
Bluetooth support
Great sonic performance
Affordable
Cons
Not as convenient as TV soundbars
No output to connect to a subwoofer
The Edifier S2000 Pro bookshelf speakers are priced at just $399 at press time and I have no doubt they are among the best speakers at the price. They do not only look good with a classic design but also sound amazing. We at TechWalls highly recommend the product.
Disclosure: We might earn commission from qualifying purchases. The commission help keep the rest of my content free, so thank you!