When I reviewed the Creative Sound Blaster E5 last year, I thought that could be the most versatile DAC/Amp Creative would ever make. However, the Creative Sound Blaster X7 is a much more capable option. Let's check it out.
Unboxing Video
Design & Features
The Sound Blaster has a unique shape, it doesn't look like any DAC/Amp I've ever used. It looks like a triangular prism with chamfered corners. The design is likeable, but I just hate that it doesn't feel like a premium product because of the plastic casing.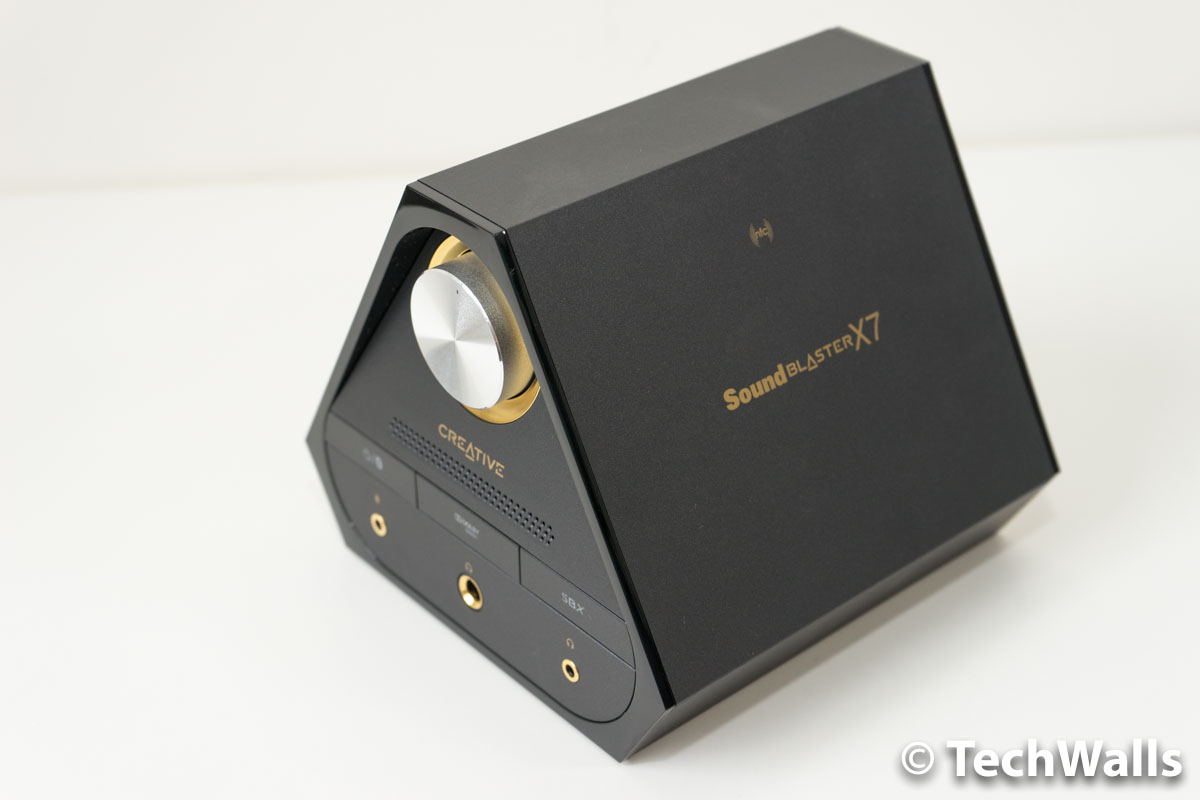 Inside the box, you will find all kinds of AC power cords, seemingly Creative wants to make sure you will be able to use the DAC in any country in the world. Besides, a microUSB cable, a headphone stand, a 3.5mm stereo female to RCA cable and a 3.5mm stereo male to RCA cable are also included.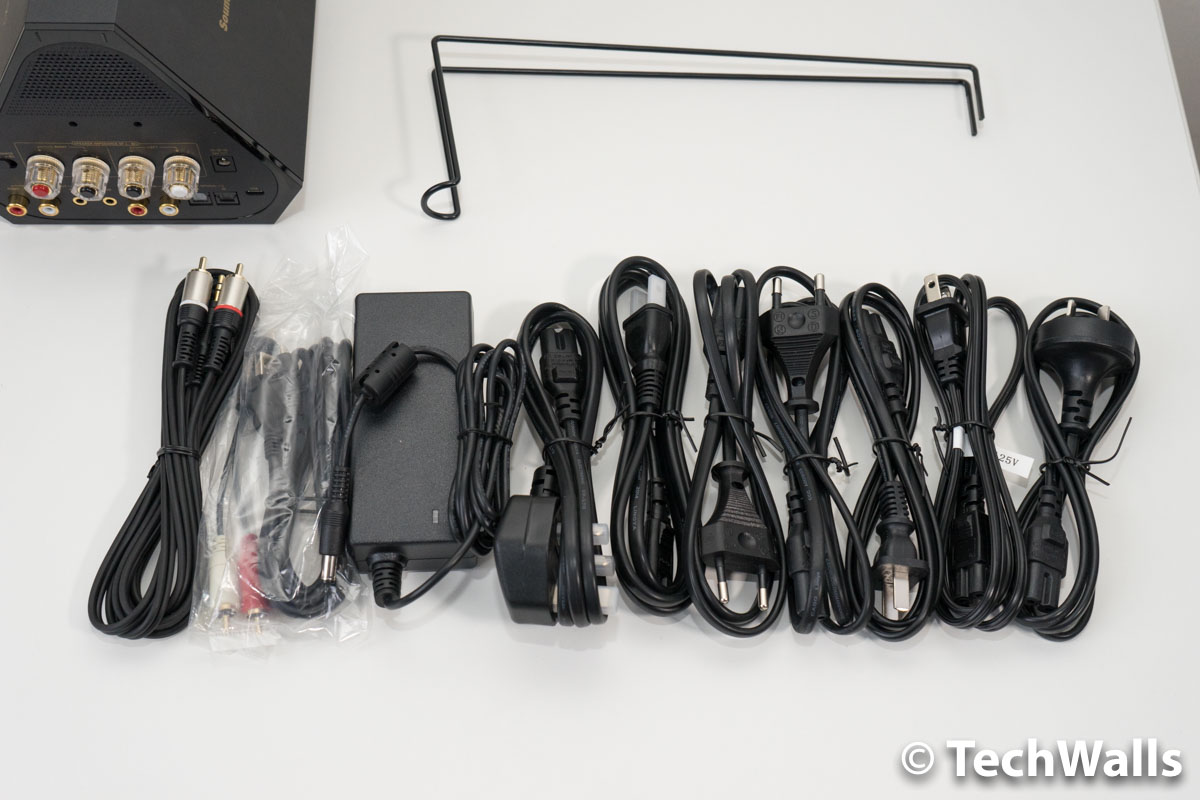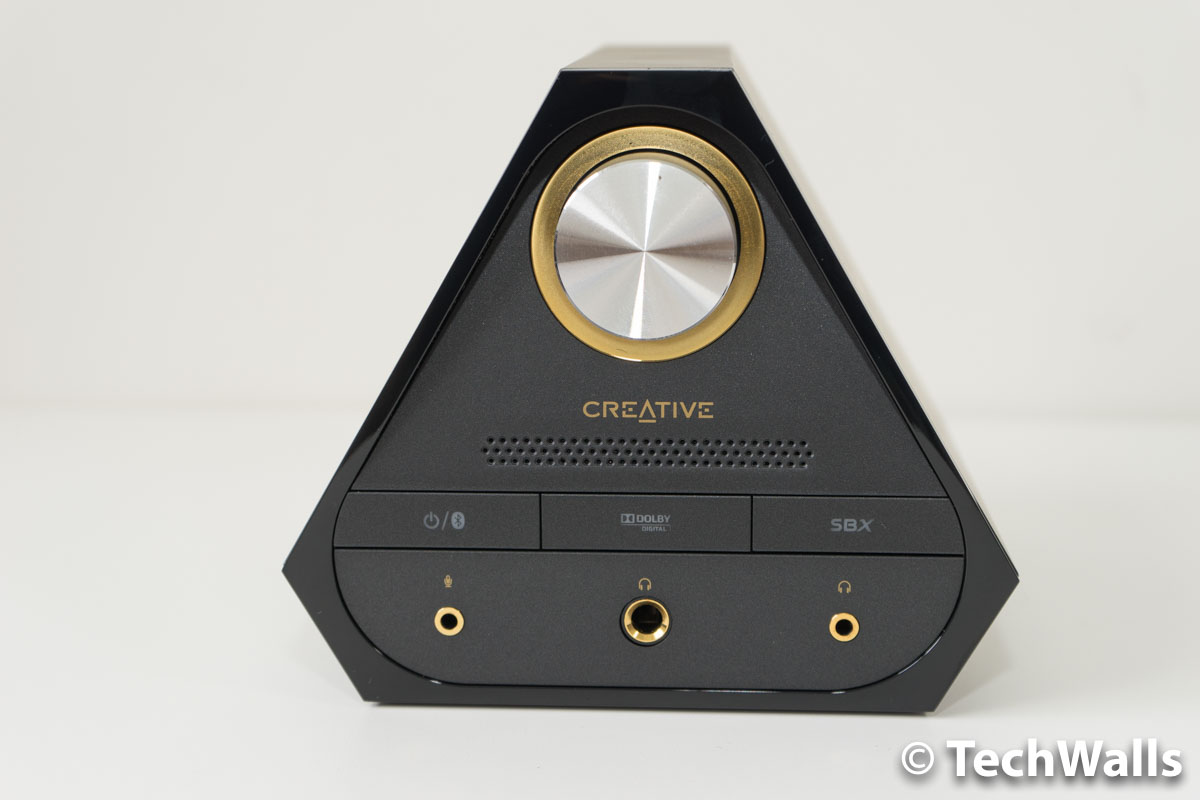 The front of the device sports a huge metallic volume knob to adjust the volume level, you can also press on the knob to mute/unmute the sound. The knob is fairly light to turn but I'd love to have a little more resistance, it could help me fine-tune the existing range of volume a bit more.
Below the knob, you can find a built-in microphone array for voice calls and recording. Underneath, there are a Power/Bluetooth button, a Dolby Digital indicator, an SBX button to toggle SBX Pro Studio audio enhancements, a mic-in jack, and a 6.3mm headphone jack and a 3.5mm headphone jack.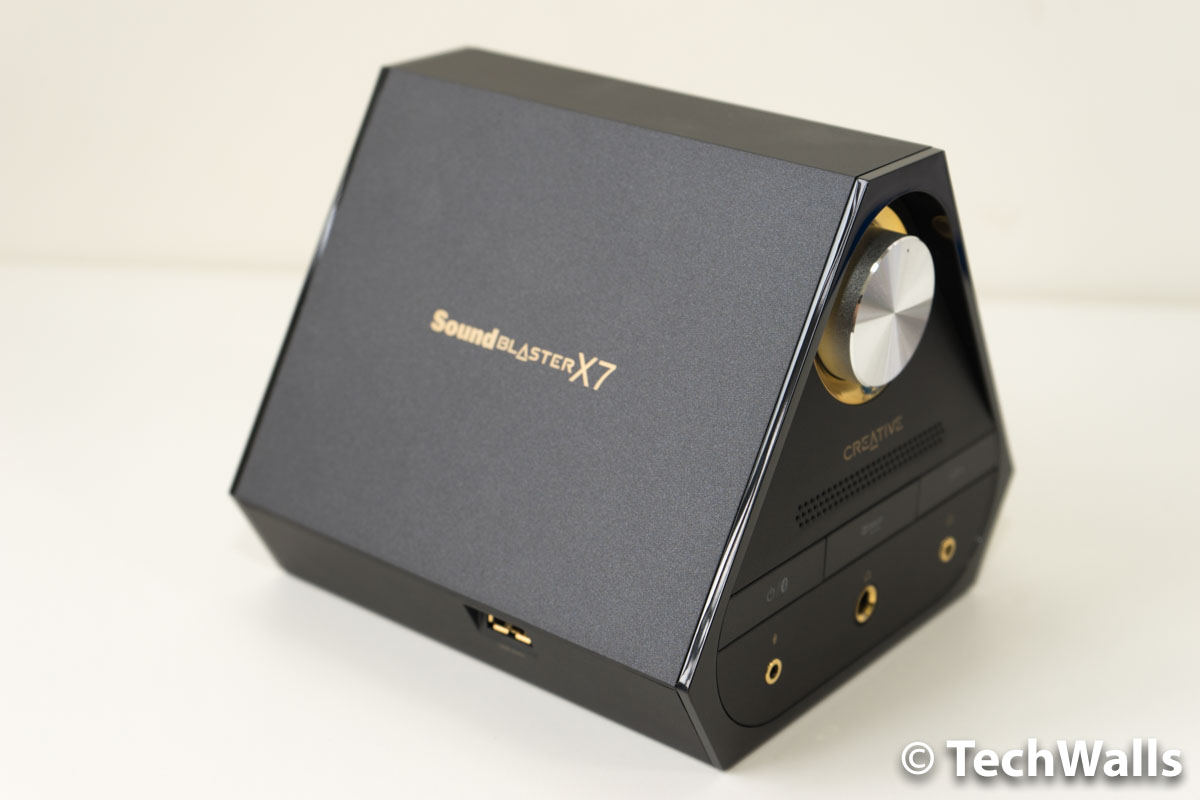 On the left side, there is a USB port to connect to smartphones for audio streaming or charging the device. However, that's not the only port, you will see all essential connections you'll ever need on the back. There are an impedance switch (4 – 8 ohm), speaker output terminals, RCA Line-Out jack (Front Right), 3.5mm Line-Out jack (Rear L/R), 3.5mm Line-Out jack (Center/ Subwoofer), RCA Line-In jack (Right), RCA Line-In jack (Left),TOSLINK Optical-in jack,TOSLINK Optical-out jack, and a microUSB port.
You can play music from any audio source with the Sound Blaster X7. This can be a great upgrade for the speakers you bought decades ago because it will turn your system into a wireless one. You can stream music wirelessly from your mobile device via Bluetooth.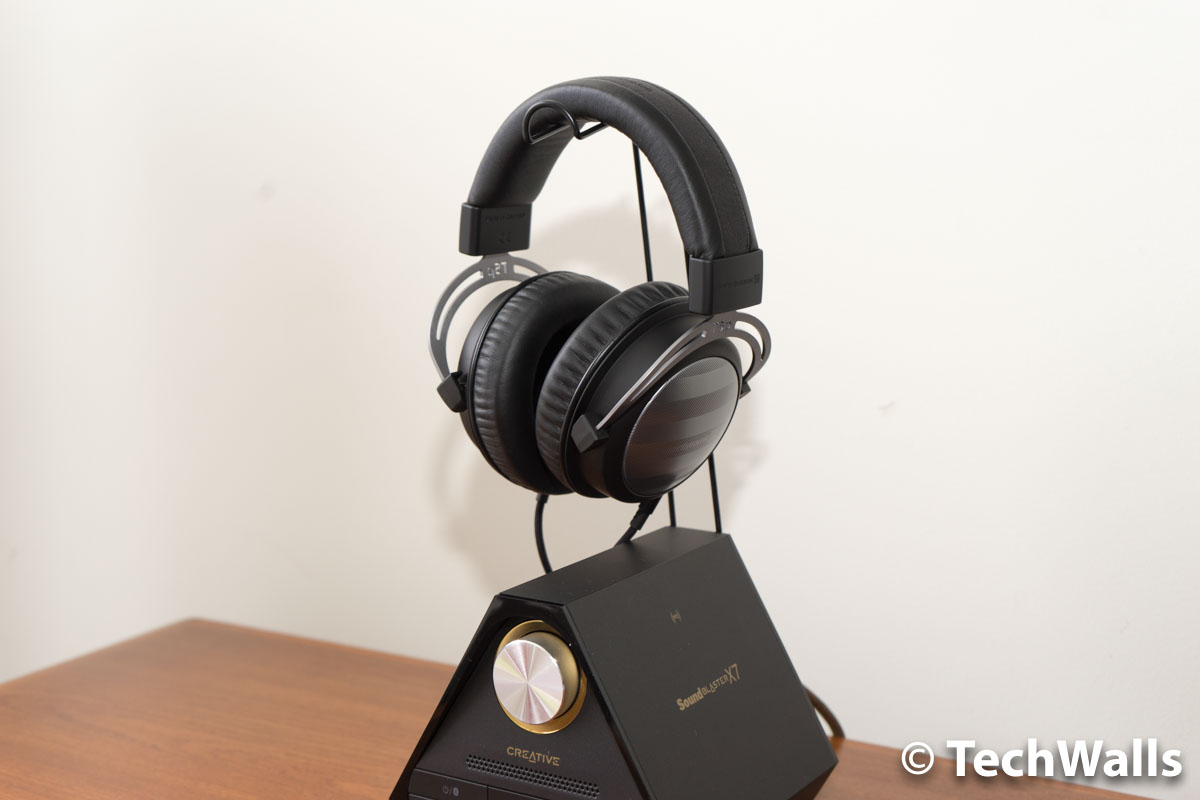 You can also use it as a headphone amp as the Texas Instruments TPA6120A2 headphone amplifier chip can drive high-end 600-ohm headphones without any problem. The X7 is also equipped with a Burr-Brown PCM1794 DAC and a built-in Dolby Digital decoder for 5.1 channel playback. If you want to use subwoofer/center and rears, you will need to get separate amps for those channels or you need to have powered speakers. So, the best way to enjoy surround sound with the X7 is connecting to a capable receiver.
Obviously, the X7 is a versatile device that can play audio from many audio sources, then stream it to speakers or headphones. Unfortunately, there is no way to change among those inputs and outputs. For example, when I want to listen to music from my phone, I will have to remove the cable connecting to my TV. Or when I want to change to speakers, I will have to unplug my headphones. That would be great if there is a remote control to make the process easier. There is actually a Sound Blaster X7 Control app that can help switch between headphones and speakers but it's quite inconvenient to use the app just for the simple process. The app is more useful for audio enhancements and EQ settings.
Audio Quality
You shouldn't underestimate the small package because it can deliver up to 50W per channel at 4 ohms. You should upgrade the power supply if you want to reach that number because the included power supply just can deliver up to 38W. The X7 cannot replace your receiver completely but it is still very capable, especially when you use it with bookshelf speakers. It will do the job most of the time.
I connect the Sound Blaster X7 to my Creative E-MU XM7 bookshelf speakers, and this is truly an amazing combination. You can check out my review of the speakers for more details of the audio quality.
I really enjoyed the sound when turning on the SBX technology because it manages to extend the treble and create a wider soundstage. The enhanced details and clarity were really surprising but I soon realized that the sound is processed and some notes are not accurately reproduced. Therefore, I turned off the feature since then. The sound is a little less bright and brilliant but it's closer to original recording now.
The X7 uses the same DAC chip on the Creative Sound Blaster E5, that's the reason why the tonality is very similar. I can still hear the same clear mids with very tight and punchy bass. Even when you don't like the sonic characteristics, the X7 is so customizable that you can swap op-amps.
Conclusion
Pros
Small footprint, unique shape
A lot of features and connections
High-quality components
Great performance for both speakers and headphones
Cons
Average build quality
No remote control, no way to change among audio sources
Difficult to connect to surround speaker system
The Creative Sound Blaster X7 is probably the best DAC/Amp combination at the moment. It cannot only drive headphones but also powerful speakers. It can't replace bulky receivers soon but it's a perfect choice for gamers, or any audiophile using bookshelf speakers.
Disclosure: We might earn commission from qualifying purchases. The commission help keep the rest of my content free, so thank you!