For my entire life, I never had to worry about cleaning my mattress because I always had a cover protecting it. I often just washed the cover and was quite confident that my bed was totally clean.
I was so wrong!
The National Institute of Environmental Health Sciences pointed out that dust mites are living on our mattress, upholstered furniture, curtain and carpet. If you haven't heard of dust mites, they are living creatures related to spiders and ticks, they can live for one month and lay more than 20 eggs in their lifespan. Everyday we are feeding them with our skin cells or pet danders, and each of them is laying up to 20 droppings per day. It is estimated that our beds have from 10,000 to 2,000,000 dust mites, depending on how long we've used and cleaned the mattresses. So, you can imagine the amount of waste you are breathing in daily, that's what causing allergic reactions.
The institute recommended that we should use a vacuum cleaner with a double-layered microfilter bag or a HEPA filter to trap allergens. It's good news that Dyson has just launched the Dyson V6 Mattress with a HEPA filter, let's see if it could help.
Unboxing Video
Design & Features
The Dyson V6 Mattress has less accessories than most other Dyson vacuums I've ever used. Inside the box, there are just a crevice tool, a combination accessory tool, a mini soft dusting brush, a mattress tool and the vacuum unit.
The vacuum comes with a new motorized mattress tool. The new brush bar has been modified to work better with mattresses, it uses stiff nylon bristles dislodge dust mites, allergens and dirt.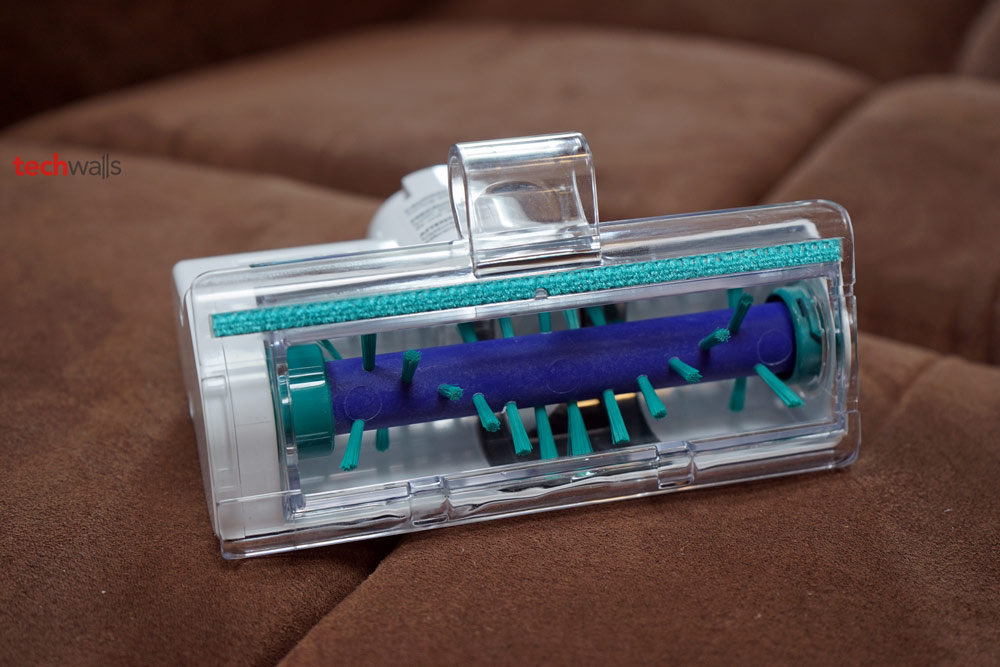 Dyson is still using the V6 motor and 2 Tier Radial cyclone technology on the vacuum. Moreover, they managed to make the vacuum even smaller and lighter. The whole unit weighs just around 3.6 lbs.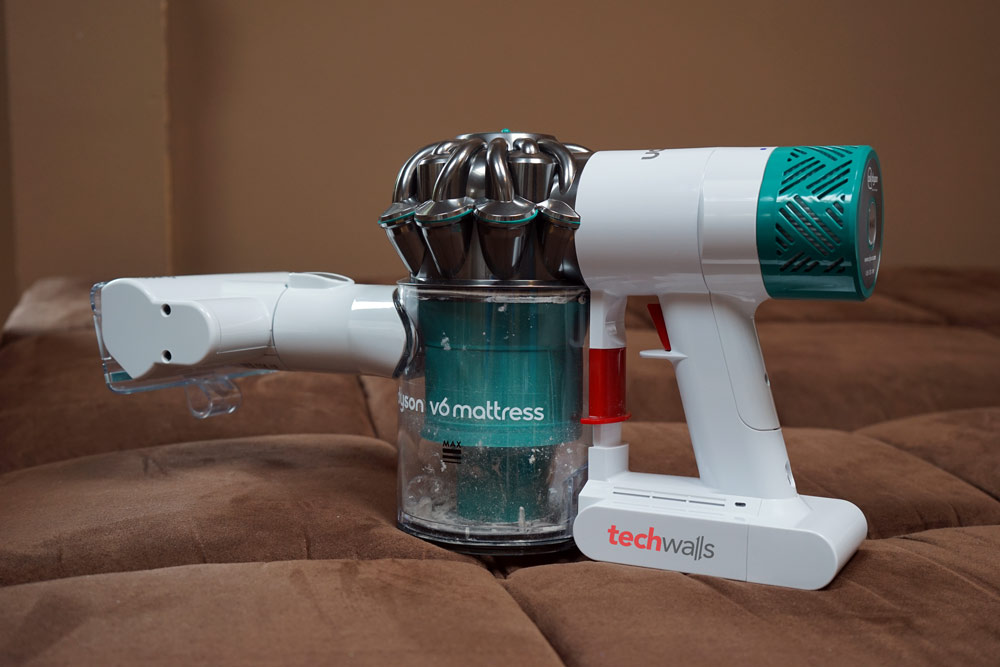 The battery life of the V6 Mattress is the same as other Dyson handheld vacuums. In normal mode, it could last around 20 minutes. If you want more suction and switch to MAX mode, it will be able to operate in less than 10 minutes. This is not a long battery life but it is enough to clean your couch and mattress.
Performance
The V6 Mattress uses V6, the latest digital motor, so it has the powerful suction like other vacuum cleaners in the series. The difference is the green HEPA filtration system that will trap allergens that pass through the vacuum's exhaust, therefore, you will have totally clean air at the other end. The filter is said to be able to capture 99.97% of particles as small as 0.3 microns.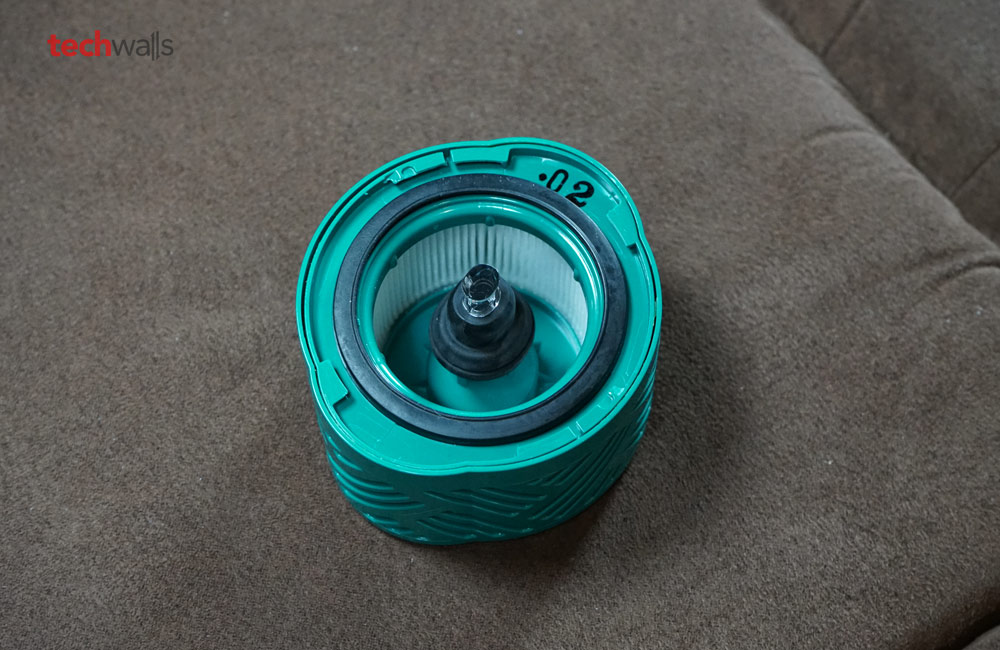 Dyson said that the vacuum cleaners using UV light or vibration are not effective to kill or remove dust mites from the mattress, and the best way is to use powerful suction. This makes sense because even when the vacuum can't catch all those mites, it will be able to suck in our skin cells (which is their foods) and dust mite faeces.
I tested the vacuum on my futon and my mattress. At the end of the 4-minute session, I was quite surprised with the amount of fine dirts collected in the bin. They might include my skin cells as well as those dust mites. I don't really have a microscope to check if there is any bacteria left on my bed, but it is absolutely much cleaner now.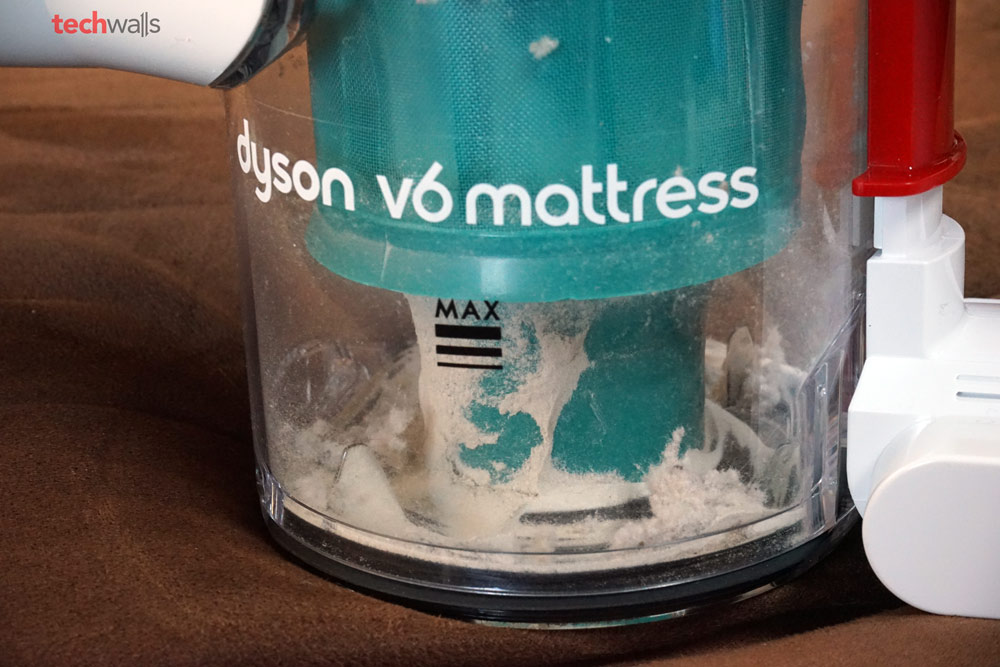 Apart from cleaning mattresses, you can also use the vacuum to clean any other place like your car's interior, your computer or stairs. As I am using the Roomba 880, I no longer have to clean my floors. Therefore, the Dyson V6 Mattress is a great addition to clean areas that the Roomba couldn't reach. This is truly an awesome combination to make your house free from dirt and bacteria.
Conclusion
Pros
Smaller and lighter design
HEPA filtration for cleaner air
Affordable price
Cons
Short battery life in MAX mode
The Dyson V6 Mattress is available on Amazon for $249. I absolutely recommend this product if you don't have the habit of cleaning your bed. However, if you've already had the Dyson V6 Absolute, you can skip this Mattress.
Disclosure: We might earn commission from qualifying purchases. The commission help keep the rest of my content free, so thank you!