Dyson has released two new cordless stick vacuums in 2021 and I had the chance to test both of them. I was very impressed with the Dyson V15 Detect and undoubtedly it is among the best cordless vacuums on the market. However, that Dyson V15 has pretty much the same design as the V11 and it is probably not worth the upgrade for many consumers. I was quite excited with the new Dyson Omni-Glide because it looks different to any stick vacuum that I've ever used. I received this review unit from Dyson and tested it for over a month.
Unboxing Video
Features & Performance
My first impression with the Omni-Glide was really good because this is undoubtedly the most lightweight and compact stick vacuum from Dyson. Moreover, I love that it doesn't come with redundant accessories that I never use. In fact, there are just the vacuum body, an extension wand, an Omni-Glide fluffy cleaning head, a crevice & dusting brush, and a wall-mounted charging dock. I just need to snap attachments to the vacuum body and start cleaning my house. Unfortunately, the Dyson stopped working immediately on the first day after I recharged the battery. At first, I thought that was a battery issue but it was not. Fortunately, Dyson made it easy to return and receive a replacement unit.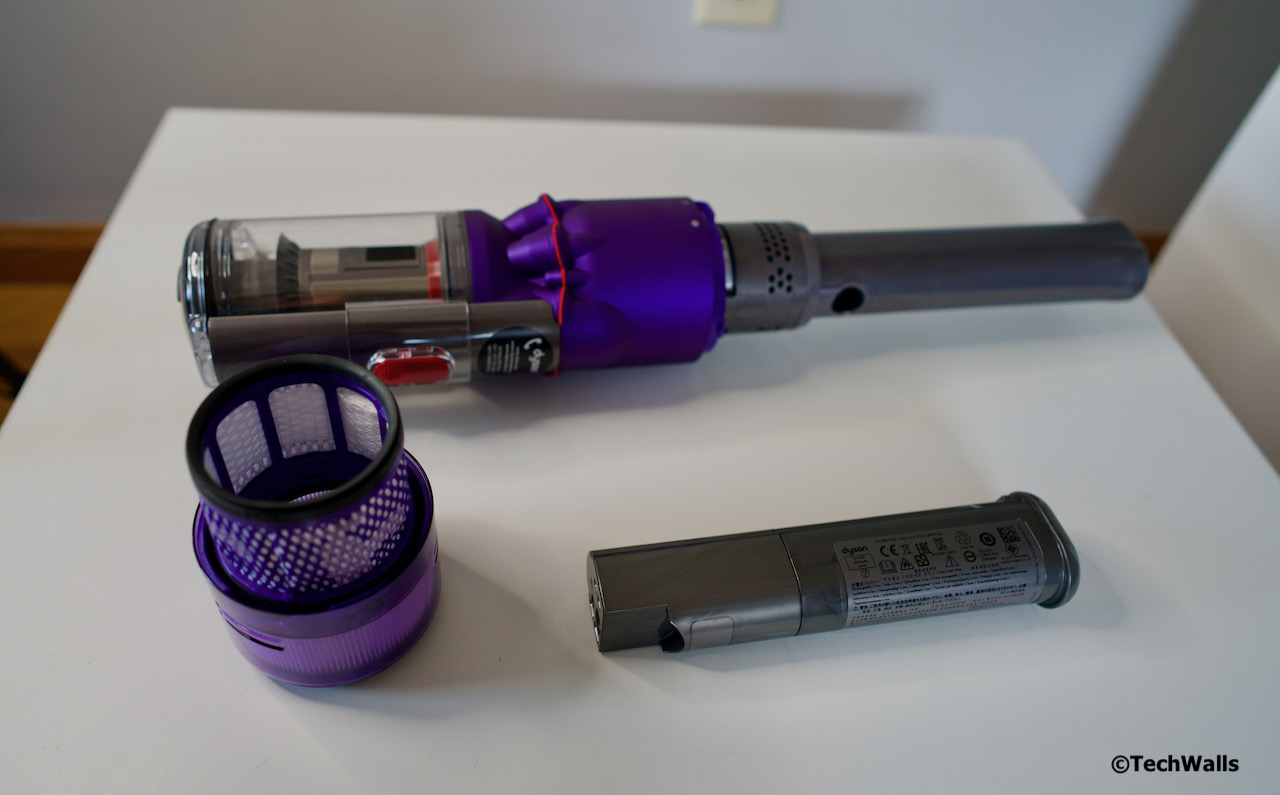 The Omni-Glide still features an iconic design and we can immediately realize it is a product from Dyson. The motor, cyclones, dustbin, and wand are aligned so air can be drawn into the machine in a straight line. This design helps boost suction power and was adopted in Dyson vacuums since the Dyson V10. Besides, the vacuum doesn't have the classic trigger design as seen on previous products, instead, Dyson uses a long handle with a power button and a Max button to boost suction power. You also can't find fancy features like automatic mode or the LCD screen with battery or particle info.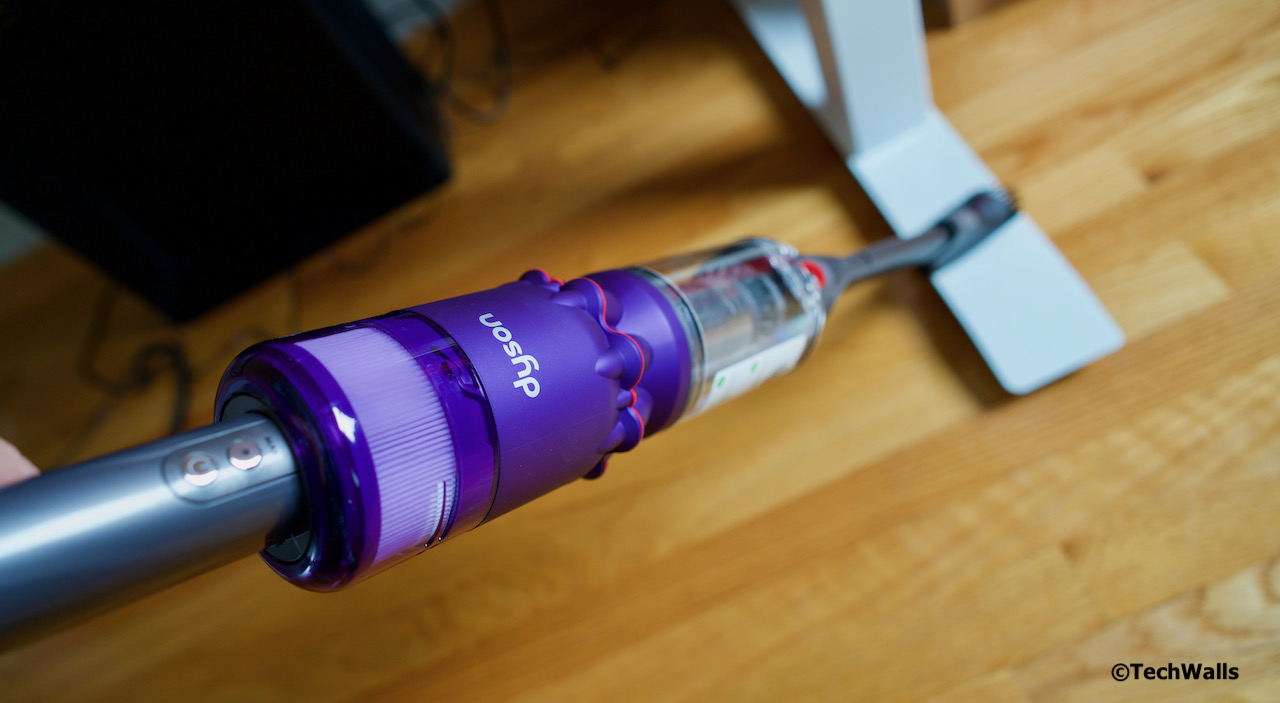 The biggest difference of the Omni-Glide is, of course, its size and weight. It weighs just over 4 lbs while my Dyson V15 weighs nearly 7 lbs. The difference is huge and this is the first vacuum that my kids could use with ease. The previous Dyson products were always too heavy and bulky for them to push around.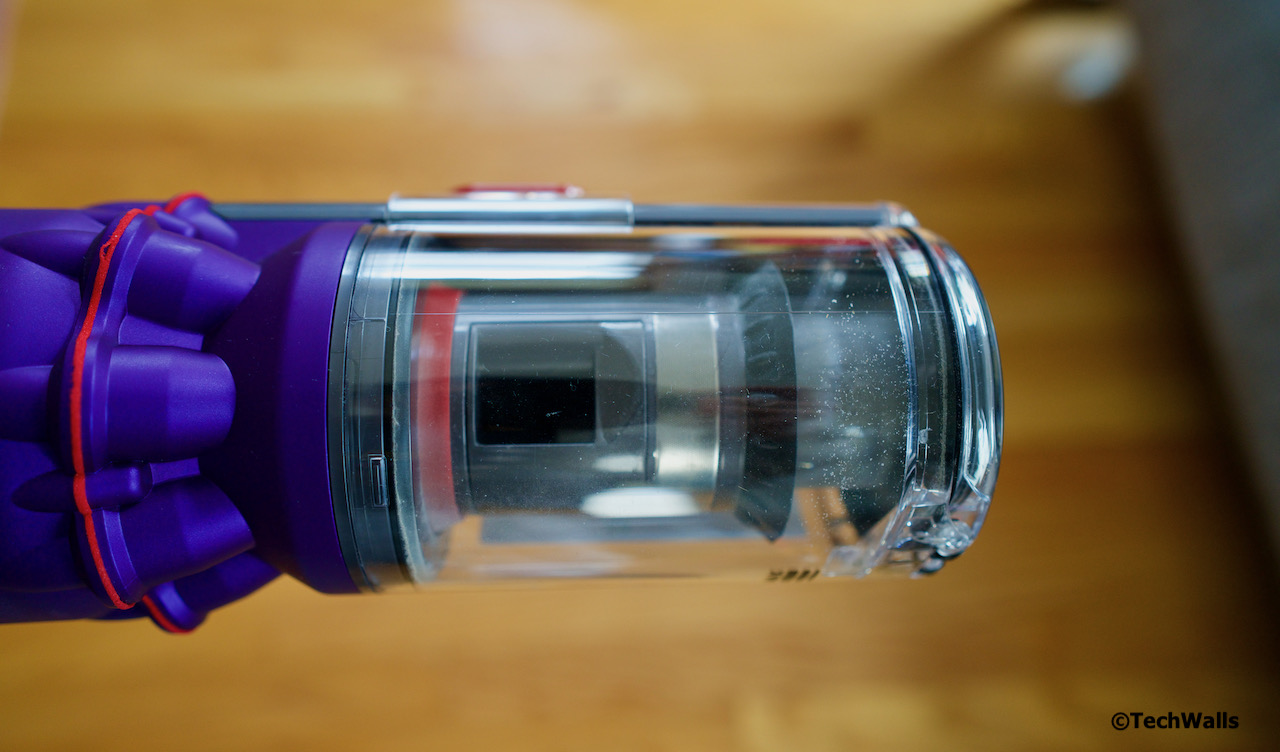 Another disadvantage of the Dyson is its dustbin capacity. It has a small 0.2L bin which can fill up quickly if you have pets in your house or if you clean the floor infrequently. However, I don't worry about this much because I'm not using the Omni-Glide as my primary driver. Besides, its removable battery could last just about 5 minutes in Max mode or 16 minutes in normal mode, so I rarely fill up the dustbin in one cleaning session.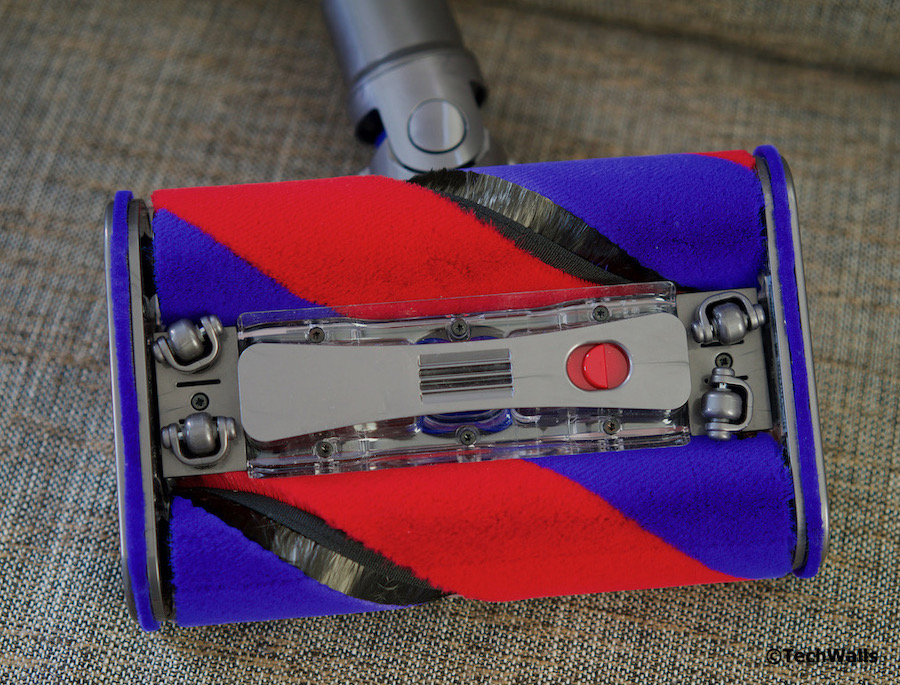 The vacuum does an excellent job in cleaning hardwood, tile, concrete, or any hard surface floors. That great performance is actually provided by the new omnidirectional soft roller cleaner head. The head includes two motorized soft rollers to effectively pick up small and large particles. In fact, the suction power of the machine is quite disappointing, it is even significantly weaker than the old Dyson V8 in my test. Moreover, I love the Omni cleaner head even more because it is so easy to maneuver. Basically, it requires less effort to move and change cleaning direction. If you watch my video review, you can also see that the whole machine can lie flat, allowing cleaning tight spaces and below furniture easily. The only downside of the cleaner head is that hair tangles are still collected at the ends of the rollers, therefore, you still need to remove them after cleaning. The Omni head is currently available with the Omni-Glide vacuum only and it won't fit any other Dyson vacuum.
Who Should Buy the Dyson Omni-Glide?
The Omni-Glide is designed to be a supplemental machine for cleaning hard floors only. You absolutely shouldn't buy this if you plan to use it on carpets or rugs. I'd recommend the vacuum if you're single and living in a small apartment without carpets; This machine is compact and won't take much space in your room.
In case you are living in a larger house, the Dyson Omni-Glide can be useful as your second vacuum cleaner. For instance, you can use the Dyson V15 for heavy-duty cleaning while using the Omni-Glide in your kitchen for lighter cleaning or quick pickups of foods on the floor. Besides, it is also suitable for children or elderlies, thanks to the lightweight design.
Conclusion
Pros
Small and lightweight
Great performance on hard floors
Easy to maneuver
Cons
Expensive
Weak suction
Average battery runtime
Doesn't work on carpets
Disclosure: We might earn commission from qualifying purchases. The commission help keep the rest of my content free, so thank you!