My most recent Dyson upright vacuum cleaner was the powerful Dyson DC41 Animal and I was so satisfied with the product that I couldn't guess what aspects Dyson can improve in the next generations. My question is answered now when they introduce the new Dyson Cinetic Big Ball Animal. Let's check it out.
Unboxing & Assembly Video
Design
As I expected, there is no major change in the design of the new Dyson Cinetic. It looks pretty much the same as most other Dyson upright vacuum cleaners.
As compared to my old Dyson DC41, the only observable difference is the dirt collection bin. The Dyson Cinetic now uses smaller cyclones arranged across 2 tiers, the design will help generate higher centrifugal forces to capture dirt and microscopic dust.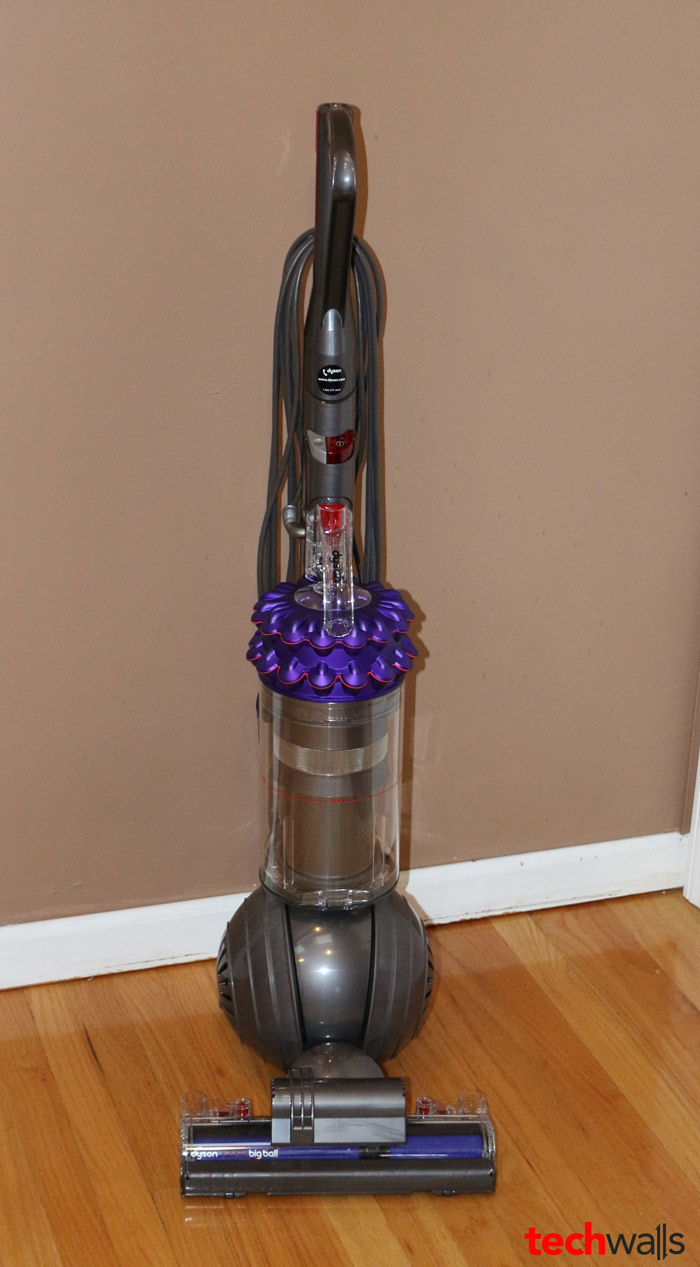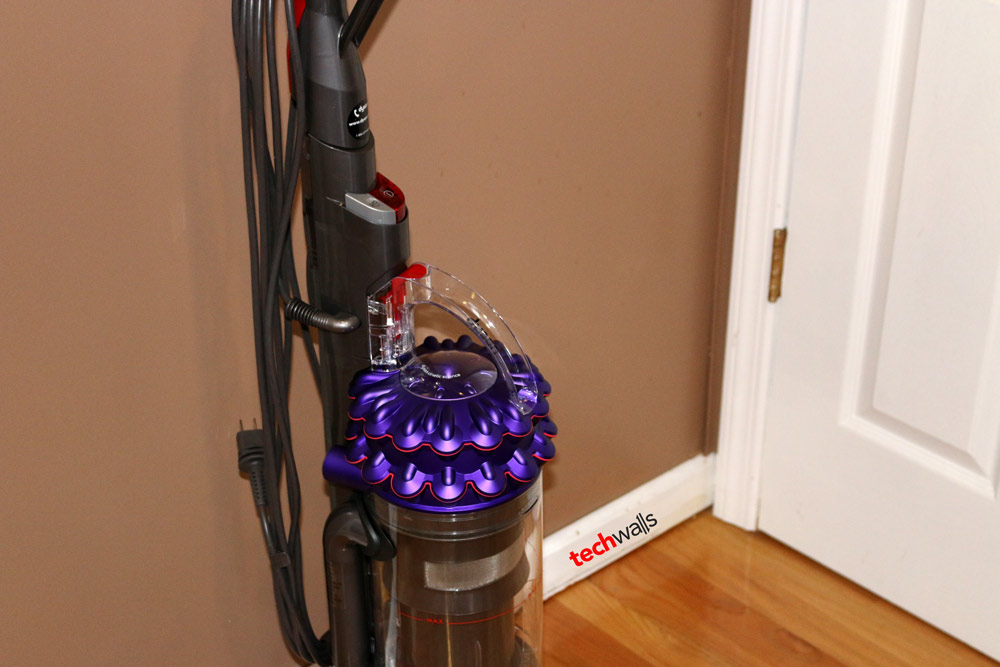 I've heard many reviewers complain about the pivoting wheels that also acts as a kickstand of the vacuum. They are saying they don't know how to rest the vacuum and it could fall down anytime. Seriously? You just need to turn it upright until you hear a click, the kickstand will be locked and it will never come off. This has never been a problem for me.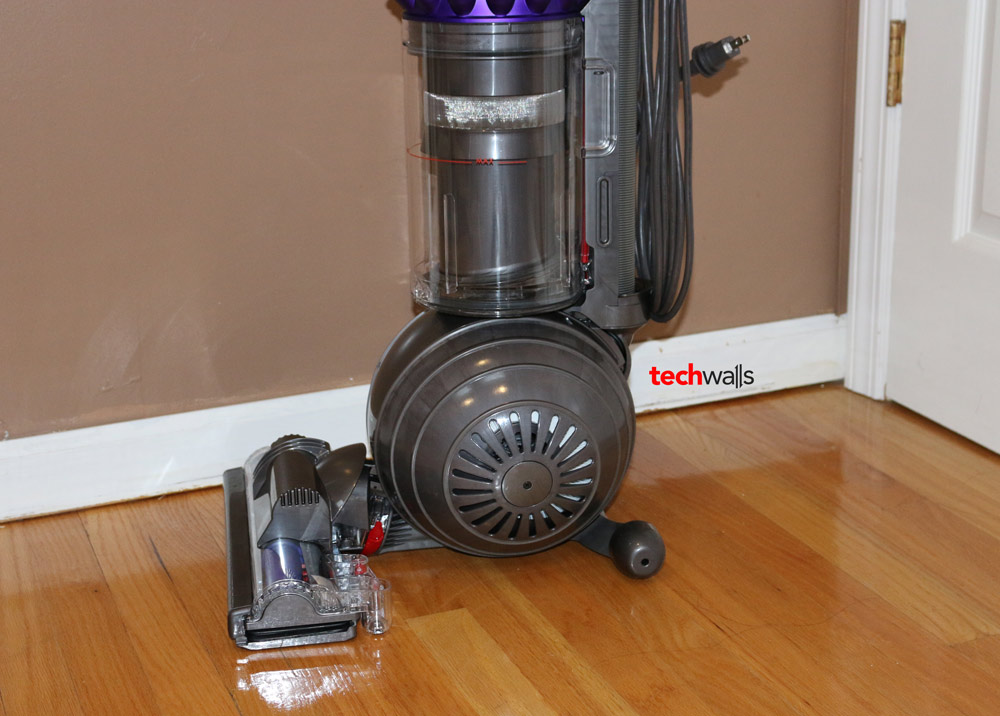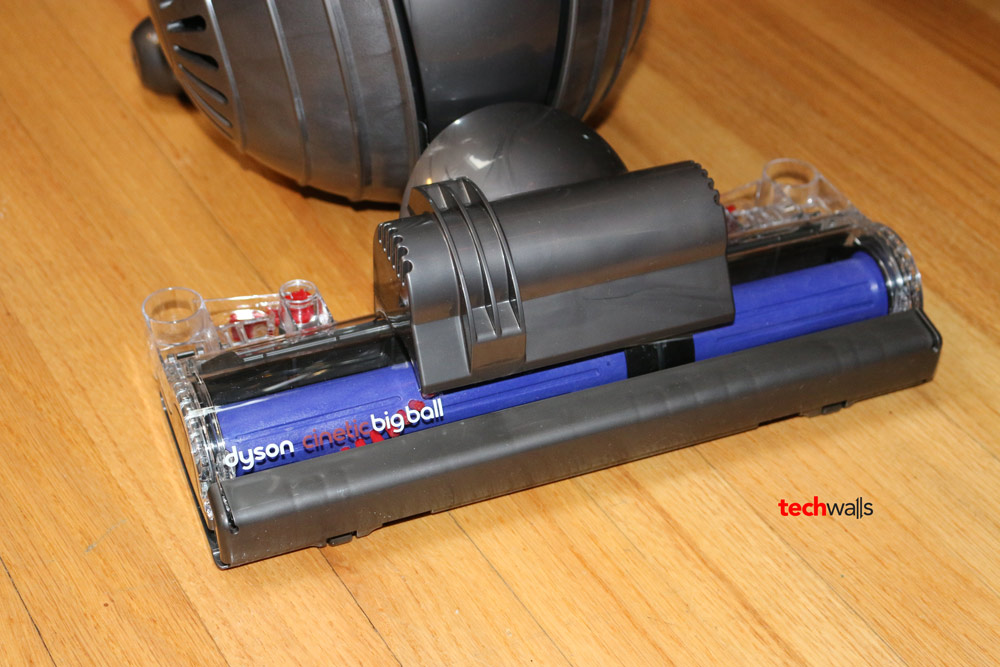 The Cinetic also comes with more attachments, including articulating hard floor tool, flat out head, combination tool, flexi crevice tool, multi-angle brush, stair tool, reach under tool and tangle-free turbine tool.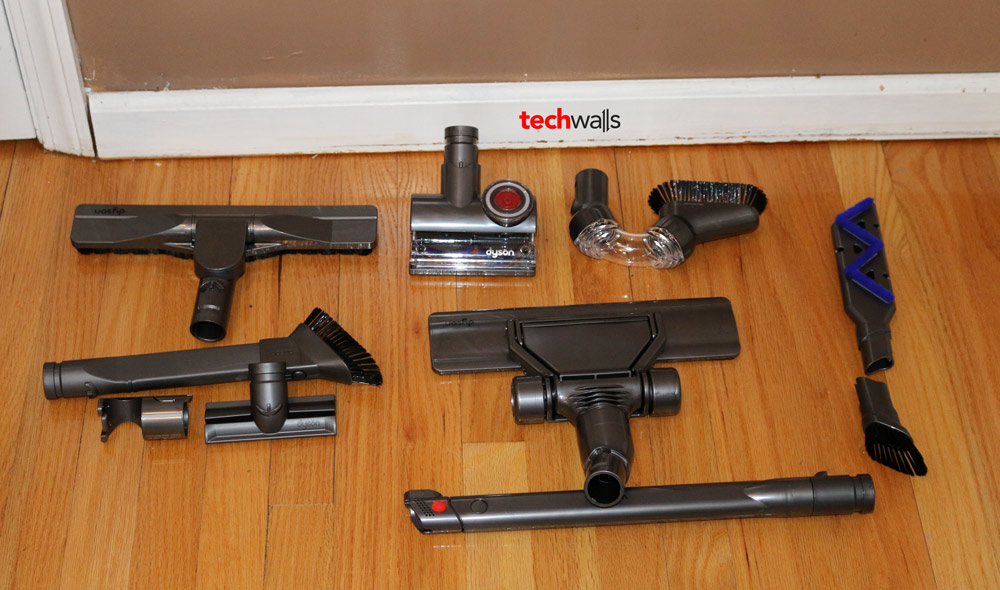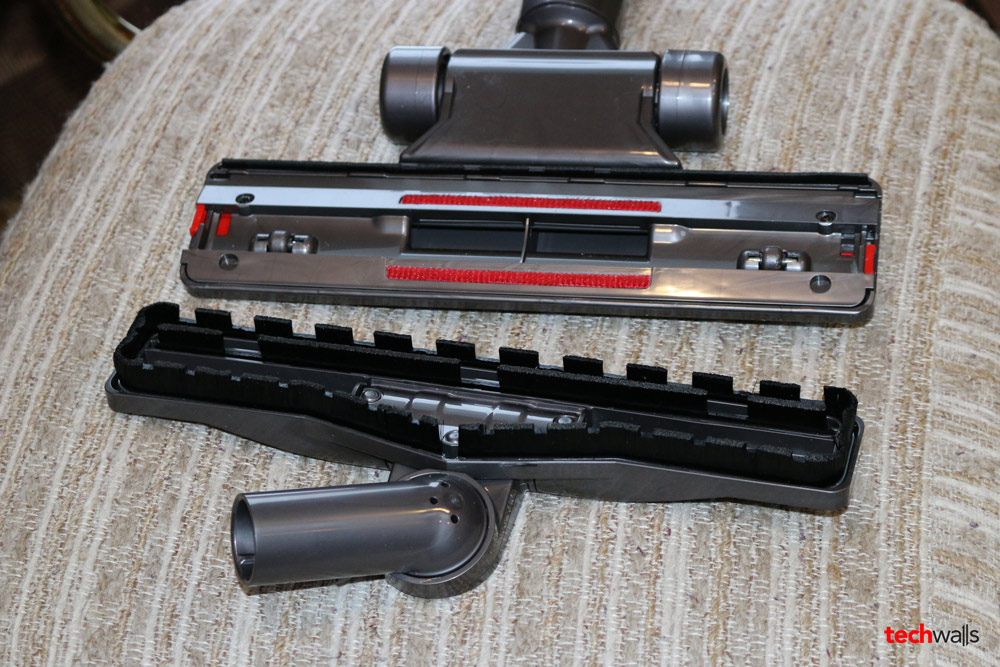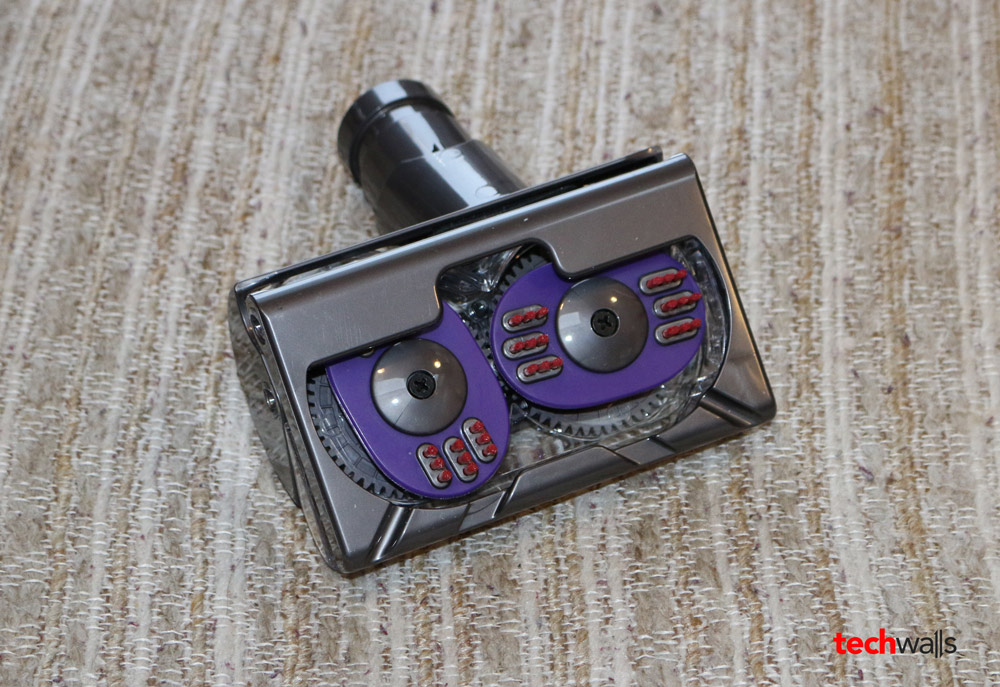 The only downside of the design is probably its weight and size. I still find it a little big and heavy. Specifically, it weighs nearly 20 lbs and its dimensions are 43.3 x 17.2 x 13.4 inches. I really don't think it is a good choice if you are an old lady and hate carrying heavy vacuums around. The lightweight Dyson DC59 could be a better choice then.
Performance
I'm a little surprised as the suction power of the new Dyson Cinetic Big Ball is weaker than the old Dyson DC41, it is just 180 AW as compared to 235 AW on the DC41. However, the new design helps it generate centrifugal forces of up to 313,000G while the DC41 could reach just around 230,000-250,000G. The numbers also explain the performance of the Dyson Cinetic.
The vacuum is outstanding in picking up fine dust and pet hair, you might want to use the tangle-free turbine tool if you want to suck hairs effectively. When I tested it against the Eureka AirSpeed, I can see the Dyson can collect a lot more dust inside. However, the issue is its performance on hard floor. The Dyson Cinetic struggled to collect bigger debris like cereals or cat food on my hardwood floor and it even couldn't beat the cheap Eureka vacuum. You can see its performance in action in the video below.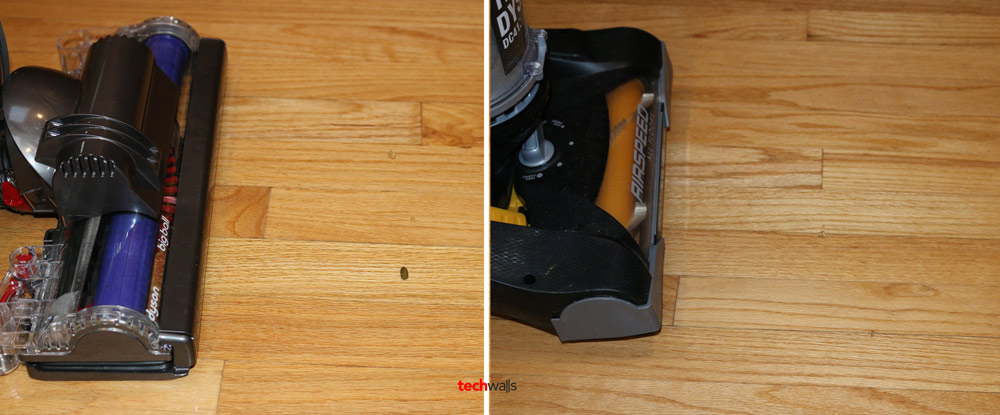 Besides, the new design fixes a very annoying problem existing on all other vacuum cleaners, that is filter maintenance. Dyson got rid of the bag, and now we can totally forget about filters. Honestly I wash the filter of my vacuums just a couple of times in my whole life and I really hate the process. Normally I have to remove it from the vacuum, wash it with water, wait a few hours for it to dry out and then put it back to the vacuum. It is a simple procedure but it still takes some time and I'm pretty sure none of us remember when to wash the filter. Therefore, the filter get clogged up with dirt over time and we sometimes don't notice it is losing suction. This is the story of the past now. The use of smaller cyclones with flexible tips that vibrate 350 times a second helps prevent the cyclones from clogging up and the dirt will be spun out to the bin, therefore, the vacuum no longer relies on a filter.
There are many tests conducted to test the durability of the Dyson Cinetic. Dyson spent $217,000 for the dust test and it was proved that the Dyson Cinetic can maintain constant suction after 10 years of vacuuming your house. And of course, no maintenance is required.
Conclusion
Pros
Durable and reliable
Doesn't lose suction over time
Can pick up all pet hairs and fine dust
Great performance on carpets
Includes many useful tools
Cons
Heavy and bulky
Mediocre performance on hard floors
Expensive
The Dyson Cinetic Big Ball Animal is available on Amazon for around $600. If you have the amount to spare and don't want to clean filters every few months, it is totally worth your investment. Otherwise, the older and cheaper versions are more than enough.
Disclosure: We might earn commission from qualifying purchases. The commission help keep the rest of my content free, so thank you!