I heard a lot of myths about DAC, or digital to analog converter, but I haven't got the chance to test it out. The Cambridge Audio DacMagic XS is my first DAC and I really want to know the truth behind this device. Does it really improve the sound or is it just an advertising gimmick?
The DacMagic XS is sponsored for the review but this article is 100% based on my experience after trying the product. Let's read on for my review of the DacMagic.
Unboxing and Setting Up
Design and Features
The box includes a carrying pouch, a USB cable and the DAC itself. The DacMagic XS looks amazing with minimal design, you will see just 2 volume buttons on top, a mini-USB port and a 3.5mm headphone output. The whole unit is very lightweight, small and you can easily put it anywhere in your bag or pocket.
The build quality of the device is unbelievably great, so I believe it will fit perfectly to your expensive PC or laptop. The tiny box is covered with brushed aluminum shell  and nice finishes on sides. I place it alongside with the MacBook Pro 15 and it looks just like another Apple's product. Check out some more product images below.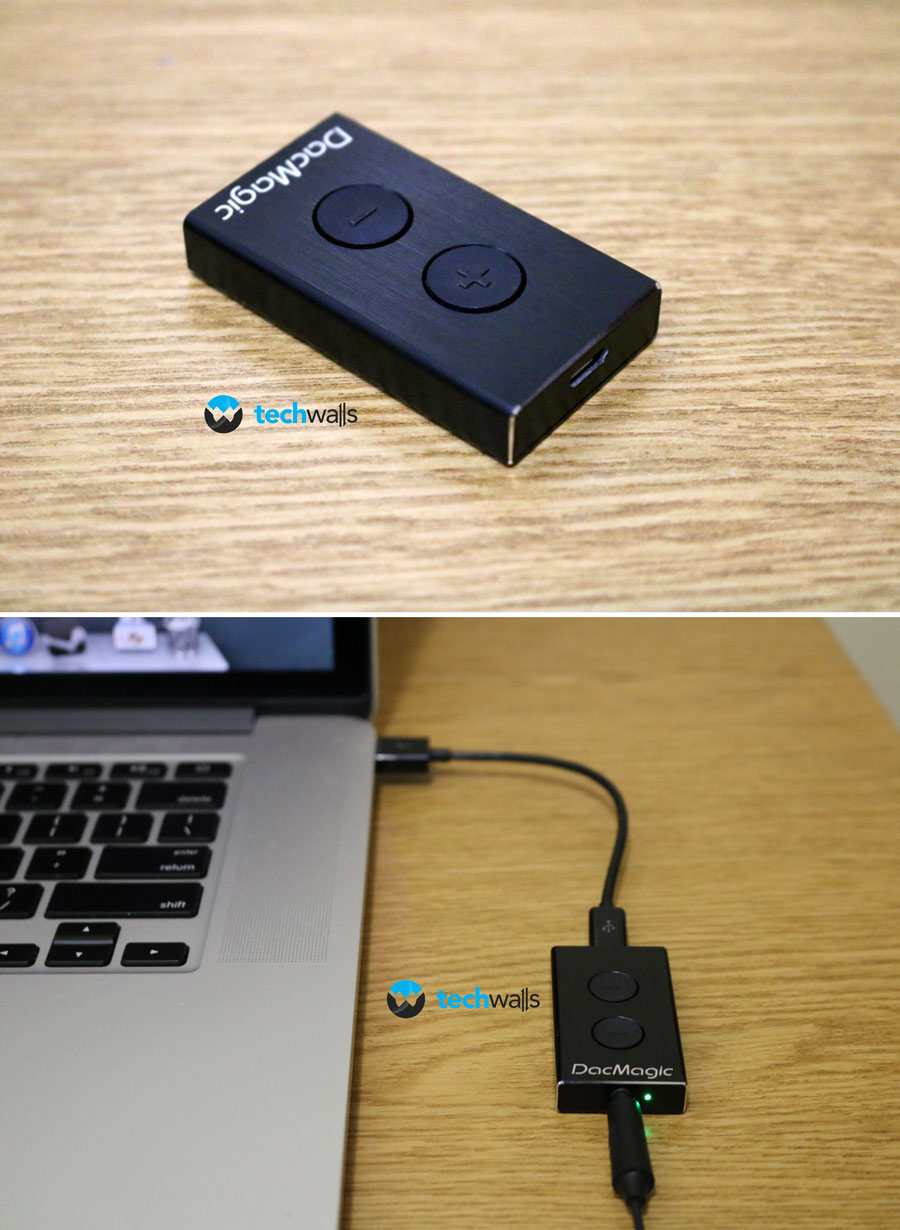 Setting up the DAC is easy, you just need to plug the USB cable to your computer and plug your headphone into the DAC. Then go to Settings to choose Audio Output and you are ready to go. One downside of this DAC is that there is no volume indicator because your internal soundcard is bypassed, so there is no way to figure out the current volume level. You can just control volume using the two physical buttons. The flashing LED will turn red when you reach maximum volume.
Another hidden feature is its 2 USB modes. By looking at colors of the flashing LED, you will know its corresponding sampling rate. Blue is 44.1kHz/48kHz, Green is 88.2kHz/96kHz and Purple is 176.4kHz/192kHz. To improve sound quality and allow 192kHz sampling, it is recommended to switch to USB Class 2.0 mode by pressing and holding the 2 volume buttons for about 5 seconds. You will need to choose audio output again after changing USB mode.
Sound Quality
The DacMagic XS has a great design, however, it would be worthless if it couldn't enhance audio quality like advertised.
I tested the DAC on a MacBook Pro, a 4-year-old PC and 2 different headphones, which are Sennheiser HD 238 and AKG K545. The results are quite surprising.
I didn't realize any difference when trying the Sennheiser headphone on both MacBook Pro and PC. The sound was exactly the same.
When I tried the AKG K545 on my MacBook Pro, I started seeing some differences. I felt a slight boost in bass sound, so the sound is warmer on this headphone now. However, the difference is not significant and it took me hours to figure it out. I could only confirm it after a blind testing. Apart from the bass, I also appreciate its built-in headphone amplifier. The MacBook's soundcard couldn't drive my AKG headphone well, I had to turn to maximum volume all the time but the sound was still not big enough. With the DAC in the middle, the sound is incredible now without adding annoying noises. I feel like I can keep turning the volume up until my ears explode. This also helps improve sound stage of this headphone significantly.
The DacMagic XS really became the star when I used it on my old PC. It can provide a cleaner, warmer, louder sound with tighter bass and reduce noises at the same time.
Pros
Beautiful and portable design.
Perform perfectly as a headphone amplifier because it can provide a much bigger sound.
Boost bass and deliver warmer sound.
Better sound stage.
Cons
No visual volume control.
Sound quality is just slightly improved on new Mac/PC.
Not compatible with mobile devices like smartphones and tablets.
The DacMagic XS is being priced at around $74 on Amazon. This is a very reasonable price when you consider its great performance and other DACs out there. It is a necessary upgrade if you are using an old computer. Besides, it still can improve sound quality even if you are using a new PC/Mac although the difference is less significant. Anyways, you can use this device as a headphone amplifier and it will work all the time to increase sound volume, especially when your internal soundcard is too weak to drive headphone. I really hope Cambridge Audio could make the XS work with mobile devices, then it will be an awesome gadget.
Disclosure: We might earn commission from qualifying purchases. The commission help keep the rest of my content free, so thank you!