Bluetti has got some great successes with their crowdfunding campaigns. The launch of Bluetti EP500 and EP500 Pro on Kickstarter raised over $1 million in the first hour and has just passed the $3 million milestone after 3 weeks. Between the 2 versions, the EP500 is, of course, the better selling one thanks to a lower price point. However, the EP500 Pro is a much more powerful power station with some advanced features that don't exist on the standard version.
First, let's compare the specifications of the EP500 and EP500 Pro.
| | | |
| --- | --- | --- |
| Model | EP500 Pro (US/JP) | EP500 |
| Battery Capacity & Chemistry | 5,120Wh, LiFePO4 | 5,120Wh, LiFePO4 |
| Continuous/Peak Power | 3000W/6000W | 2000W/4800W |
| AC Outlets | 120V/20A outlets ×4, 120V/30A outlet ×1(NEMA L14-30) | 120V/20A outlets ×4 |
| Solar Power Input | 2400W (1200W*2) | 1200W |
| 30A Receptacle | NEMA L14-30 *1 | / |
| Smart phone remote control | Yes | Yes |
| 24/7 UPS & Home Integration Support | Yes | Yes |
| Fusion Box Specs | 120V/20A outlets ×4, 120V/30A outlets×2(NEMA TT-30), 120A/240V 30A outlet×1(NEMA L14-30) | 120V/20A outlets ×6, 120V/240V 30A outlet ×1(NEMA L14-30) |
| 12V/30A Port | Yes | Yes |
| USB-C Port | 100W *2, PD3.0 | 100W *1, PD3.0 |
| Scalability | X2 | X2 |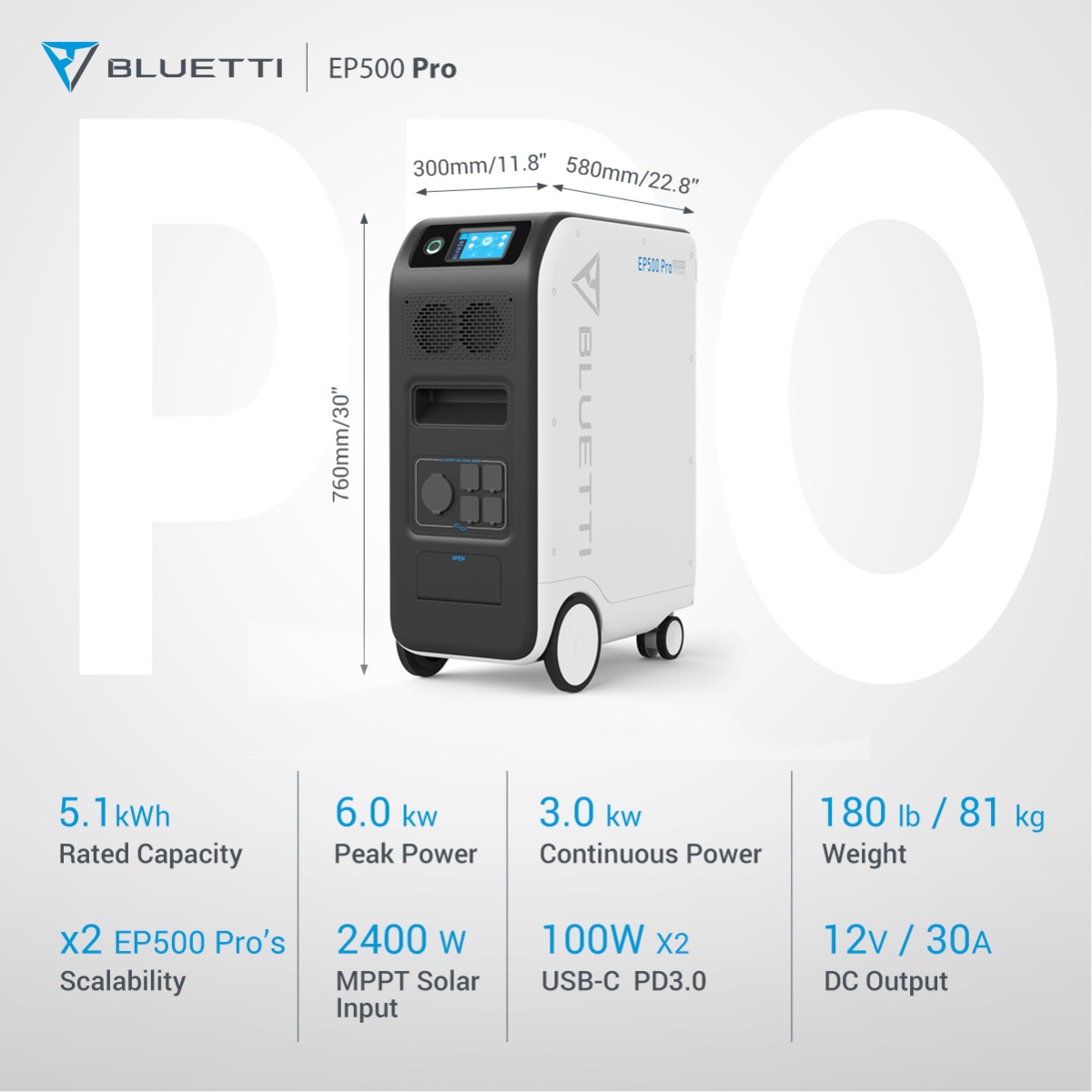 The 2 power stations are equipped with the same battery capacity of 5,120Wh with 4 power outlets. However, only the EP500 Pro features a NEMA L14-30 30A receptacle that provides up to 3,000 watts of continuous power at 120V. That is powerful enough to run most of your home electronics and appliances during power outages. Besides, the Pro has an additional 100W USB-C port; The two USB-C ports are very helpful for charging your laptops, iPads, or smartphones.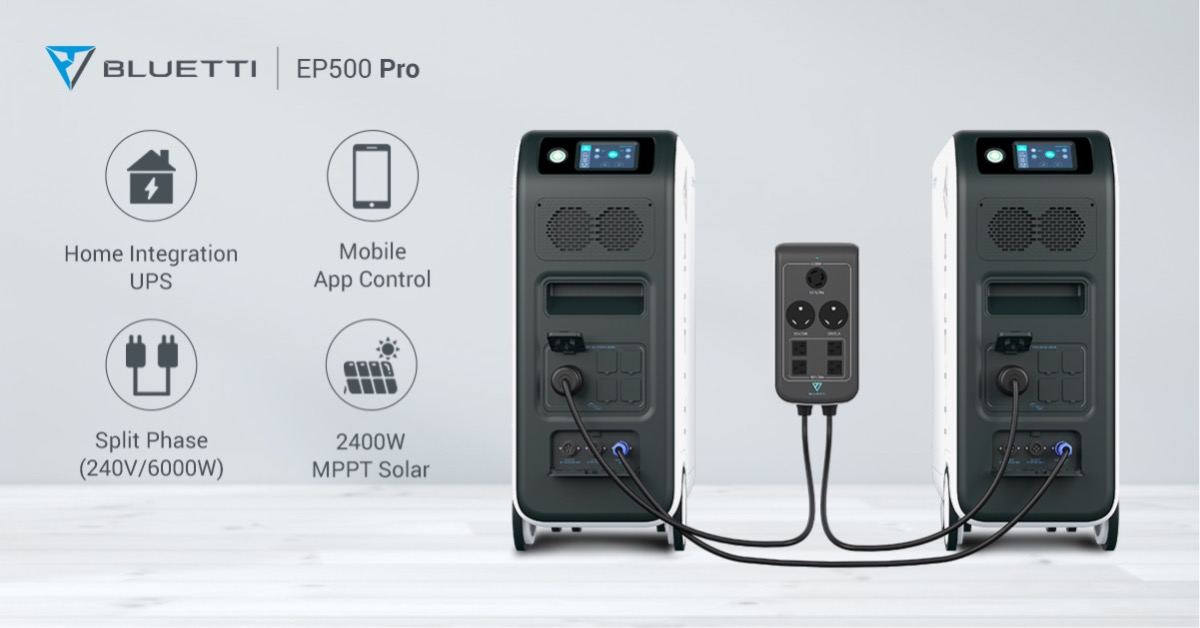 Notably, Bluetti also revealed the Fusion Box Pro for the EP500 Pro. The fusion box is used to connect two power stations to double the power, voltage, and capacity. The Fusion Box Pro includes four 120V/20A outlets, a 120V/240V 30A (up to 6,000W continuous power) receptacle , and two NEMA TT-30 (30A RV receptacle). The connections are helpful to power RVs, trailers, off-grid events, or essential circuits in your home.
Apart from the new fusion box, Bluetti also released some new accessories including a home integration kit and a PV voltage step-down modular. The step-down modular is useful for users with a huge array of solar panels as it can adjust the input voltage and feed the EP500/Pro stations properly. That means you don't need to buy new solar panels to recharge the EP500. On the other hand, the home integration kit will help you integrate the EP500/Pro to your home circuits; When the power goes down, the EP500 UPS system will immediately take over and keep vital loads/receptacles on.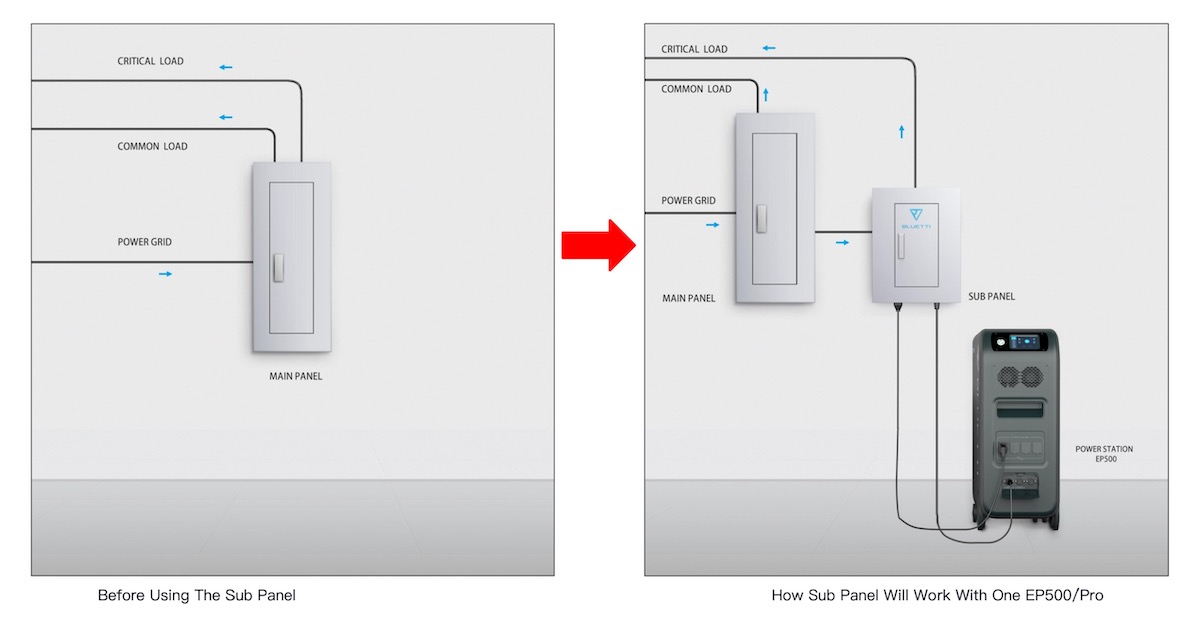 The EP500 Pro and those new accessories are also available on the same Kickstarter page. The early-bird offers are running out soon, so you should place the order soon if you're interested in the power station.
Disclosure: As an Amazon Associate, I earn from qualifying purchases. The commission help keep the rest of my content free, so thank you!