Bluetti has got some great successes with their crowdfunding campaigns. The launch of Bluetti EP500 and EP500 Pro on Kickstarter raised over $1 million in the first hour and passed the $3 million milestone after 3 weeks. Between the 2 versions, the EP500 is, of course, the better selling one thanks to a lower price point. However, the EP500 Pro is a much more powerful power station with some advanced features that don't exist on the standard version.
First, let's compare the specifications of the EP500 and EP500 Pro.
Model
EP500 Pro (US/JP)
EP500
Weight
182 lbs
167 lbs
Dimensions
22.8 x 11.8 x 29.9in
22.8 x 11.8 x 29.9in
Battery Capacity & Chemistry
5,120Wh, LiFePO4
5,120Wh, LiFePO4
Continuous/Peak Power
3,000W/6,000W
2,000W/4,800W
AC Outlets
120V/20A outlets ×4, 120V/30A outlet ×1(NEMA L14-30)
120V/20A outlets ×4
RV (Aviation Port)
12VDC, 30A
12VDC, 30A
Solar Power Input
2,400W (1,200W x2) Max
12-150VDC, 12Ax2
12V/24V, 8.2A
1,200W Max
55-145VDC, 20A
30A Receptacle
NEMA L14-30 x1
/
Wireless Charging Pad
2x 5/7.5/10/15W
2x 5/7.5/10/15W
Smart phone remote control
Yes
Yes
24/7 UPS & Home Integration Support
Yes
Yes
Fusion Box Specs
120V/20A outlets x4, 120V/30A outlets ×2 (NEMA TT-30), 120A/240V 30A outlet x1 (NEMA L14-30)
120V/20A outlets x6, 120V/240V 30A outlet x1 (NEMA L14-30)
USB-C Port
100W x2, PD3.0
100W x1, PD3.0
Scalability
X2
X2
Price
$5,399
$4,299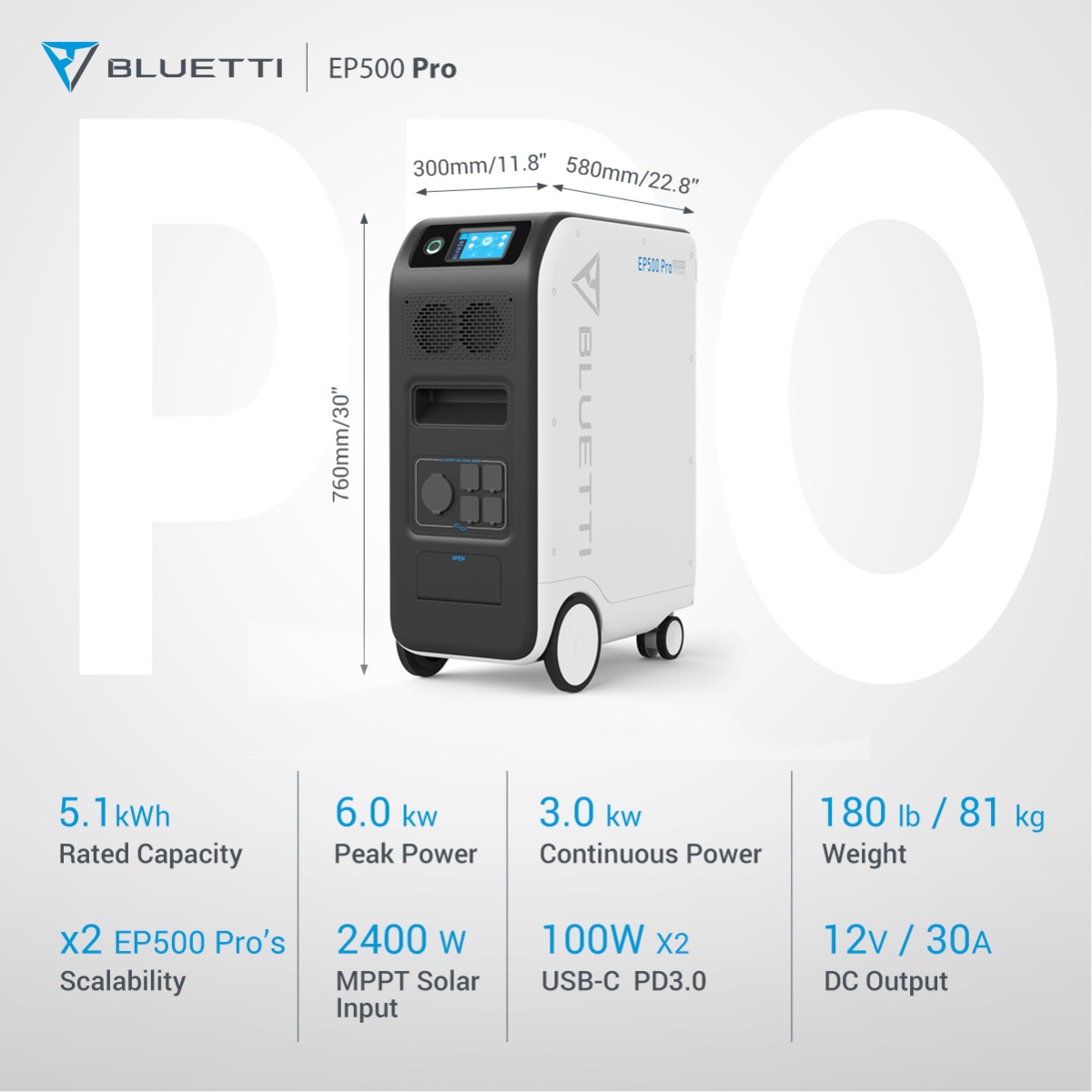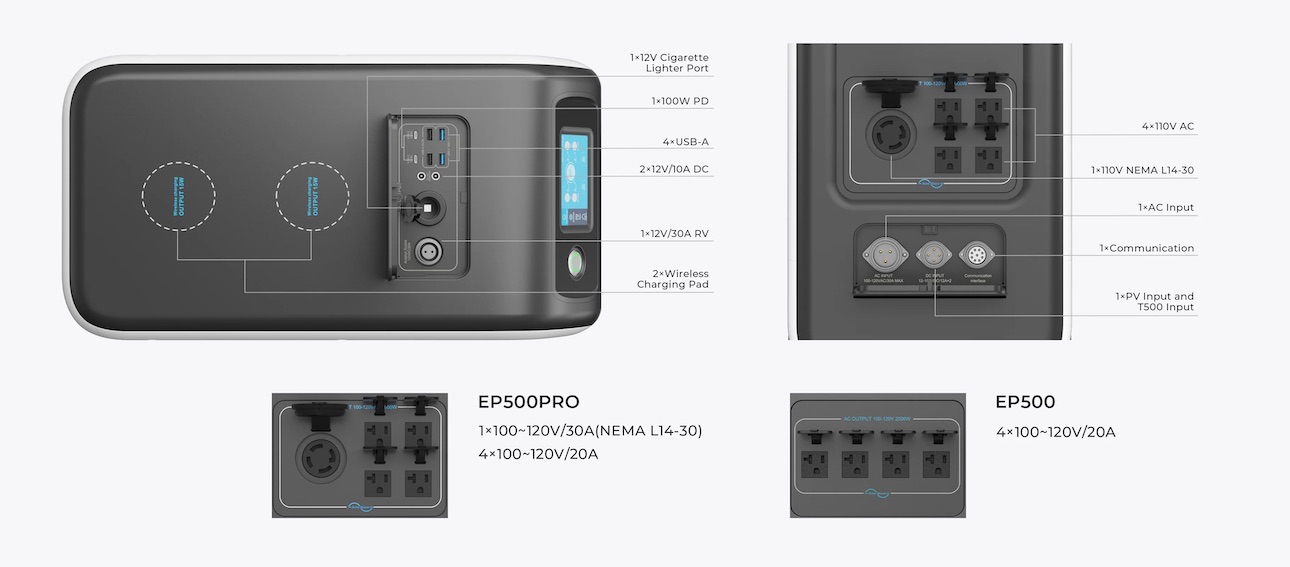 The 2 power stations are equipped with the same battery capacity of 5,120Wh with 4 power outlets. However, only the EP500 Pro features a NEMA L14-30 30A receptacle that provides up to 3,000 watts of continuous power at 120V. That is powerful enough to run most of your home electronics and appliances during power outages. Besides, the Pro has an additional 100W USB-C port; The two USB-C ports are very helpful for charging your laptops, iPads, or smartphones.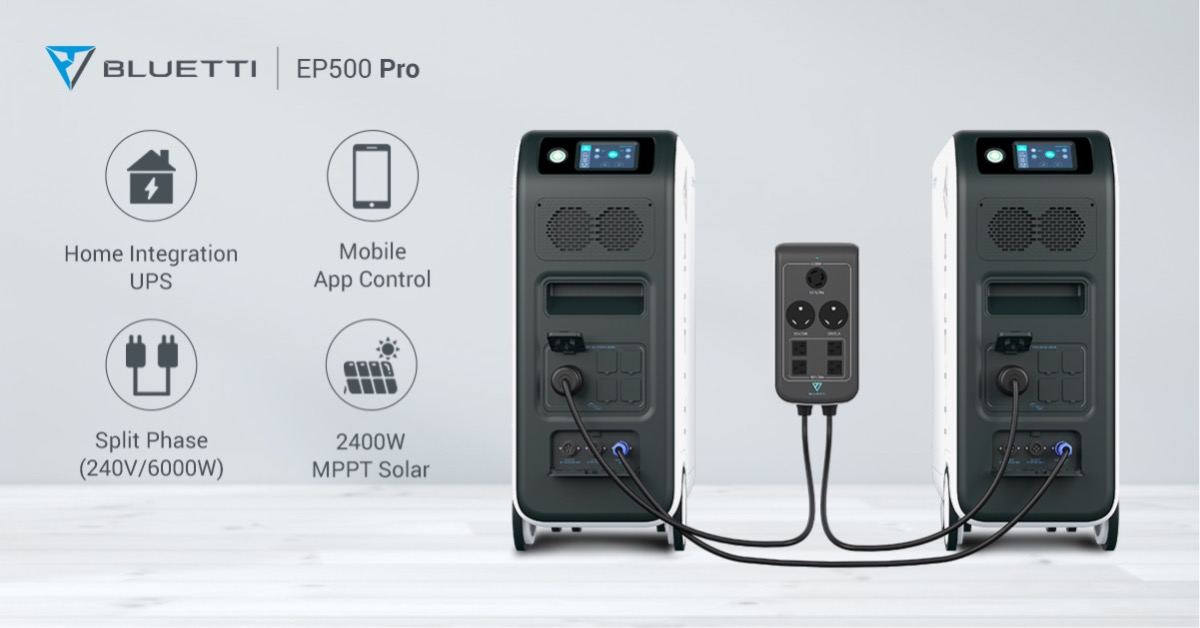 Notably, Bluetti also revealed the Fusion Box Pro for the EP500 Pro. The fusion box is used to connect two power stations to double the power, voltage, and capacity. The Fusion Box Pro includes four 120V/20A outlets, a 120V/240V 30A (up to 6,000W continuous power) receptacle , and two NEMA TT-30 (30A RV receptacle). The connections are helpful to power RVs, trailers, off-grid events, or essential circuits in your home.
Apart from the new fusion box, Bluetti also released some new accessories including a home integration kit and a PV voltage step-down modular. The step-down modular is useful for users with a huge array of solar panels as it can adjust the input voltage and feed the EP500/Pro stations properly. That means you don't need to buy new solar panels to recharge the EP500. On the other hand, the home integration kit will help you integrate the EP500/Pro to your home circuits; When the power goes down, the EP500 UPS system will immediately take over and keep vital loads/receptacles on.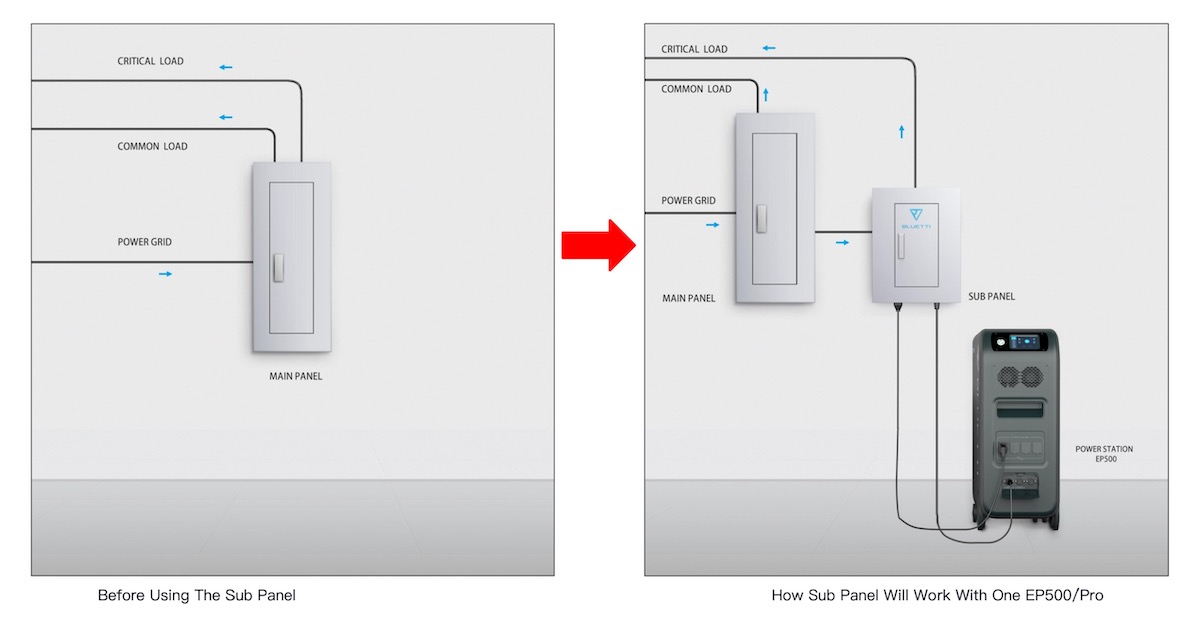 Conclusion
In summary, the versatility and impressive features of these solar generators position them as unparalleled in terms of power, technological advancements, and recharging capacities. The EP500 and EP500Pro are not merely suited for off-grid use, but can seamlessly integrate with the grid to effectively cut down on utility expenses.
The Bluetti EP500Pro stands a notch higher than the EP500 power station, offering double the recharge speed from solar panels and triple the speed from AC charging. Moreover, the Pro version delivers a greater AC output, providing 3,000W as compared to the 2,000W of the standard EP500. Despite these advantages, the EP500Pro is priced approximately $1,000 higher than its counterpart.
Choosing the EP500Pro over the EP500 essentially means paying a premium for added convenience. Notably, the Pro model contributes an extra layer of security to your home's functionality during power outages, capable of energizing a broader spectrum of appliances. Apart from the differences in recharge speed and AC power output, the two EP500 models share identical features. Therefore, the choice between the two comes down to your specific needs and budget considerations.
Disclosure: We might earn commission from qualifying purchases. The commission help keep the rest of my content free, so thank you!