Whether you are camping, outdoor living or making it through a power outage, electricity is needed for phones, tablets, and other devices. You want a sturdy device that can provide all the juice you need for your use case. This is where Bluetti comes in – a crowdfunded company that raised almost $7 million dollars. They also have sold tens of thousands of devices since appearing on Indiegogo, a well-known site for crowd funders. They have taken these sales and customers' feedback to update and upgrade their products. They currently are releasing two power stations that we will discuss in this article: the AC200 MAX and AC300. There are also two expandable modules, the B300 and B230.
Product
First, looking at the two portable, power stations we have the AC200 MAX and AC300. The AC200 MAX is an upgrade from their previous AC200P. The continuous power is 2,200W and features a PD USB-C output, solar input (up to 900w) and 30a NEMA outlet. A major addition that we noticed, was there is now Bluetooth connectivity with the AC200 MAX. This allows for wireless control with a smartphone through the BLUETTI app which is support on both IOS and Android. On its own, the AC200 MAX has a 2kW capacity for devices. With the expandable modules, this can be upgraded, however. Two B300 can quadruple the capacity up to 8,192Wh.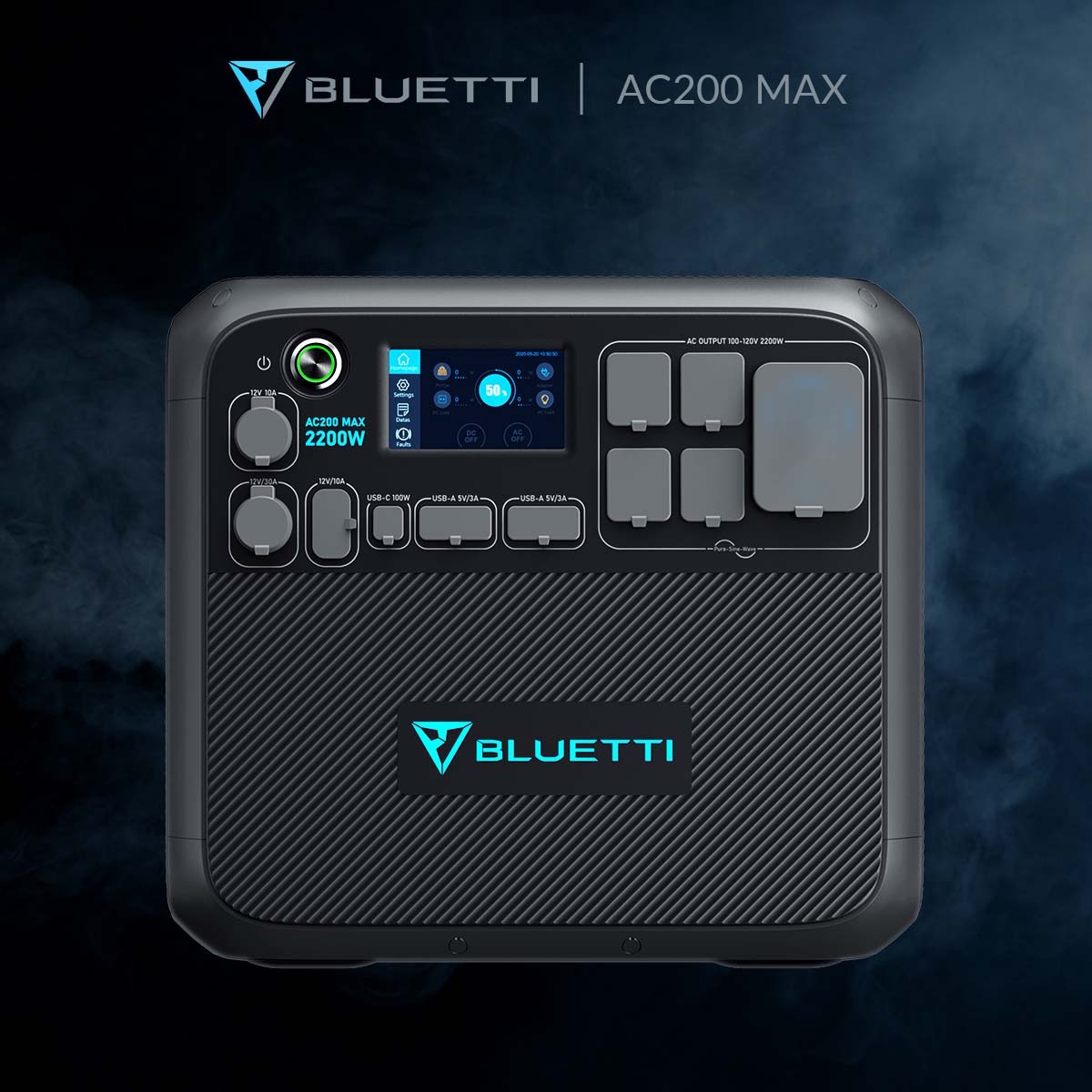 Looking at AC300, this a larger version of the AC300 that packs a punch. This model is to replace BLUETTI's original 3,000W model EP500-Pro. The design features no internal battery, users are expected to buy the expansion modules to keep the power station boosted with capacity. There is a sine wave inverter with capabilities of 3,000W, similar as the previous model. Solar capabilities are not lacking with this AC300, you have support up to 2.4kW. This is expandable up to 12.3kW with the modules, the AC300 can take up to four at a time. The capacity even gets larger when you link up two AC300 with BLUETTI's Fusion Box Pro, which links the two together and can potentially have a capacity of 24.6kW.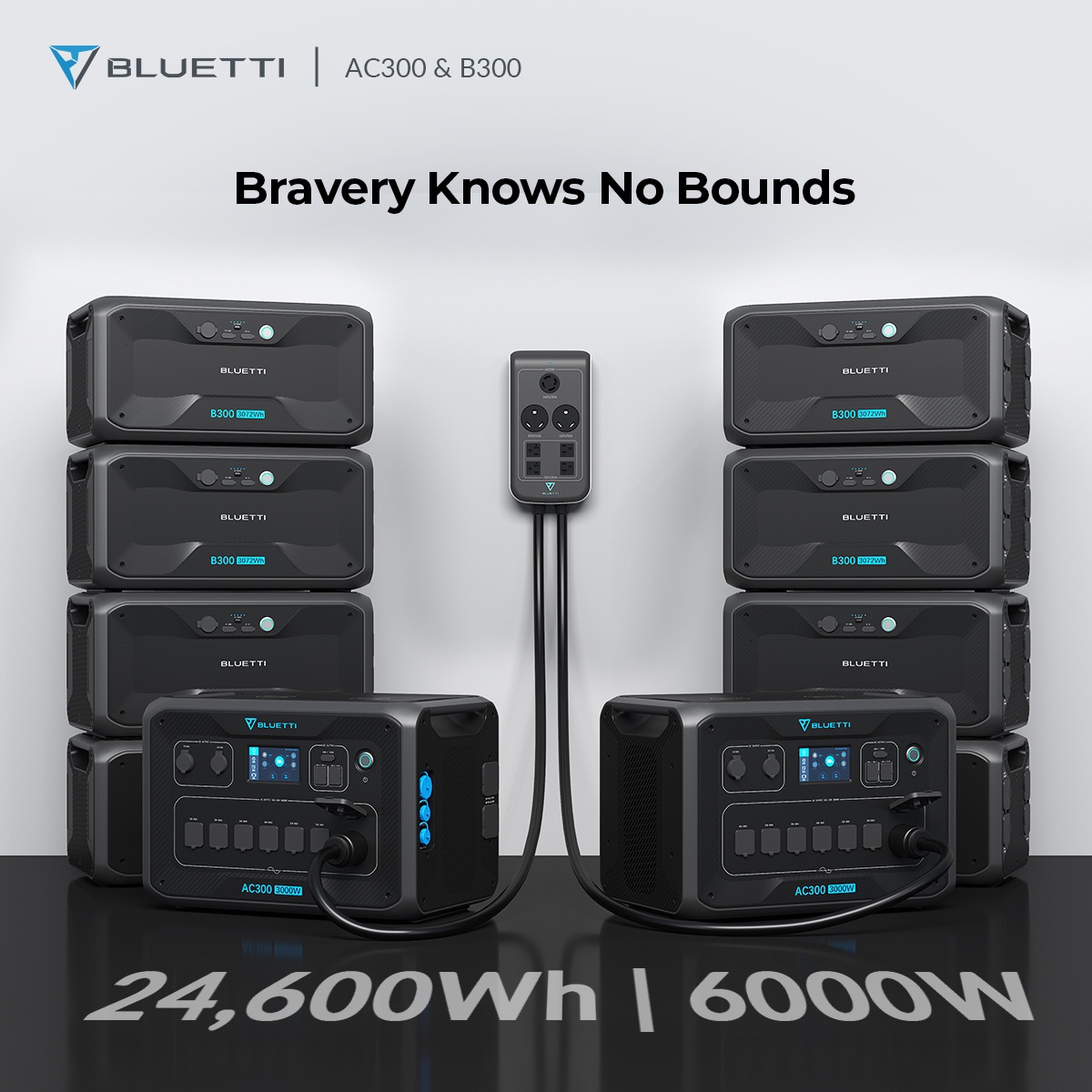 We have mentioned the modules, but let's look a bit deeper into them. You have two different options, the smaller one (B230) with 2048Wh and the larger one (B300) with 3072Wh. The AC300 can take up to four of the B300 while the AC200 MAX can take either two of the B230 or two of the B300. They are built using Lithium Iron Phosphate and have a solar input of 700w for the B300 and 500w for the B230.
| | | | | |
| --- | --- | --- | --- | --- |
| Models | AC300 | AC200 MAX | B300 (Battery Pack) | B230 (Battery Pack) |
| Battery Capacity | / | 2048Wh | 3072Wh | 2048Wh |
| Battery Chemistry | / | Lithium Iron Phosphate (LiFePO4) | Lithium Iron Phosphate (LiFePO4) | Lithium Iron Phosphate (LiFePO4) |
| Continuous Output | 3000W | 2200W | Various DC outlets | Various DC outlets |
| Double Voltage Support (Split Phase Bonding) | YES | NO | / | / |
| Scalability | Expandable w/ up to 4* B300 | Expandable w/ up to 2* B230 or 2* B300 | / | / |
| Fully Packed System Power | 6kW, 24.6kWh | 2kW, 8.2kWh | / | / |
| Solar Input (Basic Unit) | 2400W | 1400W | 700W each | 500W each |
| *Max. Solar Input (Fully Packed System) | 10400W | 2800W | / | / |
| Max. AC Input Capability (Basic Unit) | 3000W | 1000W | 500W each | 500W each |
Release Date
The AC200 MAX and B230 will be available in August of this year and will be listed on the BLUETTI website. The larger AC300 and B300 will be available in September of this year and will also be listed on the website. A road map has shown the AC200 MAX nicknamed 'Challenger' while the AC300 is nicknamed 'Dominator'. There was also another item listed with 4,500W and this was just named the 'Apex', but there is no available information yet on this product. You may join their official Facebook Launch Group for more information and super early bird pricing.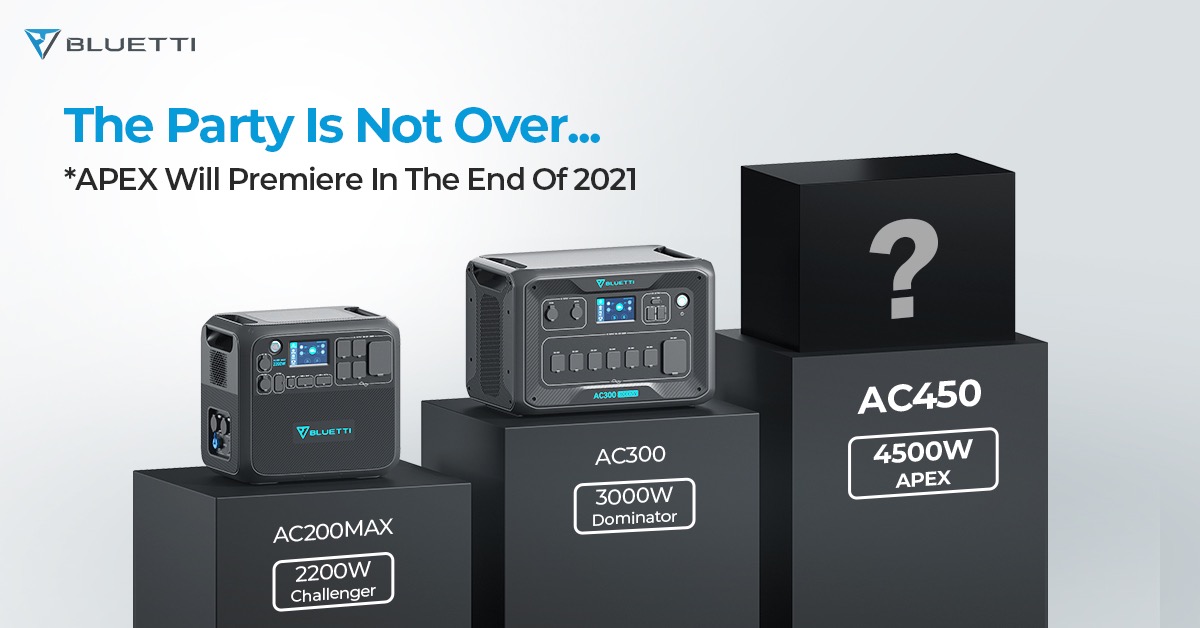 Thoughts
The previous products from BLUETTI had great success and these products should be no different. The added capabilities and expansion modules will add some benefits. I do plan on getting one for emergencies and for camping. The price tag is a bit of high, but they are not lacking in terms of quality or features. The smartphone app adds a bit of simplicity and uniqueness that is not found in many other brands. The quick turn around from purchase to delivery (stated as two weeks) should boost customer confidence in the brand. These devices will do well for all types of consumers.
Disclosure: We might earn commission from qualifying purchases. The commission help keep the rest of my content free, so thank you!