At the time reviewing the ASUS ROG G751JY laptop, my primary machine is the MacBook Pro 15 with Retina Display. I moved to Mac 2 years ago and it is so difficult to move back to Windows because the MacBook is sleek, portable and comes with the smooth Mac OS X. However, it still has its own limitations.
I was searching for a more powerful laptop that can do a better job in video processing as well as gaming. The ASUS ROG G751JY-DH72X 17.3-inch gaming laptop seems to be the best choice at the moment as it comes with admirable specs and the latest dedicated NVIDIA GeForce GTX 980M graphics card. So, how this laptop performs and can it replace my MacBook Pro? Keep reading the review to find out.
Unboxing & Initial Setup
Design
Honestly, there is nothing special about design of the Asus Rog. My first impression is that it is huge and super heavy. Really you should never ever carry it with one hand, I almost ended up turning the $3000 laptop into a plastic paper weight when I used one hand to put it into my laptop bag. The laptop weighs about 8.5 pounds and measures 12.50 x 16.40 x 1.70 inches. Even its charging adapter is very big and heavy, so I don't think it is a good idea to carry the laptop around.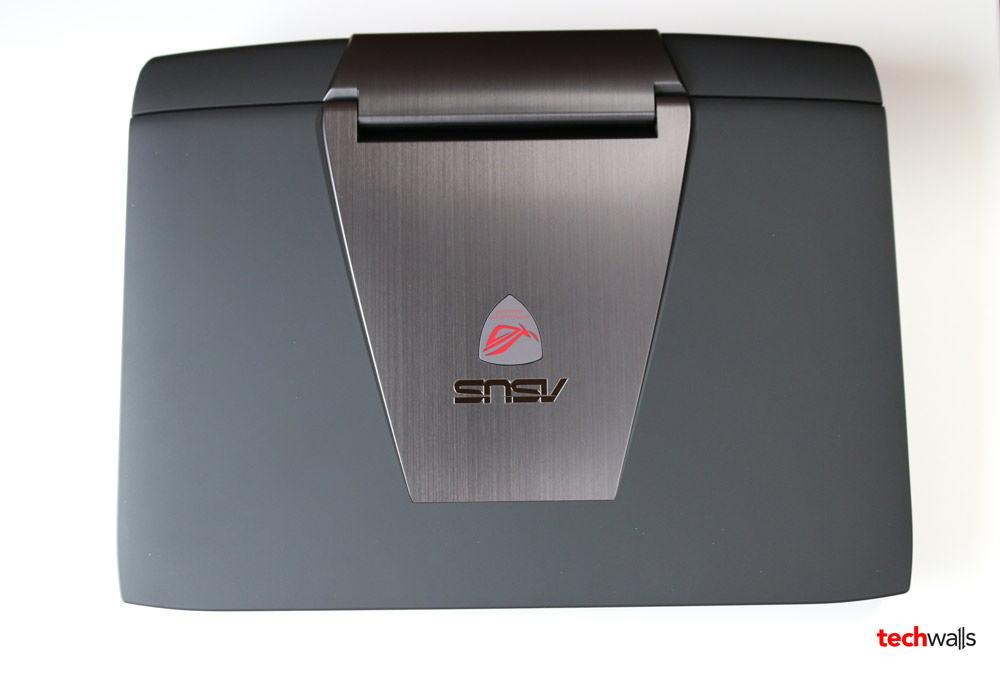 On the other hand, the Asus Rog is excellent in terms of connections. On the right side, we can spot a headphone jack, microphone jack, audio input jack, two USB 3.0 ports (one of them comes with USB Charger+ for quickly charging your mobile devices even when the laptop is in sleep, hibernate or shutdown mode), Thunderbolt port, HDMI port, LAN port, VGA port and power input port. On the left side, there are a Kensington security slot, two USB 3.0 ports, a Blu-ray optical drive (a Blu-ray writer), and a SD card reader. I don't really like the placement of the headphone jack because when I plug in my headphones and use a mouse, my hand touches the cable all the time, so I think Asus should move it to the left side in the next generation.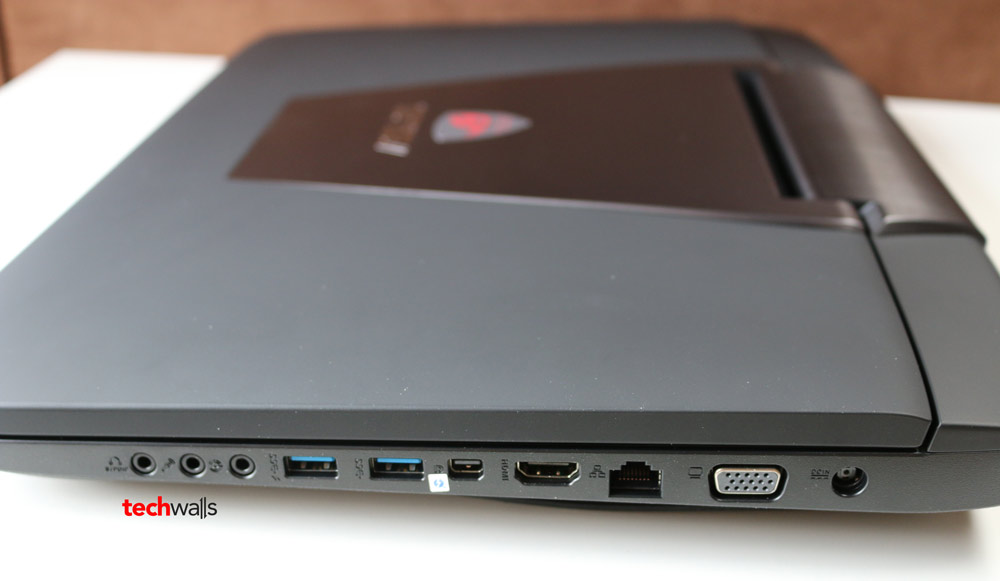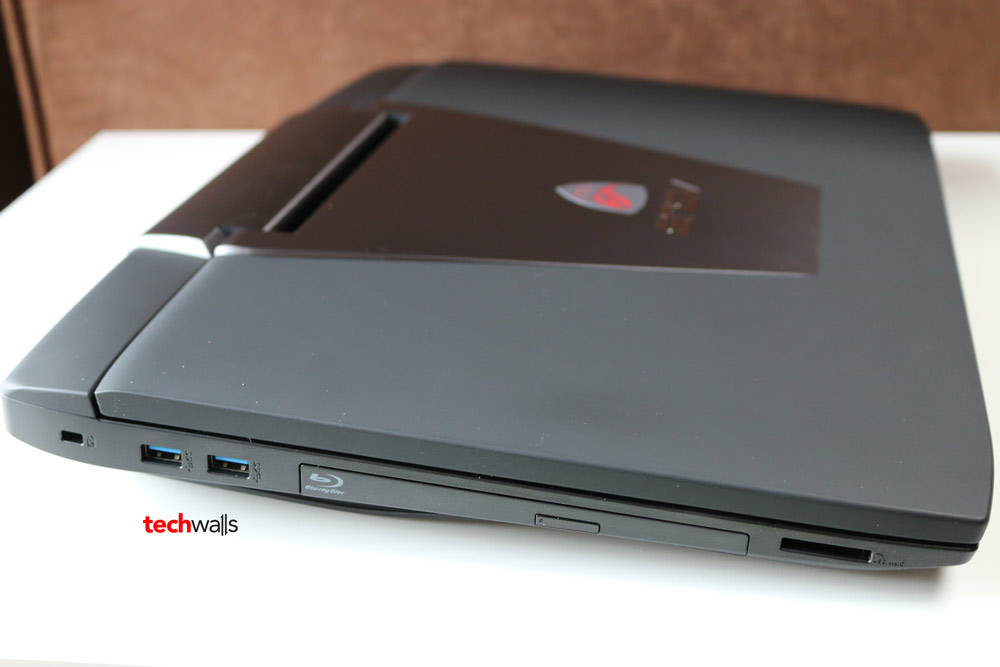 Besides, I'm very impressed with cooling system of the rig. Apart from air vents from the bottom, we can also see two big air vents on the back which will expel heat away from the machine. There are two independent fans for CPU and GPU to guarantee low temperature when the laptop performs intensive tasks. Therefore, you can play the most graphically demanding games without overheating issues.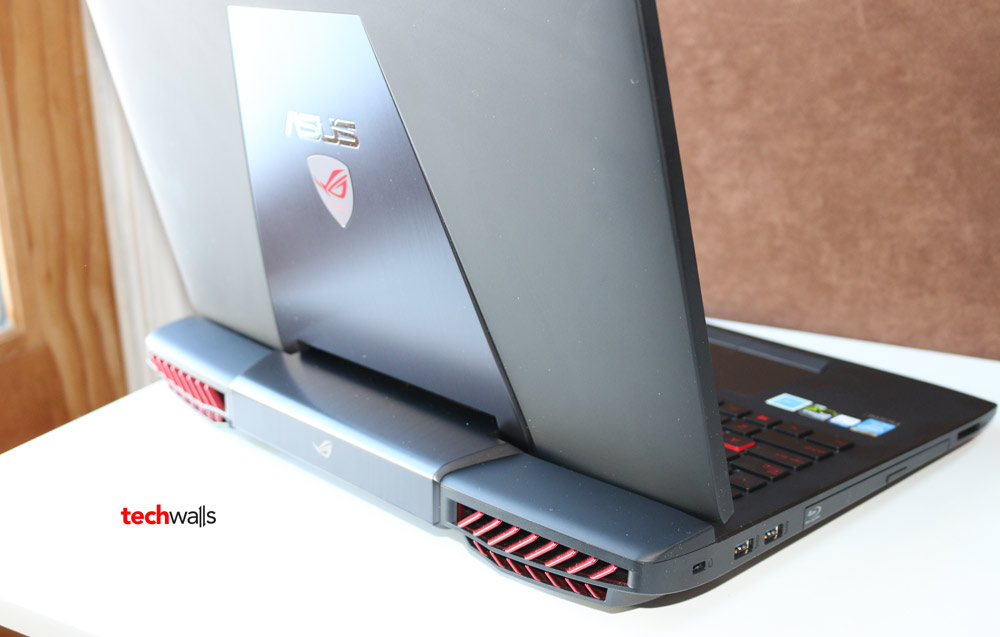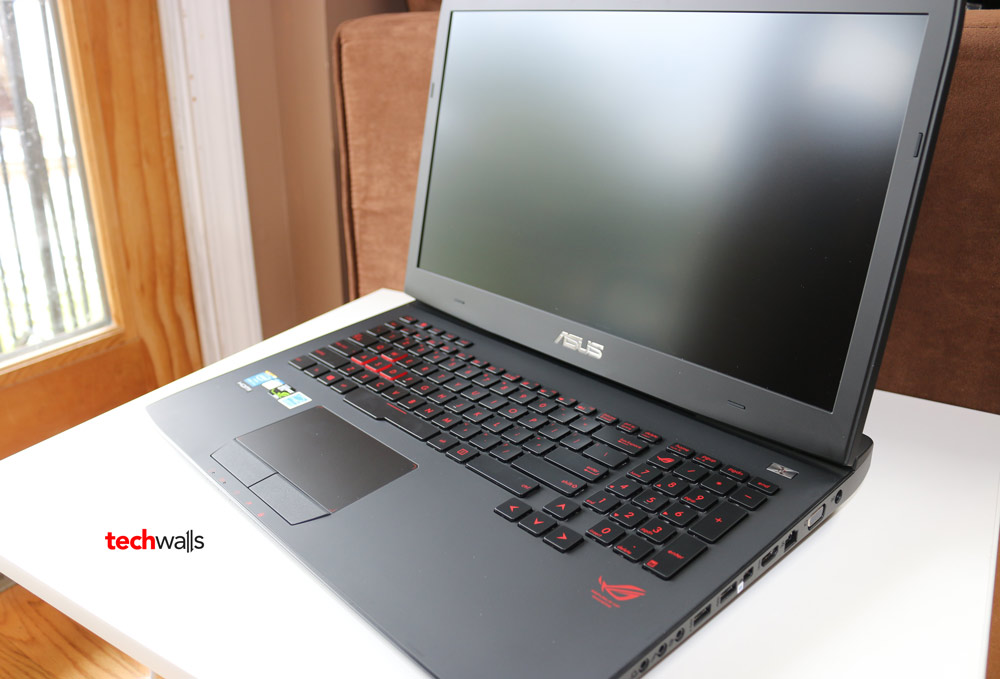 The Asus Rog features a full-sized QWERTY keyboard with a numeric keypad on the right side. Both the keyboard and the touchpad are quite responsive and I don't have any problem at all. If you are a gamer, you might also appreciate the highlighted WASD keys and some quick-access keys on top. You can easily open Steam, record gameplay and set up frequently used commands with three macro keys.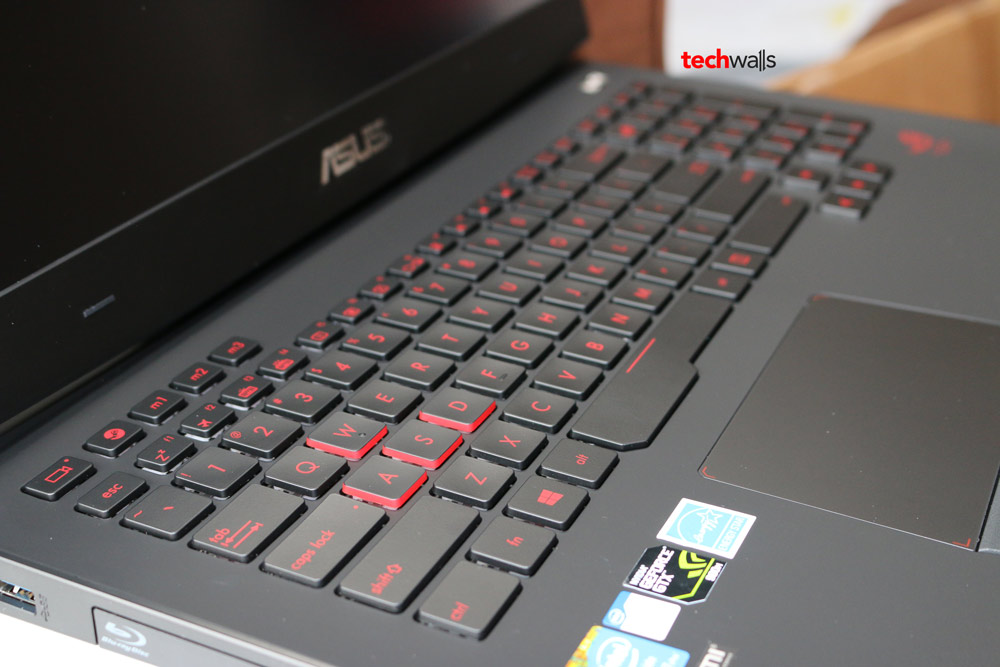 Display & Audio
As a high-end entertainment laptop, the Asus Rog G751JY fails to deliver high-quality screen and speakers. I love the size 17.3 inches and the anti-glare display, unfortunately, its resolution stays at 1920×1080 pixels. Therefore, this is definitely not as crisp and clear as the Retina display on my MacBook. Besides, it seems like the only speaker of the laptop is placed on the bottom. The speaker is said to be the internal Bass Eye subwoofer and its quality is totally disappointing, you'd better prepare a pair of headphones or speakers if you want to enjoy a good sound on this device.
OS & Performance
The Asus Rog still runs on the latest Windows 8.1 and I've never seen such a smooth experience on any other Windows laptop. It is even much faster than my current MacBook. I made a startup and reboot time comparison between the G751JY and MacBook Pro 15, the results were so impressive. The G751JY is always ready to use even for a cold startup, it takes me just around 8 seconds to boot into Windows while the MacBook takes twice as long to do the same task. You can check out the startup and reboot time comparison video here.
I also used Adobe Photoshop and Cyberlink PowerDirector on the Asus laptop, its performance didn't disappoint me. It can easily handle 4K videos and process big images in seconds. In terms of gaming, I'm also overwhelmed with the power of Intel Core i7-4860HQ and NVIDIA GeForce GTX 980M. My previous gaming rig was the Alienware Alpha and its performance is nowhere close to the Asus Rog's. In the videos below, I played some games in my collection like Assassin's Creed Unity, Saints Row 4, Far Cry 3, Counter-Strike Global Offensive and more. All of them are set at the highest settings and you can see that it runs very smoothly even for heavy games like Assassin's Creed Unity, the FPS is kept at 40-60 most of the time.
The only problem I had is that the screen stays dark when I turned on the laptop. The issue happened occasionally and I had to turn it off and on a few times to see it boots properly again. The issue was only fixed when I factory reset the Asus laptop.
Battery Life
This is not really an important aspect of this laptop because it mostly stays in one place. However, I still move it sometimes and the battery could last around 3.5 hours for normal tasks like web browsing, running some simple softwares, viewing photos and videos. If you play games on the laptop, its battery will die in just about an hour.
Conclusion
Pros
Great cooling system
Solid build
Outstanding gaming performance
Super fast
Good battery life
Cons
The screen won't turn on sometimes
Too heavy and bulky
Mediocre display
Horrible speaker
Unreasonable headphone jack placement
Despite some aforementioned issues, this is absolutely still the best gaming laptop you can find on the market this year. If it is out of your budget, you might want to consider its little brother with a little lower specs, the Asus ROG G751JY-DH71. It is about $500 cheaper due to the lower SSD capacity, RAM and CPU but both of them use the same GPU, therefore, I believe it will be more than enough for most gamers.
And to answer the question in the title, I have to say that I am still using the MacBook because I prefer a portable laptop and I'm not a hardcore gamer. The two laptops serve different purposes, so they can't replace each other.
Disclosure: We might earn commission from qualifying purchases. The commission help keep the rest of my content free, so thank you!