In recent years, we often had just a couple of choices when it comes to buying a game console for our living room, it is either a Playstation 4, a Xbox One or a Nintendo Wii U. And the reason I haven't bought one since the Playstation One is because I prefer gaming on PC and I have a big collection of games on Steam.
Steam is my favorite digital game store because it is easy to manage my collection and there are a lot of discounted games here. While it cost me less than $10 for a discounted game on Steam, you might have to spend at least twice as much to buy the same title on Playstation or Xbox. The Alienware Alpha is the first Steam Box, so I was so excited to try it out. The model I get is the Alienware Alpha ASM100-4980.
Unboxing and First Startup
Design
The Alienware Alpha is a flat square box with dimensions of 2.1″ x 7.8″ x 7.8″. This is a very compact design as compared to most other game consoles out there. It will easily fit into your home entertainment system.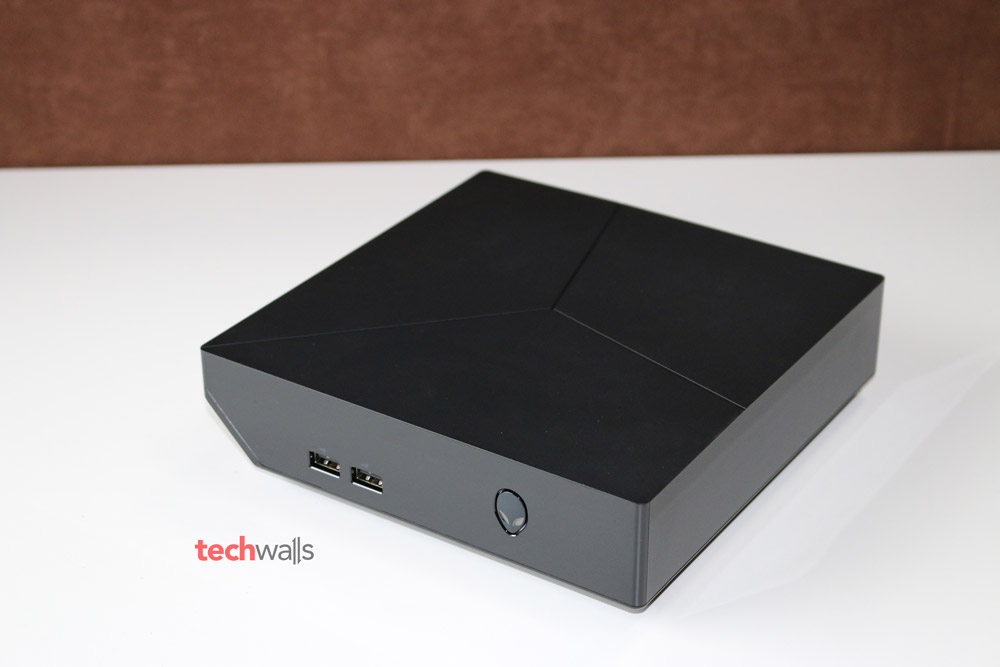 On the front, there are a Power button in the shape of Alienware logo, 2 USB ports and a backlit chamfered corner. We can also customize the lighting colors of both Power button and the corner in the AlienFX setting. The small machine comes with enough number of connection for most gamers. On the back, we can find 2 more USB 3.0 ports, an HDMI-in and an HDMI-out port, power jack, Ethernet and an optical audio output jack.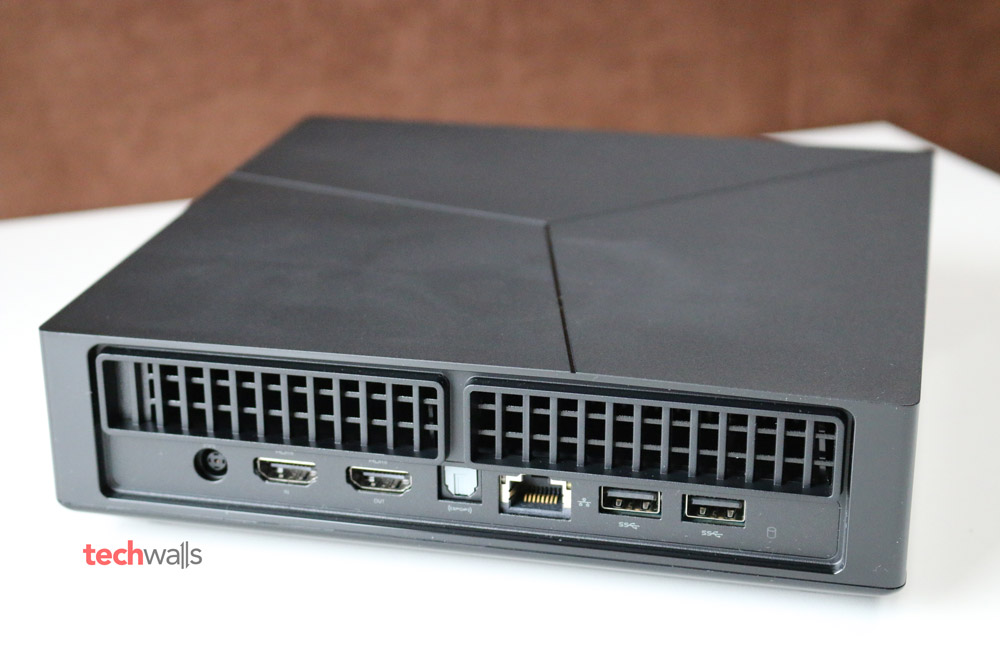 There is another USB port hidden under the bottom panel, you can use it to plug a receiver for your wireless mouse or keyboard. A Xbox 360 controller and its receiver are also included in the box, however, I really think Alienware should integrate the receiver into the machine instead of using the separate receiver. In this case, we always need to plug the receiver into a USB port and it makes the system a little bulkier.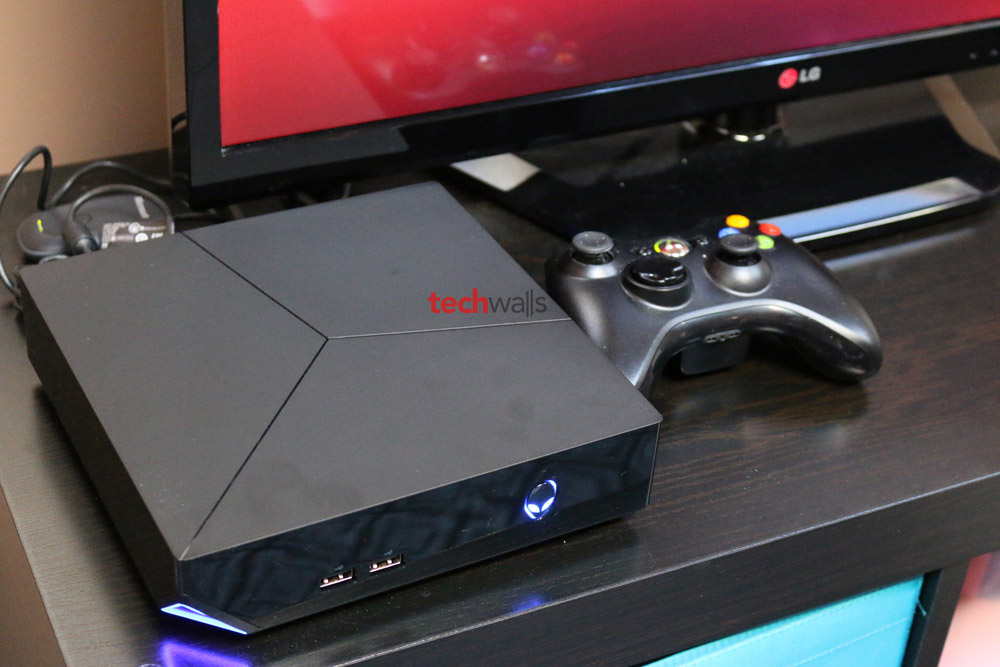 Features and Performance
The Alienware Alpha is released in 4 different models, which are ASM100-1580, ASM100-2980, ASM100-4980 and ASM100-7980. They differ in terms of RAM, hard drive capacity and processor. My review unit is the mid-range ASM100-4980 which is equipped with 3.0 GHz Intel Core i5-4590T Processor, 8GB of DDR3L RAM and 1TB HDD. All of the Alpha models have a custom NVIDIA GeForce GTX GPU with 2GB of GDDR5 video memory which is built based on the mobile GTX 860M. The GPU can perform pretty well with most games released this year but it can be outdated soon because Nvidia has already released the more powerful 970M and 980M. Besides, there is a huge advantage of the custom GPU as you won't be able to update NVIDIA drivers promptly. Some games require latest drivers to play and unfortunately we can't use the GTX 860M's driver, therefore, there should be an update for the custom GPU soon.
You can check performance of the machine in videos below, you will see the gameplay of some popular games like LEGO Marvel Super Heroes, Far Cry 3, Saints Row IV, Borderlands 2 or Call Of Duty: Advanced Warfare.
Overall, the Alienware Alpha can play almost all games released until now on medium settings. However, the frame rate will drop significantly to just about 25-30 fps when you change to high settings. If you switch from Playstation 4 or Xbox One, you might love the Alienware Alpha because it offers higher resolutions at 1080p or even 4K and the fans are a lot quieter.
When you turn on the device, it will boot directly to Alpha UI, which is a thin UI layer running on top of Windows 8.1. In the console mode, you can use only the controller like any other console and your Steam games can be accessed via the Steam's Big Picture interface. It will also disable unnecessary Windows services to free up memory and processing power for gaming. What I don't like is that it takes quite a while to start the machine as well as switch between console mode and desktop mode. Booting into the Alpha UI takes me around 80 seconds.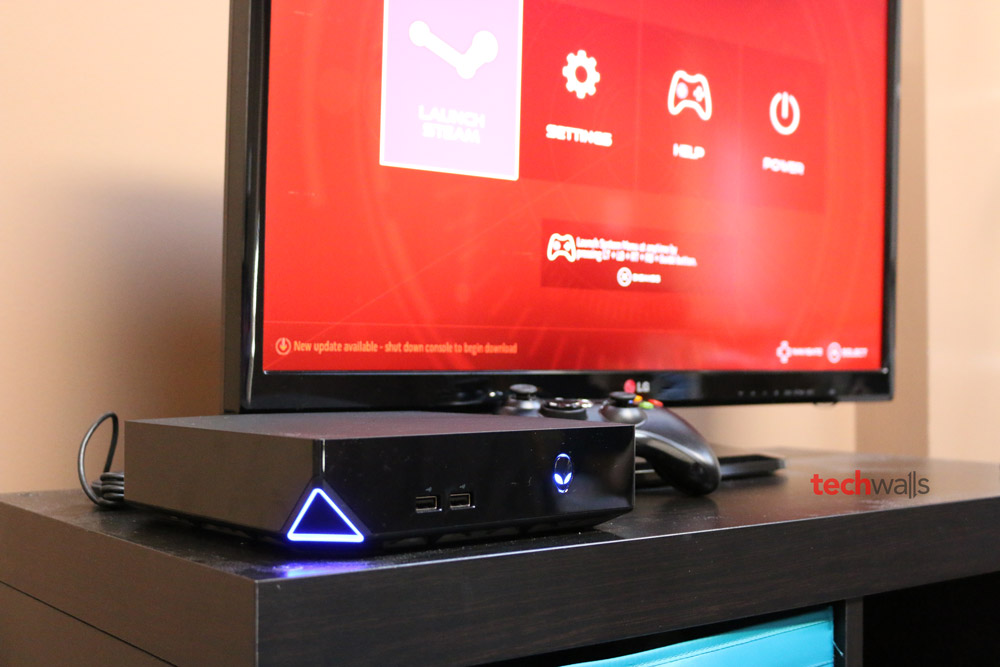 Conclusion
Pros
Compact Design.
Include all necessary connections and peripherals.
Offers higher resolution.
Good performance for most games released in 2014.
Affordable price.
Cons
Low frame rate on high settings.
Outdated GPU.
The Alienware Alpha pricing varies from $549 to $899 depending on the configuration. This is really a good choice if you want to enjoy a huge game catalog on Steam like me, therefore, I totally recommend the machine for your living room.
Disclosure: We might earn commission from qualifying purchases. The commission help keep the rest of my content free, so thank you!