Apple and Samsung are thought to be more-cellphone manufacturing companies than other rival companies. Both these firms together rule the world market share of handsets and according to experts the market is increasingly becoming limited to only these two manufacturers.
Current happening
Samsung and Apple are no doubt the predominant players in the smartphone and tablet market in this world but this dominance does not come sans any legal conflict over patents. Recently, both the companies have been in the news regarding the legal dispute over the touchscreen technology. The reason for this latest strife is the technology used in the touchscreen by Samsung in its latest product, Galaxy Tab 10.1, and it is claimed that it is in conflict with the patents owned by Apple.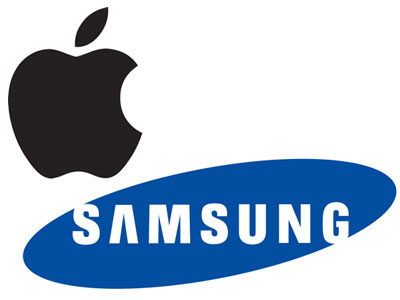 In its defence the South Korea based company accuses Apple for making use of 3G patents sans the licenses. Both the firms were also involved in a contention in 2011 when Apple indicted Samsung for copying smartphone and tablet designs while the South Korean company charged Apple for infringing company's patent on data-transmissions.
iPhone 5 v/s Galaxy S3
When the competition is between Apple's iPhone 5 and Samsung's Galaxy S3, then Galaxy S3 is a clear winner with a significant margin. With the screen resolution of 720×1280, Galaxy S3 has 27% more resolution. Coming with a screen size of 4.8″ as opposed to Apple's 4″ screen, Samsung's product comes with a 20% bigger screen size and is one of the biggest available screens in the market. Apple's iPhone 5 contains 1418mAh battery whereas in Galaxy S3 it is 2100mAh and therefore supplies 49% more battery power to the handset. The battery in Galaxy S3 can be removed in contrast to the iPhone 5 and you can also charge it with a USB cable. The Samsung product comes with navigation software which is free of cost and includes the updates in contrast to iPhone 5. In the Samsung's gadget the phone browser comes with Adobe Flash with audio as well as video features. At a weight of 133g as opposed to 134g of iPhone 5, Galaxy S3 is 1g lighter. Apple's product is 9mm thick whereas Galaxy is 8.6mm thick making it slimmer than iPhone 5. NFC in Samsung's product allows wireless transactions and this feature is missing in Apple's product. Although the internal memory of iPhone 5 is 64GB but it is not expandable as opposed to Galaxy S3 where the internal memory of 16GB can be expanded using Micro SD cards. The CPU clock speed of Samsung's gadget is 1.9x faster than Apple's gadget.
Apple v/s Samsung
Samsung is drawing in the profits because of its successful designs and marketing strategies globally. Apple is still a dominant smartphone manufacturer in the USA even though Samsung's share has taken a big leap. But the South Korean company leads the overall smartphone market globally. However, Apple is not in a weak position. Both Apple and Samsung form more than 50% of the total share of the smartphone industry. Early in this year, the smartphones sold by Samsung were significantly more than iPhones sold by Apple. Also, Samsung snatched the top spot in the global handset sales from Nokia super seceding Apple's sales with a large margin. Apple and Samsung plan to suck up the remaining share of Nokia in coming future and Samsung also plans to consolidate its position in Android market as well as over other rival mobile operating systems including that of Apple's. The battle between the two companies can be reduced to the battle between their operating systems; Android and iOS respectively. Google's Android is loaded with applications but little less than iOS and Apple takes an edge over Samsung when it comes to OS.
Verdict
Samsung's increase in the global sale of its product is the testimony of the company's success. Although Samsung is making product in almost every domain as opposed to Apple's only one product, iPhone, nonetheless, Samsung is having an edge over Apple in the world. As patent strife continue to suppress innovation and also Android licenses find it hard to be different from their rivals, the deciding factor will be the price of the gadgets and if this is going to happen then the market will be reigned by Chinese manufacturers in the future. It is going to be a boon in disguise for Apple but Apple will have to choose whether it will like to be a high end manufacturer or enter the midsize range also.
Disclosure: As an Amazon Associate, I earn from qualifying purchases. The commission help keep the rest of my content free, so thank you!