The new MacBook Pro 15 2016 with Touch Bar is the most powerful Apple's laptop you can buy at the moment. Therefore, I was not surprised when they announced that the MacBook Pro set a new online sales record in the first week. Besides, it accumulated more revenue than all other laptops including the 12-inch MacBook and Microsoft Surface Book.
The strong sales come despite the fact that the tech specs and performance of those MacBooks are underwhelming as compared to the equivalents in the Windows world. Even the highest-specced option can't compete with cheaper Windows laptops released last year. Having said that, the new  MacBook Pro is still a sleek and beautiful machine that all of us want to own.
If you buy the MacBook from Apple Store or any other retailer, you will be able to configure or choose the specs for your machine. They all have the same design, the same dimensions but vary in some specs including processor, SSD capacity, and GPU.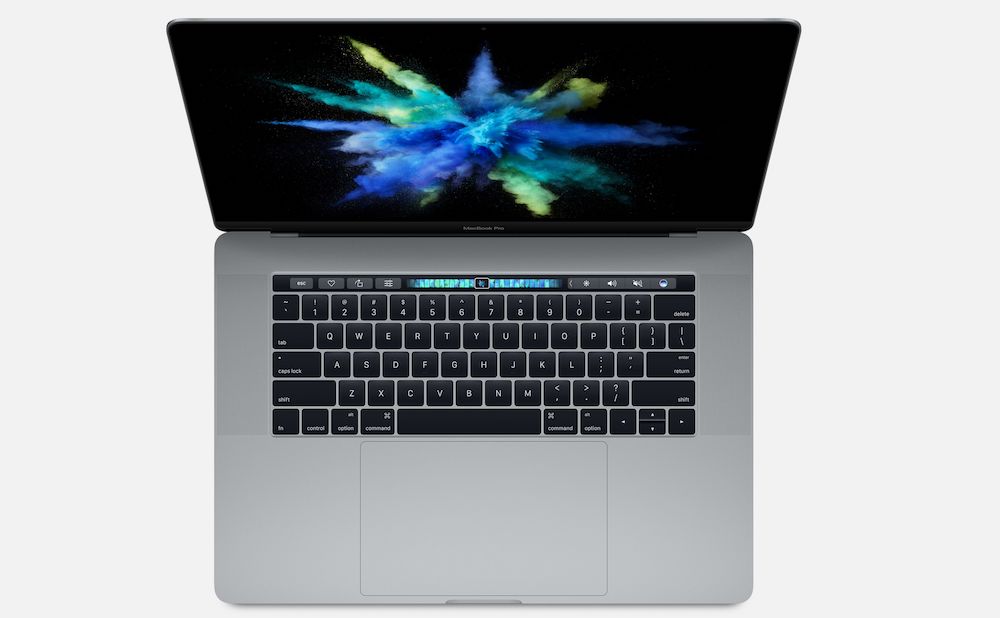 Check out the table below for more details of their differences.
| | | | | | |
| --- | --- | --- | --- | --- | --- |
| Part Number | Color | Processor | Storage Capacity | Graphics | MSRP |
| MLH42LL/A | Space Gray | 2.7 GHz Intel Core i7 Quad-Core | 512GB PCIe SSD | AMD Radeon Pro 455 GPU (2GB GDDR5) | $2,799.00 |
| MLH32LL/A | Space Gray | 2.6 GHz Intel Core i7 Quad-Core | 256GB PCIe SSD | AMD Radeon Pro 450 GPU (2GB GDDR5) | $2,399.00 |
| MLW72LL/A | Silver | 2.6 GHz Intel Core i7 Quad-Core | 256GB PCIe SSD | AMD Radeon Pro 450 GPU (2GB GDDR5) | $2,399.00 |
| Z0T5-MLW728 | Silver | 2.6 GHz Intel Core i7 Quad-Core | 256GB PCIe SSD | AMD Radeon Pro 460 GPU (4GB GDDR5) | $2,599.00 |
| Z0SG-MLH322 | Space Gray | 2.6 GHz Intel Core i7 Quad-Core | 1TB PCIe SSD | AMD Radeon Pro 450 GPU (4GB GDDR5) | $2,999.00 |
| Z0T5-MLW722 | Silver | 2.6 GHz Intel Core i7 Quad-Core | 1TB PCIe SSD | AMD Radeon Pro 450 GPU (2GB GDDR5) | $2,999.00 |
| Z0T5-MLW7230 | Silver | 2.6 GHz Intel Core i7 Quad-Core | 1TB PCIe SSD | AMD Radeon Pro 460 GPU (4GB GDDR5) | $3,199.00 |
| Z0SG-MLH3230 | Space Gray | 2.6 GHz Intel Core i7 Quad-Core | 1TB PCIe SSD | AMD Radeon Pro 460 GPU (4GB GDDR5) | $3,199.00 |
| Z0SG-MLH328 | Space Gray | 2.6 GHz Intel Core i7 Quad-Core | 256GB PCIe SSD | AMD Radeon Pro 460 GPU (4GB GDDR5) | $2,599.00 |
| Z0T5-MLW723 | Silver | 2.6 GHz Intel Core i7 Quad-Core | 2TB PCIe SSD | AMD Radeon Pro 450 GPU (2GB GDDR5) | $3,799.00 |
| Z0SG-MLH323 | Space Gray | 2.6 GHz Intel Core i7 Quad-Core | 2TB PCIe SSD | AMD Radeon Pro 450 GPU (2GB GDDR5) | $3,799.00 |
| Z0T5-MLW7231 | Silver | 2.6 GHz Intel Core i7 Quad-Core | 2TB PCIe SSD | AMD Radeon Pro 460 GPU (4GB GDDR5) | $3,999.00 |
| Z0SG-MLH3231 | Space Gray | 2.6 GHz Intel Core i7 Quad-Core | 2TB PCIe SSD | AMD Radeon Pro 460 GPU (4GB GDDR5) | $3,999.00 |
| Z0T5-MLW721 | Silver | 2.6 GHz Intel Core i7 Quad-Core | 512GB PCIe SSD | AMD Radeon Pro 450 GPU (2GB GDDR5) | $2,599.00 |
| Z0SG-MLH321 | Space Gray | 2.6 GHz Intel Core i7 Quad-Core | 512GB PCIe SSD | AMD Radeon Pro 450 GPU (2GB GDDR5) | $2,599.00 |
| Z0T5-MLW729 | Silver | 2.6 GHz Intel Core i7 Quad-Core | 512GB PCIe SSD | AMD Radeon Pro 460 GPU (4GB GDDR5) | $2,799.00 |
| Z0SG-MLH329 | Space Gray | 2.6 GHz Intel Core i7 Quad-Core | 512GB PCIe SSD | AMD Radeon Pro 460 GPU (4GB GDDR5) | $2,799.00 |
| Z0T6-MLW821 | Silver | 2.7 GHz Intel Core i7 Quad-Core | 1TB PCIe SSD | AMD Radeon Pro 455 GPU (2GB GDDR5) | $3,199.00 |
| Z0SH-MLH421 | Space Gray | 2.7 GHz Intel Core i7 Quad-Core | 1TB PCIe SSD | AMD Radeon Pro 455 GPU (2GB GDDR5) | $3,199.00 |
| Z0T6-MLW827 | Silver | 2.7 GHz Intel Core i7 Quad-Core | 1TB PCIe SSD | AMD Radeon Pro 460 GPU (4GB GDDR5) | $3,299.00 |
| Z0SH-MLH427 | Space Gray | 2.7 GHz Intel Core i7 Quad-Core | 1TB PCIe SSD | AMD Radeon Pro 460 GPU (4GB GDDR5) | $3,299.00 |
| Z0T6-MLW822 | Silver | 2.7 GHz Intel Core i7 Quad-Core | 2TB PCIe SSD | AMD Radeon Pro 455 GPU (2GB GDDR5) | $3,999.00 |
| Z0SH-MLH422 | Space Gray | 2.7 GHz Intel Core i7 Quad-Core | 2TB PCIe SSD | AMD Radeon Pro 455 GPU (2GB GDDR5) | $3,999.00 |
| Z0T6-MLW828 | Silver | 2.7 GHz Intel Core i7 Quad-Core | 2TB PCIe SSD | AMD Radeon Pro 460 GPU (4GB GDDR5) | $4,099.00 |
| Z0SH-MLH428 | Space Gray | 2.7 GHz Intel Core i7 Quad-Core | 2TB PCIe SSD | AMD Radeon Pro 460 GPU (4GB GDDR5) | $4,099.00 |
| MLW82LL/A | Silver | 2.7 GHz Intel Core i7 Quad-Core | 512GB PCIe SSD | AMD Radeon Pro 455 GPU (2GB GDDR5) | $2,799.00 |
| Z0T6-MLW826 | Silver | 2.7 GHz Intel Core i7 Quad-Core | 512GB PCIe SSD | AMD Radeon Pro 460 GPU (4GB GDDR5) | $2,899.00 |
| Z0SH-MLH426 | Space Gray | 2.7 GHz Intel Core i7 Quad-Core | 512GB PCIe SSD | AMD Radeon Pro 460 GPU (4GB GDDR5) | $2,899.00 |
| Z0T5-MLW726 | Silver | 2.9 GHz Intel Core i7 Quad-Core | 1TB PCIe SSD | AMD Radeon Pro 450 GPU (2GB GDDR5) | $3,299.00 |
| Z0SG-MLH326 | Space Gray | 2.9 GHz Intel Core i7 Quad-Core | 1TB PCIe SSD | AMD Radeon Pro 450 GPU (2GB GDDR5) | $3,299.00 |
| Z0T6-MLW824 | Silver | 2.9 GHz Intel Core i7 Quad-Core | 1TB PCIe SSD | AMD Radeon Pro 455 GPU (2GB GDDR5) | $3,399.00 |
| Z0SH-MLH424 | Space Gray | 2.9 GHz Intel Core i7 Quad-Core | 1TB PCIe SSD | AMD Radeon Pro 455 GPU (2GB GDDR5) | $3,399.00 |
| Z0T6-MLW8230 | Silver | 2.9 GHz Intel Core i7 Quad-Core | 1TB PCIe SSD | AMD Radeon Pro 460 GPU (4GB GDDR5) | $3,499.00 |
| Z0SH-MLH4230 | Space Gray | 2.9 GHz Intel Core i7 Quad-Core | 1TB PCIe SSD | AMD Radeon Pro 460 GPU (4GB GDDR5) | $3,499.00 |
| Z0T5-MLW724 | Silver | 2.9 GHz Intel Core i7 Quad-Core | 256GB PCIe SSD | AMD Radeon Pro 450 GPU (2GB GDDR5) | $2,699.00 |
| Z0SG-MLH324 | Space Gray | 2.9 GHz Intel Core i7 Quad-Core | 256GB PCIe SSD | AMD Radeon Pro 450 GPU (2GB GDDR5) | $2,699.00 |
| Z0T5-MLW7232 | Silver | 2.9 GHz Intel Core i7 Quad-Core | 256GB PCIe SSD | AMD Radeon Pro 460 GPU (4GB GDDR5) | $2,899.00 |
| Z0SG-MLH3232 | Space Gray | 2.9 GHz Intel Core i7 Quad-Core | 256GB PCIe SSD | AMD Radeon Pro 460 GPU (4GB GDDR5) | $2,899.00 |
| Z0T5-MLW727 | Silver | 2.9 GHz Intel Core i7 Quad-Core | 2TB PCIe SSD | AMD Radeon Pro 450 GPU (2GB GDDR5) | $4,099.00 |
| Z0SG-MLH327 | Space Gray | 2.9 GHz Intel Core i7 Quad-Core | 2TB PCIe SSD | AMD Radeon Pro 450 GPU (2GB GDDR5) | $4,099.00 |
| Z0T6-MLW825 | Silver | 2.9 GHz Intel Core i7 Quad-Core | 2TB PCIe SSD | AMD Radeon Pro 455 GPU (2GB GDDR5) | $4,199.00 |
| Z0SH-MLH425 | Space Gray | 2.9 GHz Intel Core i7 Quad-Core | 2TB PCIe SSD | AMD Radeon Pro 455 GPU (2GB GDDR5) | $4,199.00 |
| Z0T6-MLW8231 | Silver | 2.9 GHz Intel Core i7 Quad-Core | 2TB PCIe SSD | AMD Radeon Pro 460 GPU (4GB GDDR5) | $4,299.00 |
| Z0SH-MLH4231 | Space Gray | 2.9 GHz Intel Core i7 Quad-Core | 2TB PCIe SSD | AMD Radeon Pro 460 GPU (4GB GDDR5) | $4,299.00 |