Apple has just announced the new MacBook Pro 15 2016 and it's considered a revolutionary product to celebrate 25 year anniversary of Apple's notebooks. Apple made some interesting comparison between the new MacBook and the PowerBook, and as you expected, the MacBook is 6.8 million times faster.
New GPUs on MacBook Pro 15 2016
The OLED Touch Bar is obviously the most prominent new feature in the new MacBook lineup and it will appear on both the 13-inch and 15-inch versions. Besides, the new MacBook 15 receives some important upgrades that make it the most powerful Apple notebook ever, a great option for high-end professional users.
Read also: Radeon Pro 555 / 560 vs Radeon Pro 450 / 455 / 460 GPU on New MacBook Pro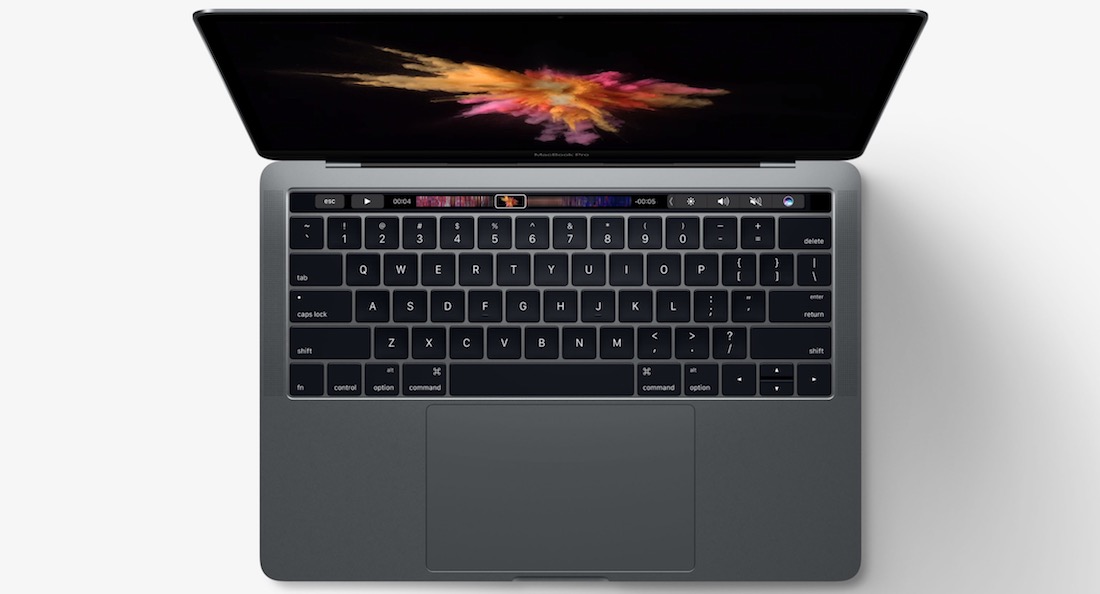 In terms of tech specs, the MacBook Pro is powered by the quad-core Intel i7 processor, 14nm AMD Radeon Pro 450 / 455 / 460 graphics with Polaris architecture and up to 2GB of memory, 16GB of RAM and Superfast PCIe-based SSD. The performance is top notch, specifically, the 3D graphics is 130% faster, gaming performance is 60% faster and video editing with Final Cut Pro X is 57% faster than the previous generation of MacBook Pro 15.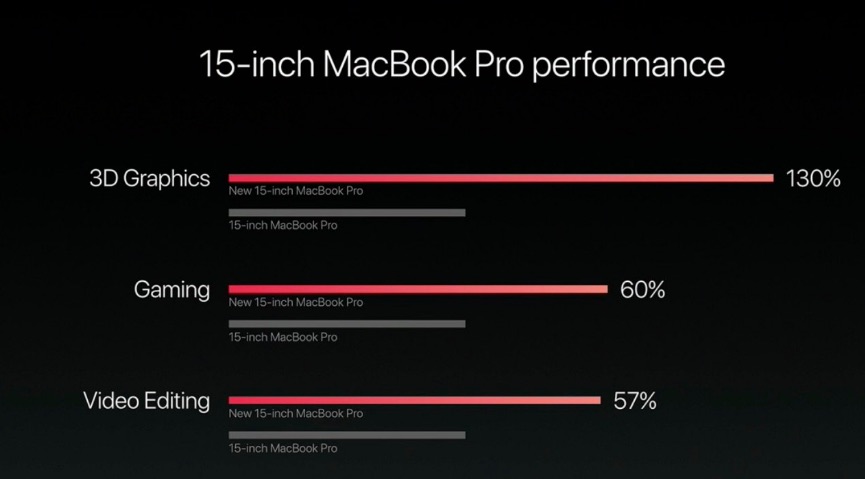 If you are interested in the extra power, the better display, the new Touch Bar, Touch ID fingerprint scanner or USB-C connectors, you can order the MacBook Pro 15 2016 right now. It is available in Silver and Space Grey colors.
Its price starts at $2,399 for the 256GB of SSD, Radeon Pro 450 GPU and 2.6GHz Intel Core i7 processor. The more powerful version with 2.7GHz quad-core Intel Core i7 processor (Turbo Boost up to 3.6GHz), Radeon Pro 455 GPU and 512GB of SSD will cost you $2,799.
You can also configure your MacBook Pro and get up to 2.9GHz Intel Core i7 with 8MB shared L3 cache, Radeon Pro 460 with 4GB of GDDR5 memory and 2TB PCIe-based onboard SSD. The maxed-out option will set you back $4,299.
All of the Radeon Pro GPUs provide the memory bandwidth of 80 GB/s, feature Polaris architecture with 4th generation Graphics Core Next, 3 billion transistors, HDMI 2.0 support via USB Type-C port, and the TDW of under 35W. Notably, the Radeon Pro 400 series is the thinnest GPU family on the market. They are good enough for content creators but serious gamers will struggle to have acceptable frame rate on the machine, laptops with NVIDIA GTX 1080 are still the best options for gaming at high settings.
In comparison, here are the differences in peak performance, compute units and stream processors of the Radeon Pro 450, 455 and 460.
| | | | |
| --- | --- | --- | --- |
| GPU | Peak Performance | Compute Units | Stream Processors |
| Radeon Pro 450 | 1 teraflop | 10 | 640 |
| Radeon Pro 455 | 1.3 teraflops | 12 | 768 |
| Radeon Pro 460 | 1.86 teraflops | 16 | 1024 |
The Radeon Pro 450 on the lowest-priced MacBook Pro has the peak FP32 performance of just 1 teraflop. It is significantly lower than NVIDIA Pascal-based GeForce GTX 10-Series (up to 9 teraflops on GTX 1080) and Radeon RX 460 (2.2 teraflops). However, its advantages are the small size and power efficiency. Besides, Apple's marketing chief Phil Schiller said that they use just 16GB of RAM to save the battery. Obviously, the compact footprint and battery life are prioritized in the new generation of MacBook Pro.
Radeon Pro GPU Benchmarks
Some testers benchmarked the new GPUs and compared them to the ones on older MacBooks like Iris 450, Iris 550, Iris 6100, Iris 5200, Radeon R9 M370X or HD515. Following are the scores.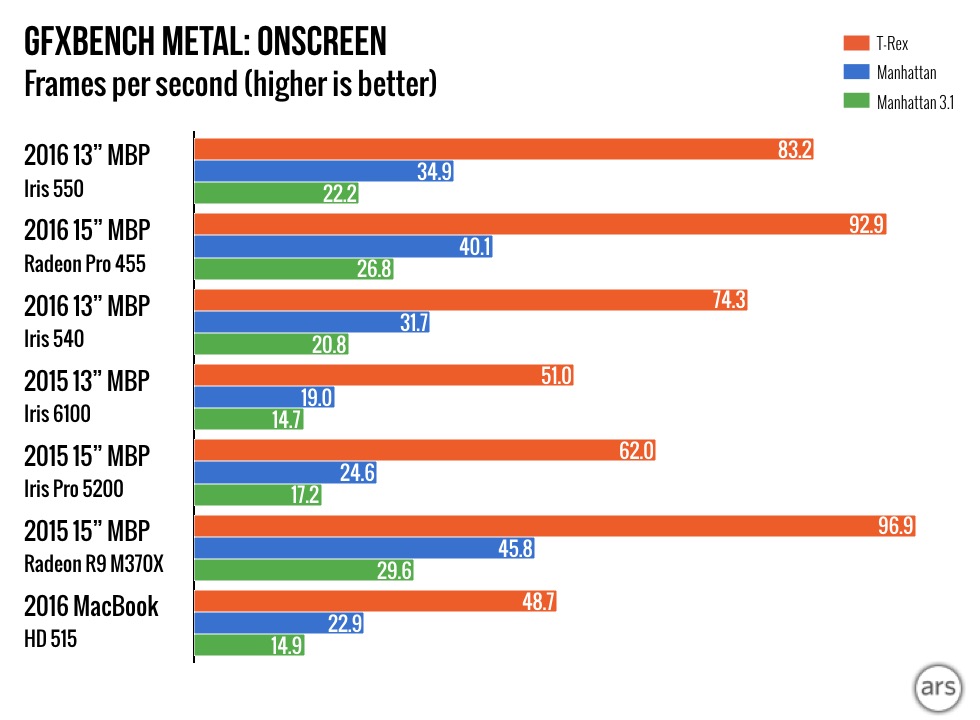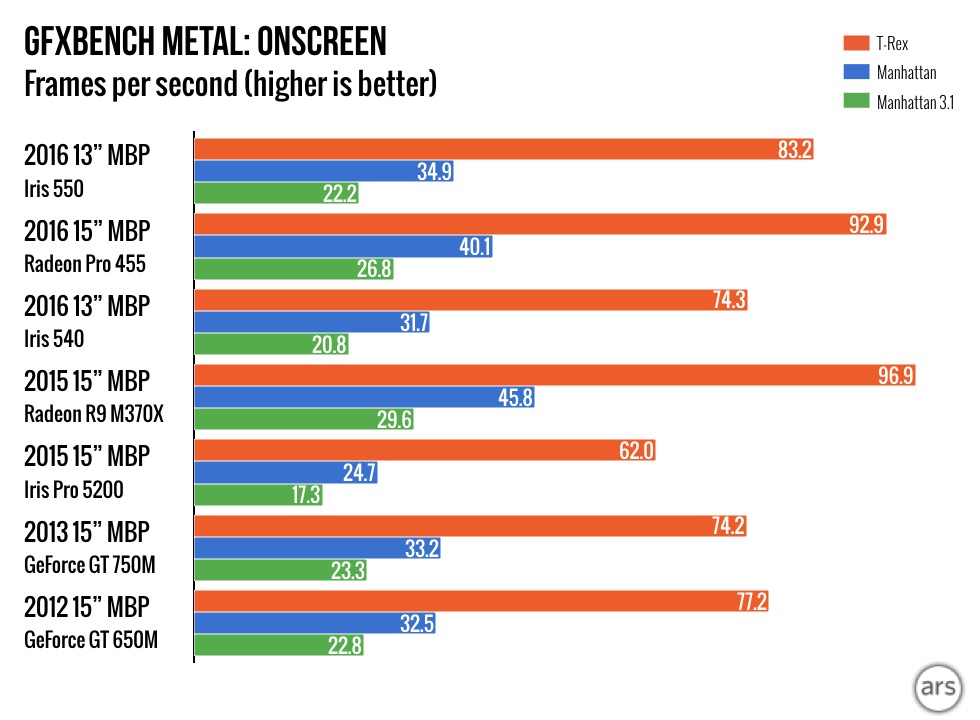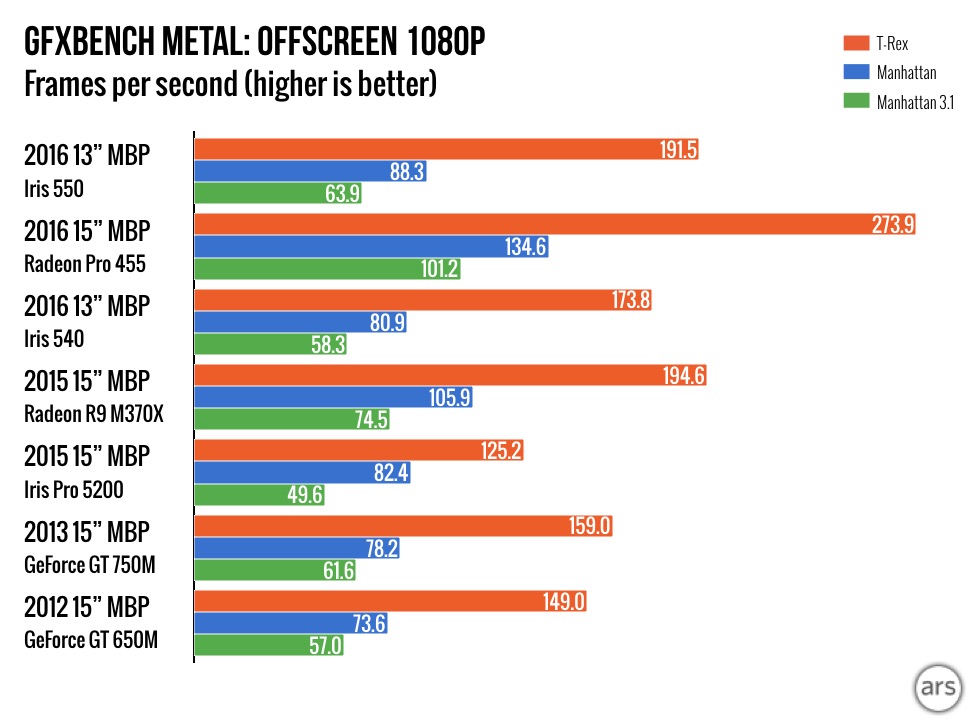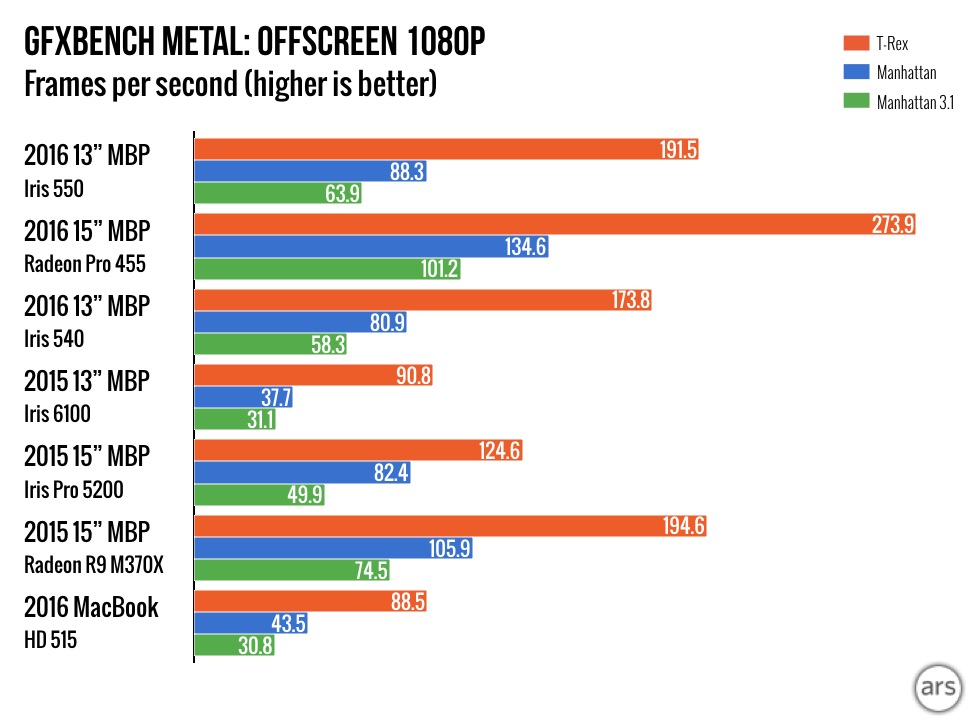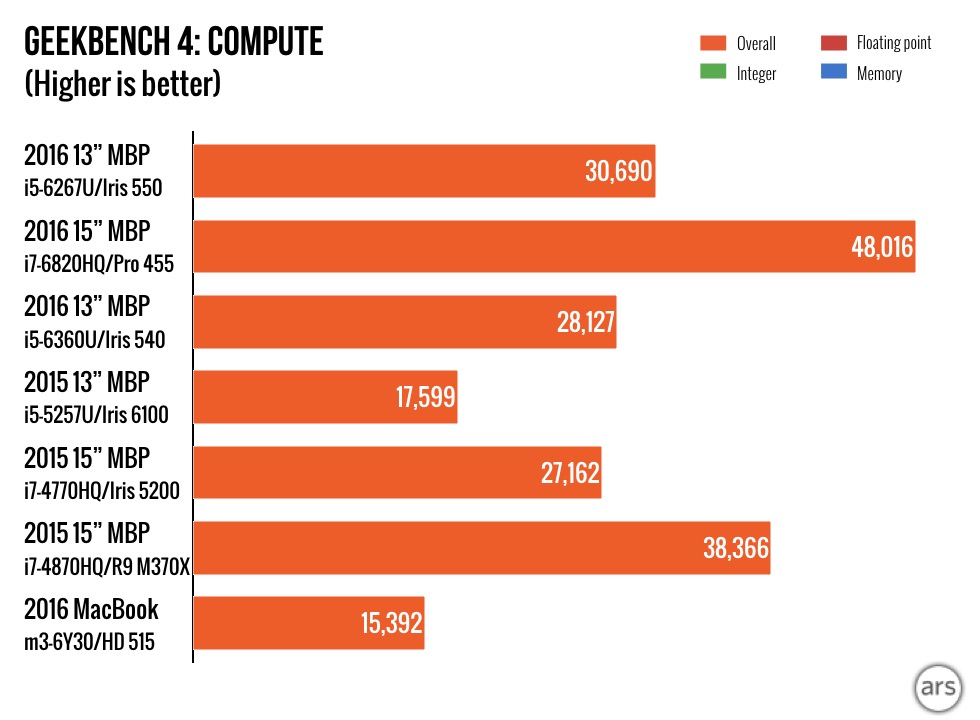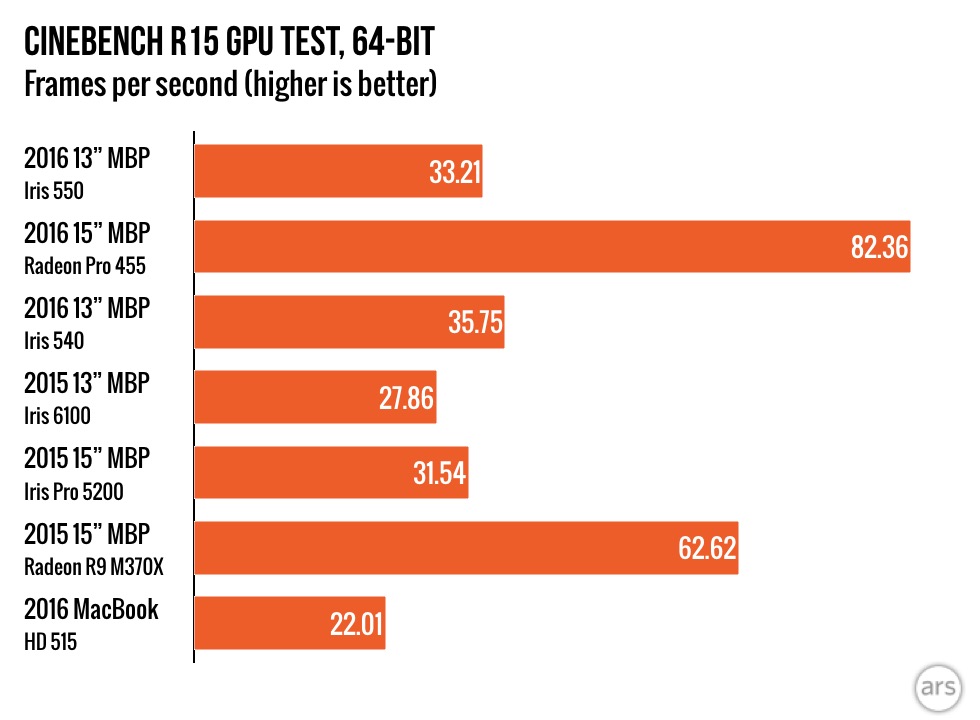 Disclosure: We might earn commission from qualifying purchases. The commission help keep the rest of my content free, so thank you!