There is intense rivalry brewing this season among the tablets from Google and Apple. While Apple has introduced its iPad Gen 4, Google has unveiled Nexus 10. Nexus 10 is a 10 inch tablet which is designed to beat the recently launched fourth generation iPad. While the launch of Nexus 10 was expected, the 4th Gen iPad came as a surprise from Apple, as iPad 3rd Gen was launched this year only in the month of March. With the launch of Gen 4 iPad, the third generation iPad has disappeared from the market. Google has designed Nexus 10 to take down Apple iPad 4. Let use find out how:
Design
The Nexus 10 has a grippy plastic back panel which makes it a better phone than iPad for single handed use. The tablet has curved edges and a great wedge shapes getting slimmer towards the bottom which makes it friendly to be in hands for a much longer period of time. The Nexus 10 has a dimension of 263.9 x 177.6 x 8.9 mm where has Apple iPad 4 has a dimension of 241.2×185.7×9.4 mm which shows iPad 4 is a little thicker and heavier tab than Nexus 10.
Display
The most amazing feature of Nexus 10 is its 10 inch screen which has the highest resolution as compared to any tab even iPad4. Samsung's Nexus 10 inch screen which comes with a screen resolution of 2560 x 2600, 300 ppi leaving an excellent video with crisp, rich texts and incredible looking pictures. The tablet is best for reading books because of its high resolution display. While the iPad4 has a IPS LCD with a resolution of 2048 x 1536, 264ppi which is lower than Nexus 10 along with a smaller screen size of 9.7 inches. Both have capacitive and multi-touch screen along with light sensor but Nexus 10 steals the show with scratch resistant glass.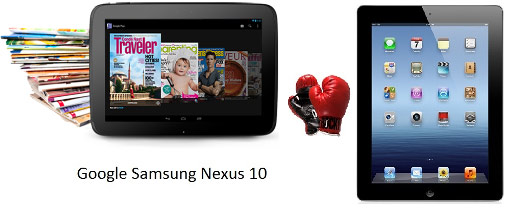 Hardware
The Nexus 10 has a system chip of Samsung Exynos 5, iPad 4 has Apple A6X. it has a strong dual core 1700MHz processor, ARM Cortex A15, T604 graphic processor. The iPad 4 has a dual core processor with quad core graphics.
Software
The Nexus runs on the newly launched Android 4.2 Jelly Bean with a RAM of 2GB where as iPad 4 runs on Apple iOS 6 with 1 GB of RAM. The Nexus 10 is launched with storage capacity of 16 as well 32GB where as iPad 4 come in 16GB, 32GB and 64GB. Nexus wins the race with its fast Software system and high RAM support.
Camera
Both Nexus 10 and iPad 4 have a 5MP camera but Nexus 10 supports it with LED flash, Geo tagging, auto focus while Apple iPad 4 is flash free. Nexus 10 sports a 1.9Mp camera video recording at 1080p on the front and Apple features a 1.2MP camera at 720.
Specs
While the Nexus 10 features accelerometer, compass, gyroscopes, ambient light sensor so does the iPad 4. But only Nexus has NFC, barometer which helps you with efficient GPS performance. Google has stereo speakers but iPad 4 has single speakers. Nexus 10 and iPad 4 both support audio and video streaming, Nexus 10 supports more formats than Apple iPad 4 such as MIDI, OGG, AMR, AVI, Flash, MKV and WMV. Both have built in built in online services of YouTube, Picasa, Facebook and Twitter.
The Nexus 10 supports dual band 802.11b/ g/ n, WiFi with MIMO while Apple supports Wi Fi + Cellular iPad. Both the tabs have Bluetooth 4.0. it has a built in GPS which iPad lacks.
Nexus 10 wins with features like Photo Sphere which provides users to see 360 degree Street view – like pictures, gesture swipe keyboard and many user log-ins.
Price
The price of Nexus 10 is $319 for 16GB device and $389 for 32GB. However, iPad is expensive with WiFi only model priced at $499 for 16GB, $579 for 32GB and $659 for 64GB.
Battery life
Nexus 10 promises a battery life of 7 hours of web surfing and 9 hours of video while Apple gives a 10 hours of music and video and 9 hours of web browsing.
Verdict
Thus, Google Nexus 10 wins the race with a high resolution terrific, bright display. It supports a better performing processor which runs programs at a very fast speed than iPad 4. The best thing about Nexus 10 is its price. The price is of 16GB Nexus 10 is very less than a 16GB model of iPad 4. Google Samsung Nexus 10 is lighter and better than iPad 4.
What are your thoughts on Apple iPad 4 vs Samsung Nexus 10 war?
Disclosure: As an Amazon Associate, I earn from qualifying purchases. The commission help keep the rest of my content free, so thank you!