As per the reports coming from the largest mobile manufacturing country China, Apple is looking to launch a phablet kind of thing by tossing up the display screen size and thus increasing its prowess in one more field.
Though Apple had its fruits in its range of handsets but looking into the success of 5 inch smartphones, Apple at first increased its display size from 3.5 inches to 4 inches by releasing iPhone 5 and iPhone 5S. Now after seeing the market situation, Apple planned to launch to higher sized versions of iPhone 6 later this year which would fall under the phablet category.
Reports suggest that the smaller model of the two will be of 4.7 inches with a 1136 x 640 resolution. It will be unveiled probably at the WWDC 2014. Now what about the higher model? If you are thinking that it will be 'somewhat' bigger than the former one, you are definitely wrong! Chinese tech analyst Sun Changxu reckons that Apple would be launching the higher sized model with a groundbreaking 5.7 inch display size and this will allow Apple to play itself with the phablet area.
Going against the flow – Apple at WWDC
The release of the so called 'phablets' with two huge screen sizes will break the rules for Apple. In WWDC, Apple normally focuses more on software than in hardware. But this time they will be targeting the hardware section of its device.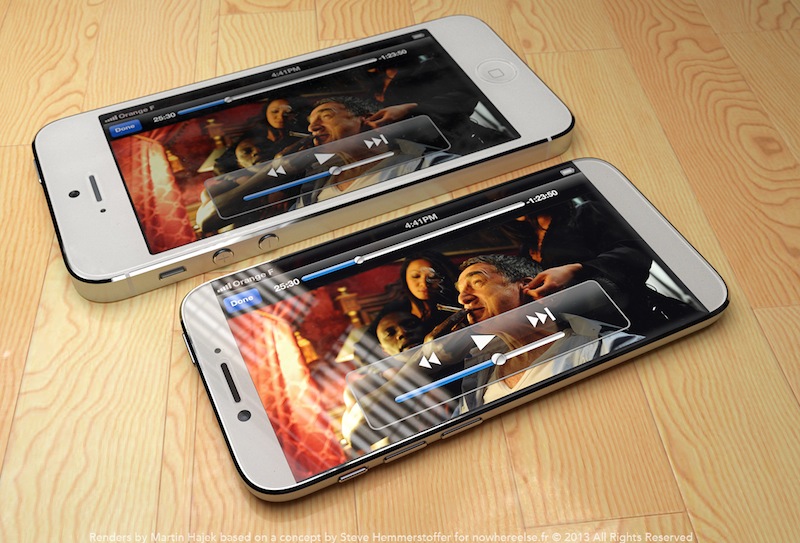 All what you hear about the iPhone 6 are a part of the pile of rumors circulating all round. These rumors are mainly created from the heads of an expert as they keep alive the news with their dynamic predictions and foresight. So, we at Techwalls without supporting any of the news would wait for an official confirmation from the manufacturer itself and then share our view on this device with you. Majority of the rumors do claim about large screen size but the exact size is not yet known. I've personally read about all sizes ranging from 4.7 inches – 6 inches. So it's better that don't fix your mind with a 5.7 Apple phablet. Configurations may change drastically.
As i have mentioned in my previous post that a much tougher liquidmetal display or a flexible wraparound screen can be used. On the other hand, the new iPhone camera will stress into image stabilization rather increasing the megapixel value. These are the highly rumoured changes that we can expect form iPhone 6.
Conclusion
Though it is not known exactly when it would be available for sale but Apple is still working on these devices and one it is unveiled, I hope Apple will give us the tentative dates of launch. These releases will not only open up a new dimension in the company's sphere but will also help to fuel the cold war that Microsoft and Apple is having. Spectators, watch out for some more action this 2014!
Disclosure: We might earn commission from qualifying purchases. The commission help keep the rest of my content free, so thank you!