LG and Samsung have already started making curved devices and they are very much into this game. Last December, we here at Techwalls revealed that Apple is working on its new iPhone project – the iPhone 6. Let me explain this project in a nutshell.
Recently, Apple got a patent for its new display technology – flexible wraparound display. Reportedly Apple is using a liquidmetal process to make this display and it has been awarded to Cupertino already. This development is pointing out sharply where Apple is heading to in the coming years.
Regarding the wraparound display, it has been mentioned in the patent that the back, front and the sides of the phone can be viewed but the top and the bottom will still have non-touching surfaces. This new development will be used in iPhone 6 as far as reports suggests. Keeping aside the touchscreen, iPhone 6 is rumoured to have a rotational motion detector consisting of several types of high-end sensors in the form of gyroscopes and accelerometers. These sensors would help to adjust the display as per your suitable viewing angle. It's all tailor-made by Apple!
Patent that will shape the future of Apple
The patent which mentioned about the wraparound display contained references of devices with different shapes and sizes, some of them being hollow and some being cylindrical or triangular. This kind of development leads us to a conclusion – things are cooking up for future Apple devices such as iWatch. Simultaneously, Apple is also planning on enhancing its color accuracy in the display. The patent signifies "Quantum dot-enhancement display having dichroic filter". In layman terms, Apple is looking to create colors – more precise and vivid in nature.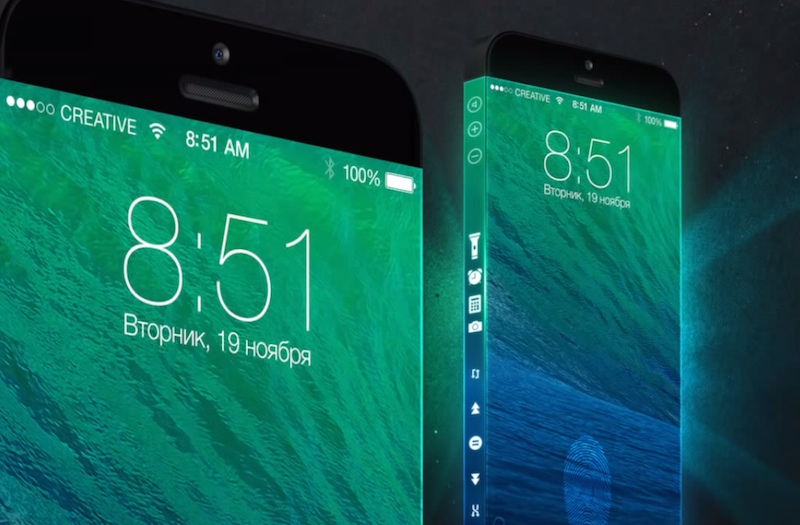 Alloy loaded with power
Back in 2010, iPhone signed out an agreement with Liquidmetal Technologies which almost came to a halt after the launch of iPhone's 3G SIM card eject tool. But now iPhone 6 is creating a buzz that Liquidmetal is directly involved in the making procedures of the iPhone. The patent filed recently is fuelling the speculation more and more.
But all in all this is one news any iPhone lover would always look out for. Liquidmetal alloys gives higher strength and good resistance for some hardwares like the home buttons of iPads and iPhones. These alloys wall also improve the touch sensors accuracy in the devices. As I mentioned earlier, Powder Liquidmetal alloy will also be used to make flexible wraparound displays in the coming iPhones, though i believe it won't come out in the market before iPhone 7.
Disclosure: As an Amazon Associate, I earn from qualifying purchases. The commission help keep the rest of my content free, so thank you!