Months before Google I/O 2012 we all knew that Google was cooking some really sweet dessert for us, but what Google came up with, exceeded our expectations. Google unveiled the latest and the most complete version of android till now, Android 4.1, codenamed "Jelly Bean" at a conference in San Francisco. As the version number shows, Android Jelly bean (4.1) is more of an incremental upgrade from the previous version of the Android i.e. ice cream sandwich (android 4.0). But this update not only brings a more polished UI but also comes up with many intuitive and much needed features.
Features and functionality under the hood:
User interface: project butter
Google has always been criticized for the stuttering in the user interface. It was one of the main bugs that android has suffered from the first day it was released. Even ice cream sandwich couldn't fix that lag! Now Jelly bean does the trick and brings the most needed iOS like buttery smoothness to android. Jelly Bean UI is less clumsy, fluid and intuitively user friendly. It can run at a speed of 60 fps where CPU and GPU support it.
Triple buffering – CPU, GPU and DISPLAY works together in parallel.
Touch responsiveness- Preloads the animation by predicting where you will touch the screen next!
Here's how Google has explained it:
Revamped notification bar
It not only features a redesigned clock & date icons but also app notifications have gotten really smart. Notifications now provide you with several options for interaction. You can view photos shared with you on Google+ or read your incoming messages on the notification bar itself.
Re-sizable app widgets that change positions
On ics we had the functionality of resizing the widgets on the home screen but on Jelly bean widgets got smarter. They learned how to re-position and re-size to accommodate itself on the home screen. There is also a widget available which is called Google Ears. It will help you identify any song (sorry soundhound and shazam!)
Google Now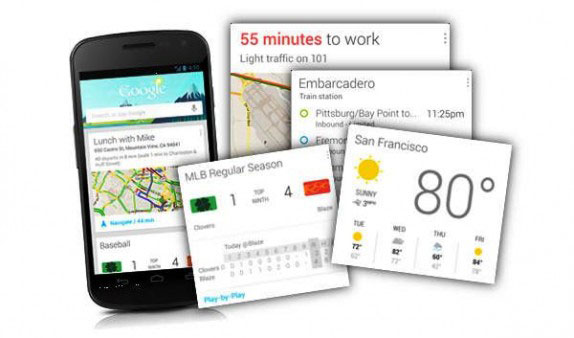 One of the new features in Android 4.1 is "Google Now", which can get you the right information at the right time automatically. It will automatically detect your working hours and tell you by which route and in what time you can reach your office so that you can adjust your time accordingly. It will also keep you up to date on the status of your flights and scores of your favorite sports team. Google now is like an intelligent personal assistant who will learn from your habits.
Better keyboard and offline voice typing
This time Google also offers revamped keyboard which will predict your next words as you type.
Now you won't need an internet connection if your hand is hurting! Offline voice typing is available natively.
Siri-ous Voice search
just ask your query after going to voice search option and it will speak back to you! It will bring precise answers to your questions and will represent it with powerful knowledge graph.
Camera
The Camera app is also updated. Every time you take a picture you can swipe the camera screen to bring up your previously taken photos and view the images you have in your Gallery. No need to close the camera app completely.
Upgraded Play Store
The new play store (ver. 3.7.13) offers smart update option for applications. Before Jelly bean you have to download the full application package if it got updated. But now you only have to download the updated portion of the application and not the full app.
Play store (previously android market/play shop) always offered apps, games, books and movies. But the new Play store now offers magazines and TV shows. You can buy or rent them.
Chrome web browser
Everybody liked the fluidity of chrome browser on ics. But it was not the native web browser for android. This time chrome will be your native browser on Jelly bean.
There will be no flash support though as ADOBE told that they will kill flash on AUGUST 15!
Development for Jelly bean becomes easier
Jelly Bean SDK now available in android developer site as preview version. PDK is also available for Google's hardware partners. According to Google the new SDK will speed up the process of software upgrade and will be more helpful while making apps.
When you will get Jelly bean?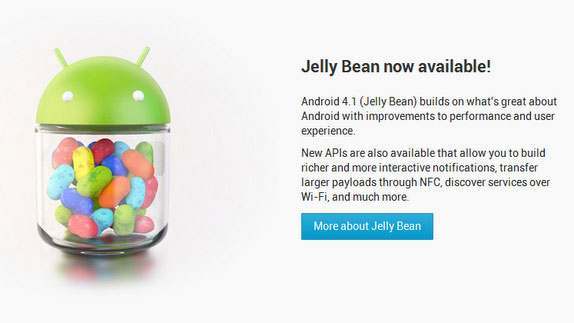 If you have the Google branded nexus phones and tablets like Nexus 7, Nexus S, Galaxy Nexus you will get the taste of Jellybean as early as July. You can also get it on your Galaxy Nexus by flashing the 250 MB Jelly Bean OS image (only for experts) which can be downloaded from Google's developer site.
SAMSUNG, HTC also said that they will soon announce which phones are eligible for upgrade and when.
Conclusion
Ice cream sandwich was a big leap forward from Gingerbread. But there were still some improvements needed to make the os more lovable. Jelly bean brings those much needed features to the android platform which will definitely help Google to maintain its market lead against the competitors.
Will you wait for the official Jelly Bean to come for your device or you will go for the Custom ROMs. Let us know in the comments section below.
Disclosure: We might earn commission from qualifying purchases. The commission help keep the rest of my content free, so thank you!