You are not seeing the title wrong, the iPhone 5 and iPad Mini powered with Android are going on sale in China. However, the super clones are actually not called iPhone 5 and iPad. The iPhone 5 look-alike devices are called Zophone i5 and GooPhone i5 while the iPad Mini clone is named GooPad Mini. Let's take a look for more details on the devices to see why Apple is scared to death in the People's Republic.
GooPad Mini – the iPad Mini Clone
GooPad Mini is manufactured by Goophone, an infamous handset maker in China that has been well-known Apple clones such as iPhone 4S clone, iPhone 5 clone, and also the iPad clone called the GooPad. The GooPad Mini is the smaller version of GooPad and its design is just similar to iPad Mini.
The tablet features an 8-inch touch screen screen with the resolution of 1024×768 pixels (the same as iPad Mini), a 1.4 GHz dual core processor, 1 GB of RAM, 8 GB of on storage and it is running on Google Android operating system.. It is more amazing that you can have all those awesome specs for just $99. Yes, it is $230 cheaper than the real iPad Mini.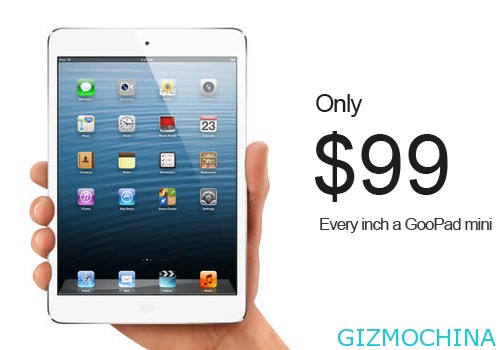 It is not just the design but the company is also using poster with similar tagline "Every inch a GooPad mini".
GooPhone i5 – the iPhone 5 Clone
Apart from the iPad clones, GooPhone also has an iPhone 5 clone which is named GooPhone i5. The device has just been released a few days ago and it brings many surprises to iPhone 5 users. iFans would wish that Apple could pack the real iPhone 5 like the GooPhone i5 box. It is not jut boring old cardboard boxes like we see on most gadgets in the U.S., the box looks really awesome with steel outside and inserted with foam to keep the phone safe.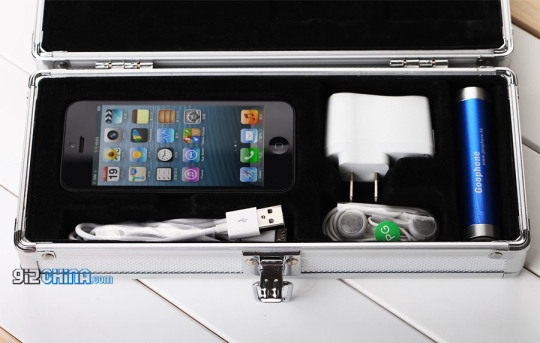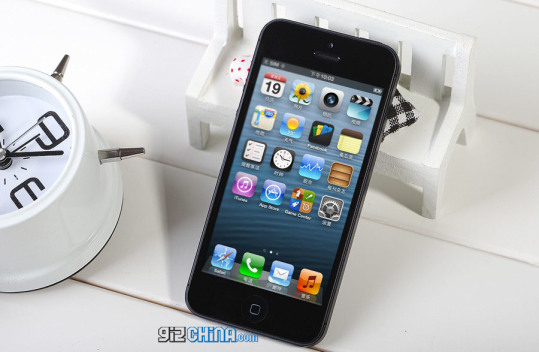 More amazingly, it is said that the Chinese company used leaked rumors to build this device and they even claims to have already patented its phone in China, so Apple with have huge issue with patent infringement when they release the iPhone 5 in this country.
Regarding to tech specs, the phone comes with a quad-core Tegra 3 CPU or 1Ghz dual-core MT6577 CPU, 1GB RAM, 16GB of storage and a 4-inch IPS display with 1280 x 720 resolution (even higher than iPhone 5's resolution at 1136 x 640 pixels). Its thickness is measured at just 7.6mm and will get a lightning connector like Apple's. The price of GooPhone i5 is set at around $300.
Zophone i5 – another iPhone 5 Clone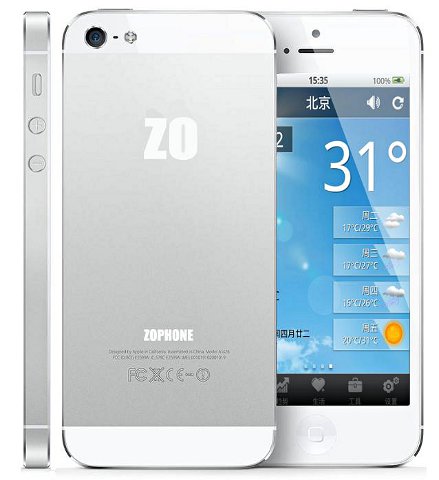 Zophone i5 is said to be the most accurate iPhone 5 clone ever in the Chinese market. The manufacturer still managed to make the design completely similar to genuine iPhone 5. It packs the 4-inch screen with the resolution of 1136 x 640 pixels. And of course, there is no iOS 6 here, the phone is powered by Android. It is so remarkable that Zophone has developed its own voice assistant like Siri and a fabricated lightning adapter.
Zophone i5 features a 1.2 GHz dual core Mediatek MT6577 processor, 1 GB of RAM and 4 GB of storage. It has low storage but you have the option to expand the capacity with an external microSD card, so this is not a big deal. The device also has a 8MP camera on the back and a VGA front facing camera. It is powered with a 1,400 mAh battery. Unfortunately, you just see normal earbuds, not the EarPods.
Most notable thing about this device is its price, which is set at just around $200.
Those gadgets are available in China only, so you won't see them available anywhere else soon and I doubt its availability on international market. If you have a choice between the clones and original ones, which one will you choose?
Disclosure: As an Amazon Associate, I earn from qualifying purchases. The commission help keep the rest of my content free, so thank you!