Amazon has officially joined Samsung, Apple and other giants in smartphone market. Earlier today, Amazon's founder Jeff Bezos took the stage in Seattle to unveil their high-end smartphone titled Amazon Fire.
On the specs front, the phone boasts a 4.7-inch 720p display, a Qualcomm Snapdragon 800 SoCcoupled with Adreno 330 GPU and with 2gigs of Ram. The camera is 13MP affairs with f/2.0 lens and optical image stabilization, while the front-facing camera is a 2.1MP unit. To help ease image capture, the smartphone is equipped with a dedicated hardware button. Storage options include 32GB or 64GB. Powering all this is a beefy 2400mAh battery.
The phone sports a done to death minimalistic design. The frame is made of rubber, while the front and back is protected by Gorilla Glass 3.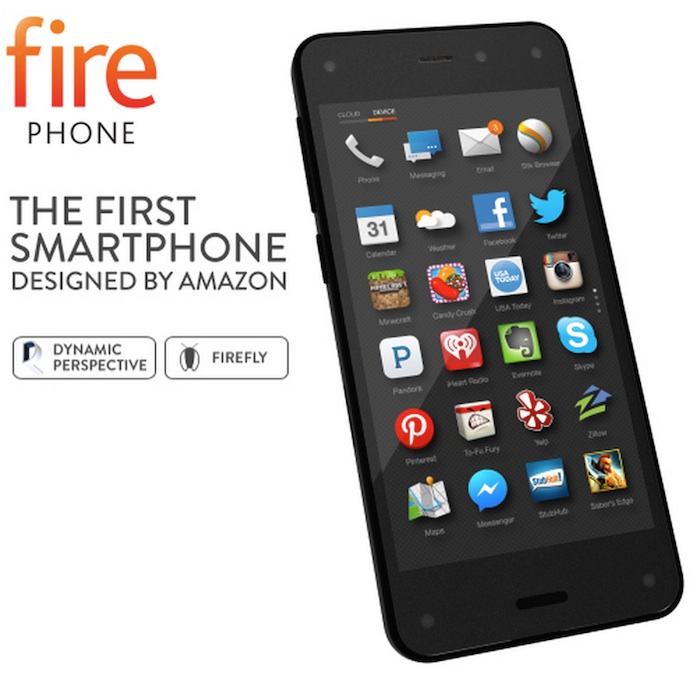 On the software front, the Amazon Fire phone runs a customized version of Android dubbed Fire OS 3.5. Google services are replaced by Amazon's offerings.
Perhaps the most interesting and innovative feature of the Fire smartphone is dynamic perspective. The phone is equipped with 4 dedicated cameras on the front that detect your head movement, and then lets you peek around the interface, just as you might do with an actual product. Dynamic perspective does more than that though. You can tilt the phone up and down to scroll through menus and text. By tilting left or right, you swivel around quick actions and important notifications. In easy words, dynamic perspective can be heavily related to Samsung's Smart Scroll feature.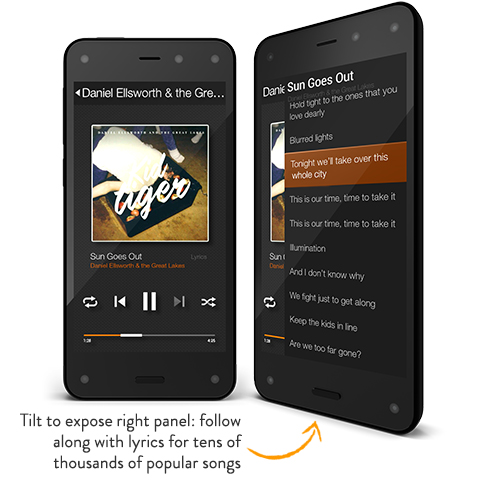 Firefly is another great feature that recognizes anything the phone sees or hears.You can point it at almost anything, and once its recognized, it will immediately give you a way to buy it from Amazon. Firefly also has its own dedicated hardware key.
Mayday is another exclusive features that basically provides you 24/7 customer support. Don't know how to use a phone, or don't understand some features? Mayday will provide you with all the answers.
Amazon has made quite a big deal about its services. Obviously, an Amazon phone has to come in accordance with many of the Amazon services. The Fire phone sports Amazon's much talked about services, which include X-Ray, Prime Music, Prime Video, Immersion Reading, WhisperSync etc. Amazon also made quite hoopla about the Fire phone's speakers, which as claimed are equipped with Dolby Digital Plus to make for an immersive experience. Speaking of speakers, Amazon is promising to deliver a set of tangle free headphones. Many have tried and failed, but in the name of innovation, let's give them the benefit of the doubt.
The Fire phone is a flagship level smartphone, and the price compliments that. The Fire phone will run you for $199 on a two-year contract for the 32GB model and $299 for the 64GB model. It is exclusive to AT&T. Off contract, the phone will retail for $649. Though its quite on the expensive side, to help ease your buy, Amazon will provide you with a year's worth of Amazon prime.
Disclosure: As an Amazon Associate, I earn from qualifying purchases. The commission help keep the rest of my content free, so thank you!