The music streaming sector of technology is currently on an upward slope. Services like Spotify and Pandora are currently doing well in terms of sign ups and an on-going user base.
With the acquisition of Beats Electronics, many individuals feel that Apple is currently in the works of combining the Beats music streaming service with that of Apple's iTunes Radio. Amazon has now joined the ranks of possible music streaming giants with the Amazon Prime Music Service. Geared toward their Amazon Prime subscribers, Amazon Prime Music allows subscribers to listen to over a million songs for free. How does Amazon's service compare to other music streaming services out there? We will discuss this today.
More about Prime Music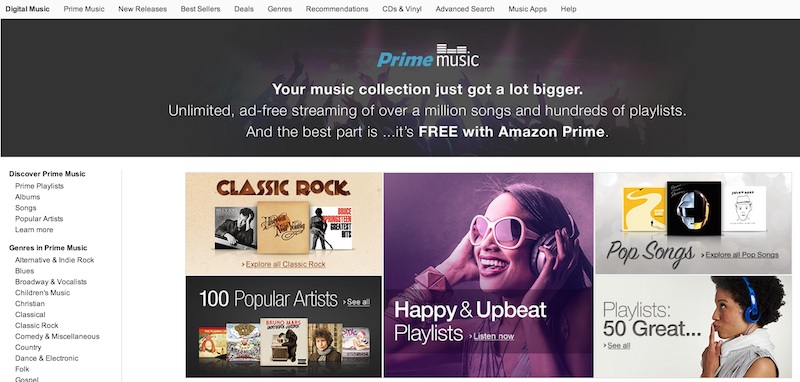 Prime Music tens of thousands of artists to users who currently are in possession of a Amazon Prime account. A Prime user is an individual who pays $99 a year for what would include a myriad of benefits, like free expedited shipping, full access to Amazon's Instant Video offering, and much more. This also includes a Kindle library of over a half a million titles. Similar to that of most streaming services, the offerings are based on artist, genre, mood, and other criteria. Through the Amazon Music application, all of the songs can be downloaded onto your phone for offline enjoyment. This is all in an ad-free environment.
Where Will You Find it?
Currently, you will find that the selection isn't extensive. If you are currently an average Amazon user and don't currently have Prime, I certainly wouldn't recommend going out of your way to sign up for Prime just because of Amazon Prime Music. At least not at this current moment can I recommend that.
Amazon has only partnered with Warner and Sony for their music selections. You will only get artists signed with either one of those labels. As you start using the service more, you'll find a few obscure, for lack of better words "up-and-coming" artists. But until more labels partner with Amazon Prime Music, the selection isn't very grand. However, for many individuals, this could be just fine.
How does it Work?
Amazon currently is finding ways of seeing what you listen to as a way of growing your library. For example, while working with the Amazon Cloud Player, if you have an incomplete album that is currently in the Amazon Prime Music service, with just a click you can complete that album. In the future, this will also mean an increased number of ways Amazon can offer you with accurate recommendations. This isn't something Amazon has at the moment, and their current library may not make this currently a possibility, along with the fact that the service is just now starting to roll out.
Comparison to Other Services
As mentioned before, the current library isn't the best in terms of updated music. Most of the songs were released at the beginning of 2014, not really the latest hits. In addition, Amazon currently isn't looking to have Amazon Prime Music be a streaming service that offers anything that is only new. They understand that not all new music is necessarily and inherently good music. They so far offer good classic songs in various genres.
Spotify and other services are set on ensuring that their audience has the newest music possible, by the artists they like. A good exception and one example that does what Amazon wants to do the right way is iTunes Radio. While still offering new songs like Spotify and other competitors, iTunes Radio also depends on ensuring that their users find out music in genres they love but by artist they may not have always considered.
Could Amazon be onto something with this new service, focusing on music that is popular and what the audience wants, rather than what they think they want? Only time and the acquisition of a few new labels will prove if this new pursuit by Amazon was as smart as Apple did with iTunes Radio or as bad as what Apple did with iTunes Ping. Don't remember Ping? We aren't surprised.
Disclosure: As an Amazon Associate, I earn from qualifying purchases. The commission help keep the rest of my content free, so thank you!