A few weeks ago, I received an email from Amazon saying my Associates account was at risk of closure and requested me to take action to avoid the suspension.
The Warning Email
It was so terrifying because I had issues with my Amazon account a few years ago and it took a while to resolve it. Absolutely, I don't want to have the same experience now as it cost me a lot of time and money. Although the earnings from Amazon contribute to just over 20% of my total income, it is still a significant amount and I don't want to lose the portion, especially I don't do anything shady and always follow the rules.
Specifically, the email pointed out my violations which are:
"The information in your application, such as your email address, mailing address, and/or the list of Sites you are using to drive traffic to Amazon is not accurate"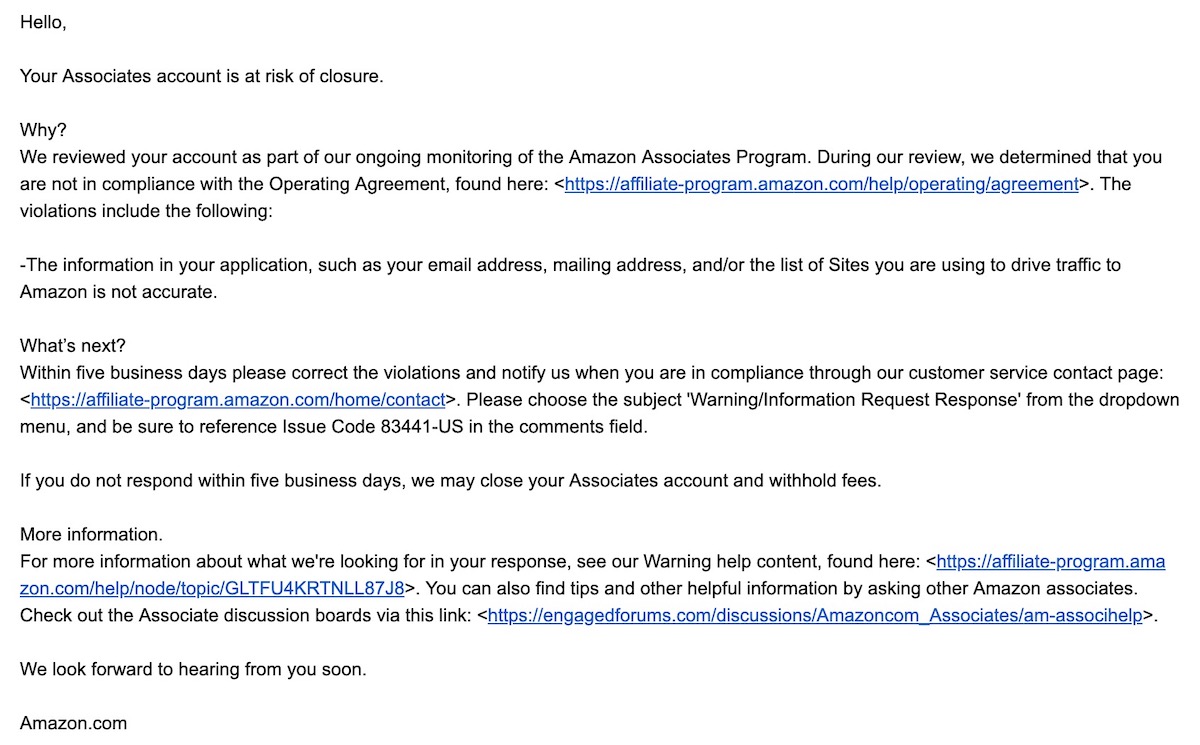 How To Correct the Violations?
Among those points, my email address and mailing address are correct, so I guessed I could have problems with websites where I'm placing Amazon links. I logged into my Associates account, go to Account Settings, and choose "Edit Your Website And Mobile App List" under Account Information. I was surprised when figuring out that I forgot adding some new website here, besides, I also didn't add Youtube to the list. And this is IMPORTANT, you need to list all URLs to your Youtube channel instead of just Youtube.com. This minor mistake could get you banned.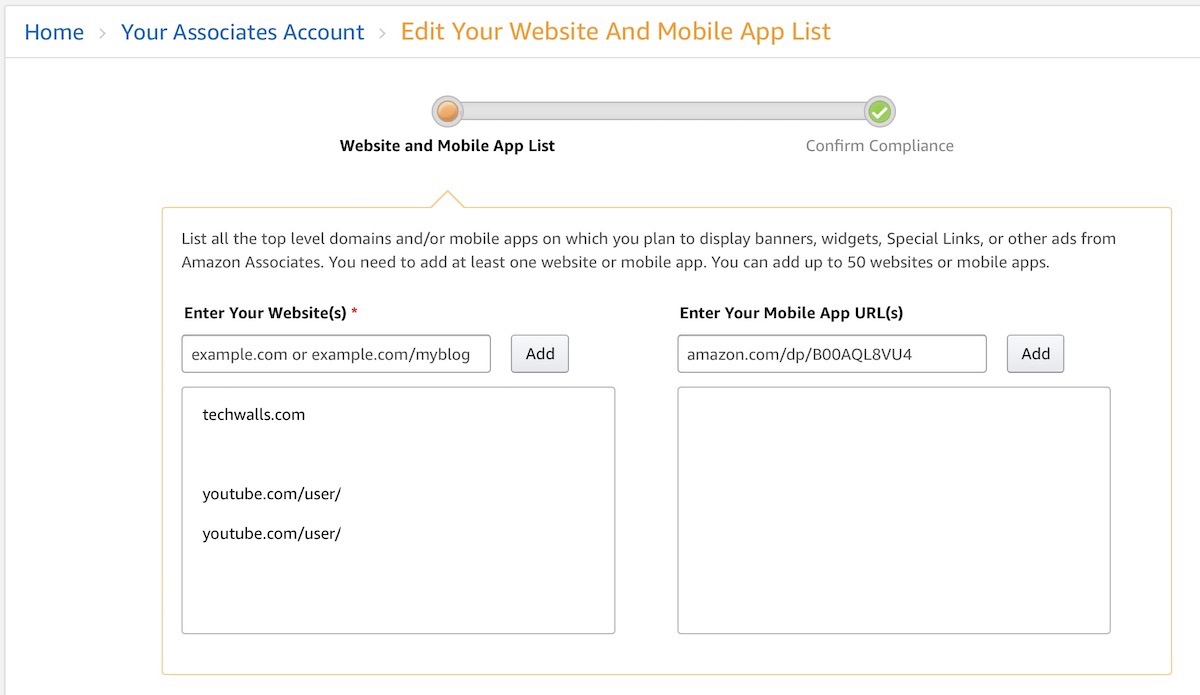 In the email, Amazon said that I must take action quickly within 5 days, otherwise, they would close my account and withhold payments. To respond, you will need to contact the Amazon specialist via Contact Page. Under the "Email Amazon.com Associate Support section", make sure to choose "Warning/Information Request Response" and include the Issue Code 83441-US in the comments field. Here, you should also explain the changes you did to comply with Amazon's Operating Agreement. Besides, you need to confirm that your website list is accurate and up to date, all those sites should identify you as an Amazon Associate, and you are no longer in violation.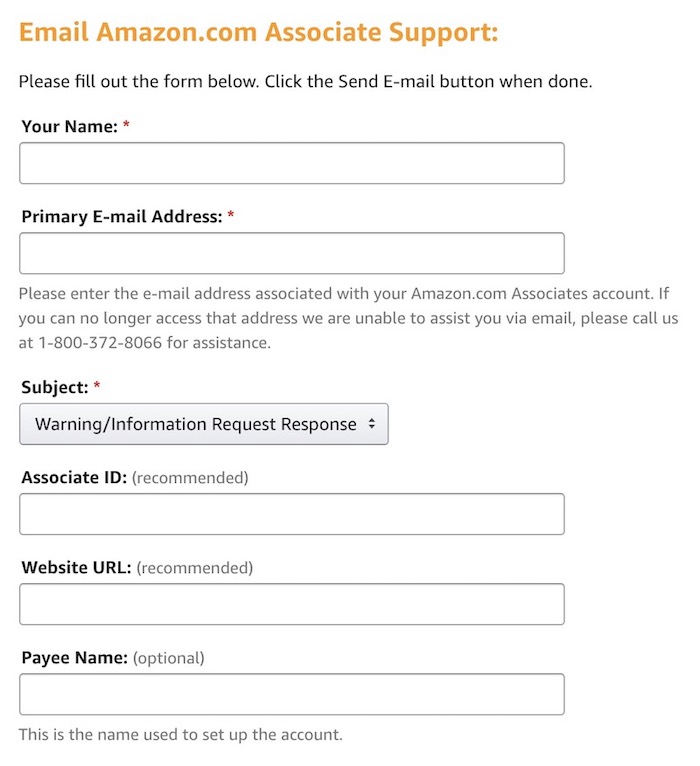 How Long Does It Take Amazon to Respond?
That is the only way to respond to this message. If you use phone call or live chat, they won't be able to help because the account specialists are in another department.
After sending the message, it said I should expect a reply within 24 hours but it took much longer than that. I waited everyday for their response, then I logged into the Associates account but the important notice is still there and my account could be closed anytime.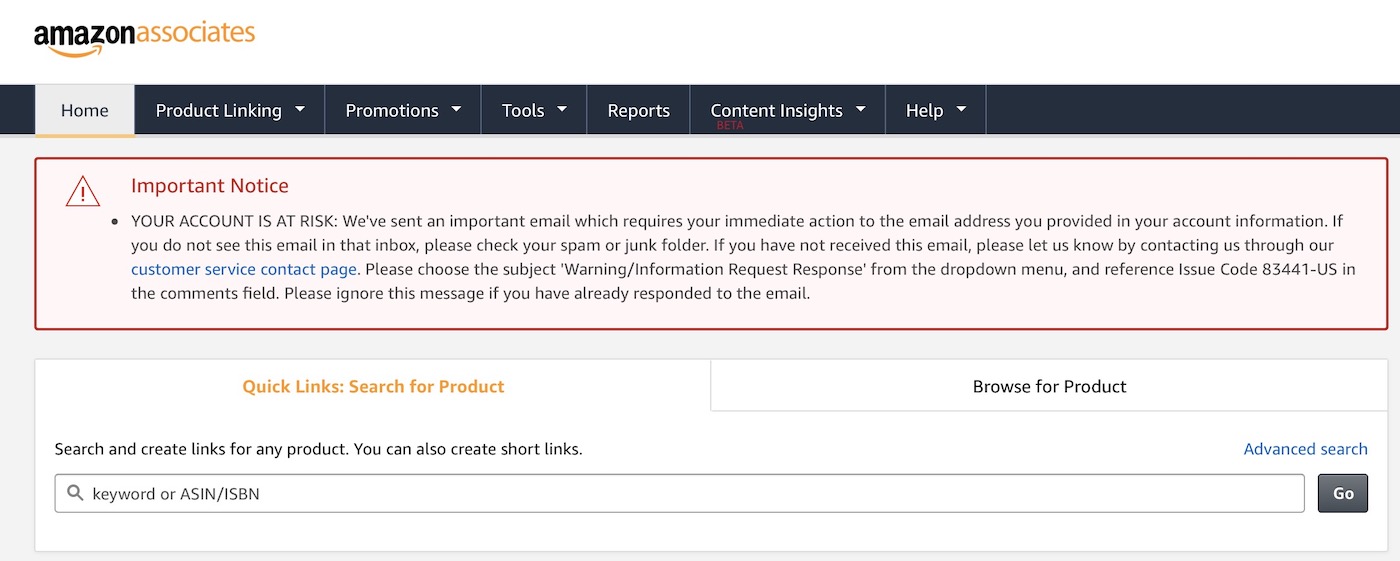 Finally, I received a confirmation email exactly 7 days ago but the message is not so clear and I didn't understand their decision. They just said they would contact again if there is any other question or concern.
Thank you for your prompt response to our request for information. We appreciate your cooperation.

I went to my account I still saw the warning. Fortunately, it disappeared a few hours later and I guessed everything is back to normal now.
According to Amazon, there are 2 types of violations that could lead to account closure. In my case, that was a violation that is not a customer trust risk and they would close my account only when I failed to respond to the email requesting for more information. Even when it is closed, you still can make an appeal within 5 business days.
If you're in the same situation, I hope this post could make you calmer to deal with it. All in all, Amazon is a business and they'd welcome you to participate in their network to help them generate more sales as long as you are following the operating agreement.
Disclosure: As an Amazon Associate, I earn from qualifying purchases. The commission help keep the rest of my content free, so thank you!