Motorola isn't exactly the leader of the market, but what it does lead is in the mid-range market. Their recent foray with the Moto G has been immensely successful, and the device has sold like hot cakes all over the word. Modest specifications, low price and stock Android proved to be a killer combination.
With Motorola's extremely good update schedule for the device, pretty much everyone was sold on the device. Trade-offs were made here and there, but its pro's far outweighed its con's. With almost 10 months in, rumors about its successor has begun popping up.
This latest bit brings along benchmarking result of the so-called Motorola XT1063. The first-gen Moto G carried the model numbers XT1033, XT1034, XT1039, XT1040 and XT1045, so it could very well be its successor. Expected to carry the name Motorola Moto G+1, or the Moto G. The device has fairly modest specifications, actually it's more or less the same.
According to the benchmark site, the Moto G successor will feature Qualcomm Snapdragon 400 quad-core SoC @1.2GHz, Adreno 305 GPU and 1GB of RAM under the hood. The rear camera will thankfully be bumped from 5MP to 8MP, while the front facing camera is 2MP affairs. Although the camera unit is upgraded, doubts will still remain over its camera performance, as the camera proved to be a major disappointment in the Moto G. Other specs include 8GB internal storage, and a bigger 5-inch display with resolution of 1280×720. The device will come pre-installed with Android 4.4.4 KitKat.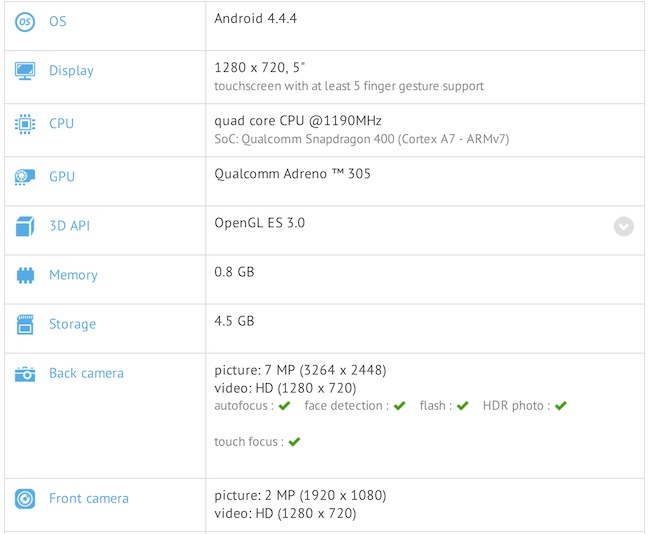 As you might have noticed, outside the improvement of the camera, and a bigger screen size, rest of the specs remain exactly the same. While many will whine over and over this, mostly geeks, do remember the fact that affordability is the key reason for it to be a success. As such sticking to such specs sounds logical, it also proves Motorola is aware of its limits. Regardless, with the great performance the device of its stature delivers, this little disappointment will waiver soon.
Before you go, do keep in mind this is all speculation at this point, so take this bit with a pinch of salt. But rumors do have a funny way of becoming true.
Disclosure: As an Amazon Associate, I earn from qualifying purchases. The commission help keep the rest of my content free, so thank you!