Wireless speakers have been always the favorite gift for my family in the holidays, simply because I think everybody loves music. I own more than 4 wireless speakers and also have dozens in my wishlist. Undoubtedly, this is among the hottest gifts in the last few years.
However, the problem is that I haven't seen any improvement in the industry in the last few years. I have a lot of wireless speakers but ironically, they have stayed in my closet for a while. I can easily realize that a recently released wireless speaker has almost the same features as my first one which was bought 2 years ago. Sometimes I felt like those audio equipment manufacturers are running out of ideas, until I had the chance to test the Aether Cone Smart Speaker. So, what makes the product stand out? Keep reading my insightful review right below.
Unboxing and Initial Setup
Design & Features
Inside the box, there are just a charger and a velvet bag. Opening the bag will reveal the gorgeous Aether Cone. The Cone is available in two color options which are White – Silver and Black – Copper. I prefer my black version because it looks much more elegant.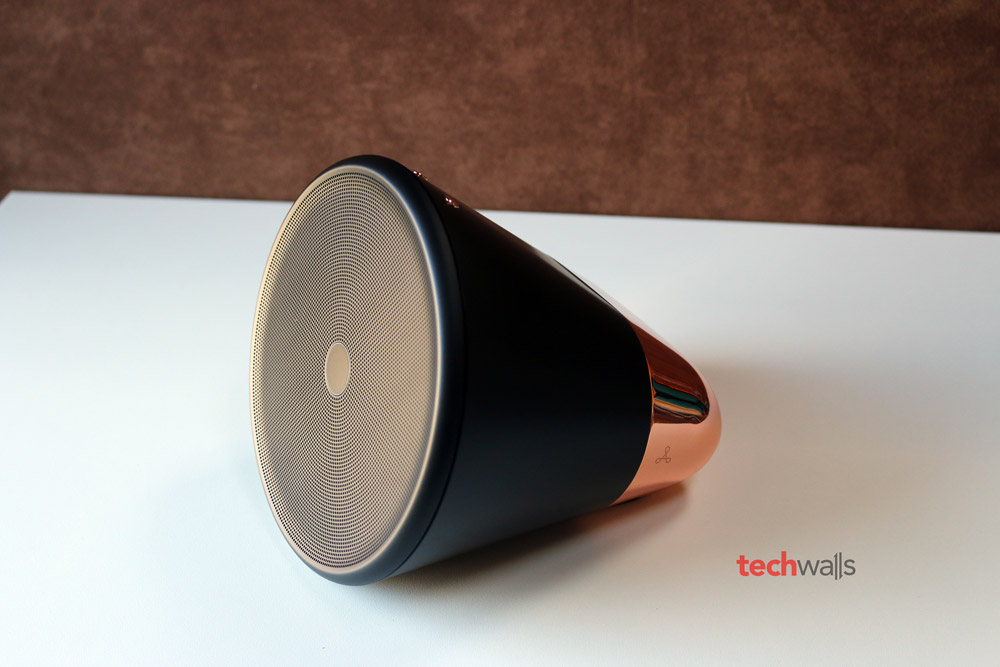 The speaker has the shape of a cone when you look at it from the sides. The speaker grille is located on the front and then it is tapered down to the copper end.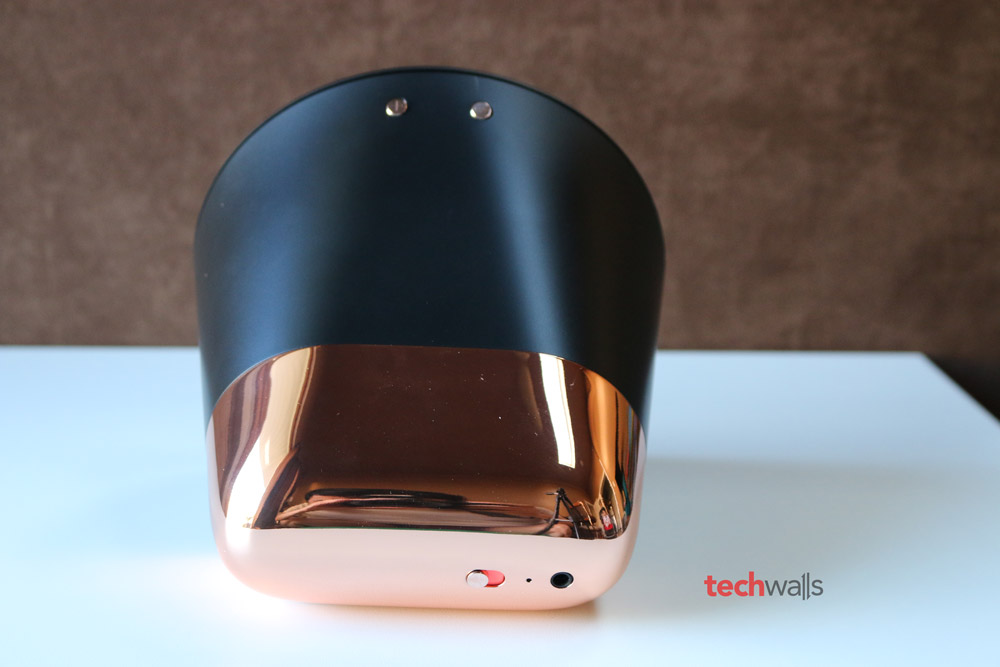 The volume up and down buttons are placed on top of the speaker. On the back, there are a power switch, a charging port and a small hole which seems to be the microphone.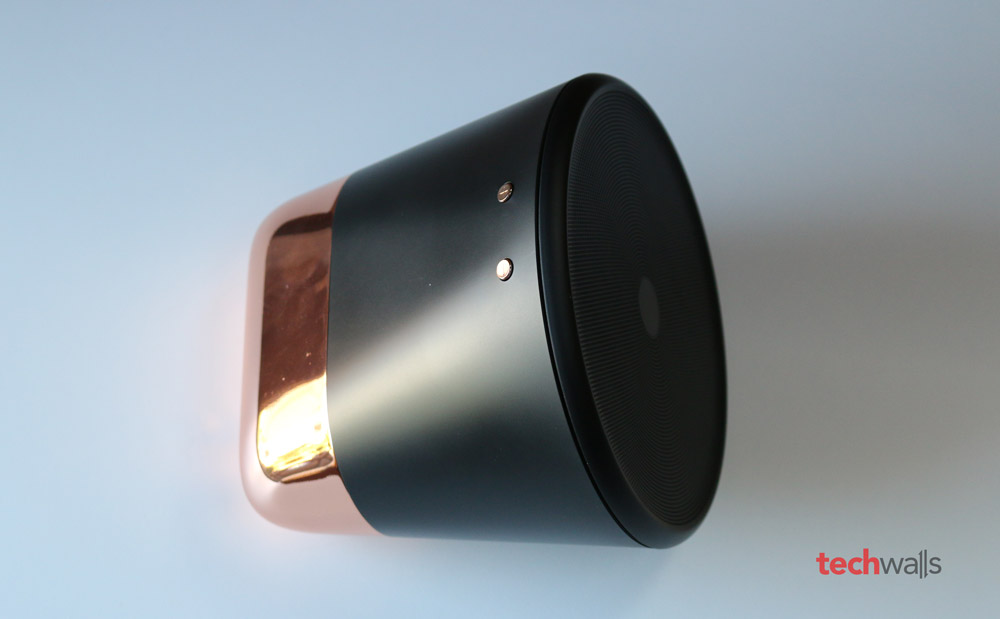 That's not all. The most important controls are located on the front grille. There is a big dial running alongside the rim of the grille, a slight turn will skip to a similar song while a bigger spin will jump to a completely different song. You can also find a multi-function button and a LED indicator at center of the grille. The button can be used to play/pause. Apart from that, a long press will open the voice command mode and you will see the LED light turns blue. You will be able to speak to the device and request any song, artist, album or radio station.
At the moment, I just can play content from Rdio, internet radio stations, and podcasts. I'm a little disappointed because I'm using Spotify and it is not supported. To get the most out of the speaker, you will definitely have to purchase the Rdio Unlimited subscription which costs $10/month. I tried the free version but many songs couldn't be played and I just could skip 6 times per hour. Rdio also has a big music catalog, so I have no problem listening to my favorite songs (some songs couldn't be found occasionally and of course, still no 1989 by Taylor Swift). When the Cone can't find a specific song, it will play something similar, for example, when I asked for Blank Space by Taylor Swift, it will play a song from her very first album. I'm really impressed with its voice recognition technology, I don't have an American accent but it still works perfectly. I can say some specific commands like "Play Justin Timberlake", "Play True Blood by Justin Timberlake" or "Play the album V by Maroon 5". Moreover, some generic commands like "Play baby lullaby", "Play Christmas Music", "Play Kid Songs" also return corresponding playlists, however, sometimes it can play instrumental versions which are not desirable. Besides, the generic requests don't work well all the time. When I asked "Play Christmas music by Andrea Bocelli", it could pick the Blue Christmas song but the next song is no longer a song by Andrea. I guess Aether still has a lot of works to do with those kinds of voice commands.
It is said that the Aether Cone can learn from your listening habits. Specifically, it knows that you love a song when you finish the whole song or when you crank up volume, it will take notes when you skip a song or change to something completely different, so it might avoid those songs/music genres in the future. One day before Christmas, when I turned on the speaker and hit the Play button, I expected it would play some Christmas tunes but it didn't. It seems like the Cone is still not smart enough to know what I want to listen.
The Cone can be called a digital music player because it doesn't need to pair with your mobile device. You can install the app on your iPhone, iPod Touch or iPad to play, pause, skip songs, view the current song, artist information, view battery level and control equalizer, but it is not mandatory. You still can play music without an iOS device. The Android version hasn't been available yet but you might see it soon in 2015. The Cone is not Android friendly as it supports AirPlay for Mac and iOS devices only. Therefore, you can use the Cone as a wireless speaker for Apple devices only and they must be connected to the same Wi-Fi network, there is no Bluetooth connection on the speaker.
Audio Quality
I expected the audio quality of the Cone would be outstanding because this seems to be a high-end speaker. Unfortunately, it fails to meet my expectation. The Cone sounds good but it is not better than some cheaper wireless speakers like UE Boom or iLoud. You can check the sound quality in the video below, I used the Audio-Technica AT2020USB Cardioid Condenser Microphone which is placed 6 feet away from the Cone to record the sound. The reproduced sound can't be accurate but you can get the idea of its sound signature.
The sound is loud enough to spread through all rooms of my house, however, I felt quite uncomfortable cranking up the volume because its sound is not crisp and bright enough. The sound imaging is narrow, it emphasizes on low frequencies but you won't be able to see a tight and punchy bass responses. The mids lack of details and transparency and it makes the speaker less enjoyable at loud volume level, it sounds somewhat similar to my Auvio PBT1000.
Conclusion
Pros
Beautiful minimalist design.
Easy to play and discover new music.
Voice commands work fairly well.
Works as an independant music player and doesn't require a smartphone/tablet.
Cons
Not Android friendly, no Bluetooth connection.
Average sound quality.
Hefty price tag.
The Aether Cone is now available for $399. Many consumers won't be able to justify the premium price tag, however, I think the Cone still has its own market. The fact is that I am using it more than most other wireless speakers because it is fun and very easy to start playing music. Instead of complicated processes on other speakers, including turning on the speaker, turning on smartphone, checking Bluetooth connection, then figuring out what to listen to, the Aether Cone can be ready in just 1 second as I just need to turn it on and press the Play button. Its audio quality can be mediocre but I'm placing the beautiful speaker in my living room and often turn the volume very low Therefore, nobody can see the differences and it works great as gentle background music. If you have the same purposes, I totally recommend the speaker.
Disclosure: We might earn commission from qualifying purchases. The commission help keep the rest of my content free, so thank you!