The world of technology is growing rapidly. High Definition Television (HDTV) is the modern way of viewing TV and it's becoming more popular now. The customers of HDTV think that it is amazing because of its high-quality display of movie-theater.
If you really want to enjoy your TV viewing, then the HDTV antenna is a very nice option for you. The cheapest type of HDTV service is known as the over-the-air (OTA) service. The OTA involves using an antenna to receive HDTV signals that are broadcasted. In this post, we are going to be looking at the 10 facts about the HDTV antenna that you need to know. This information will help you to take the decision whether the HDTV antenna is the best choice for you. These facts are as follows;
1. HDTV antenna has stronger and more superior broadcast signals to satellite and cable
You don't need to pay a subscription fee to get an OTA television service. Its sound quality and images are more superior. Additionally, OTA broadcasts don't make use of the signal compressions used by the satellite and cable. This is why it gives you an unadulterated service of high definition television.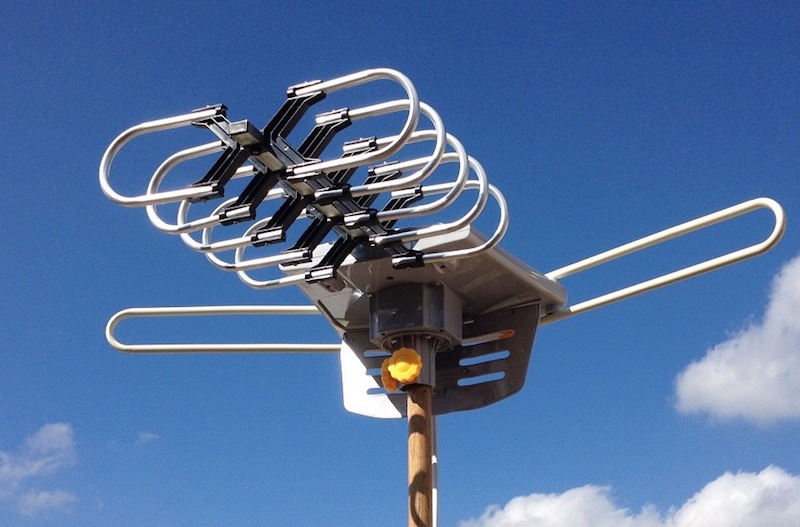 2. HDTV antenna unlocks new local channels.
Satellite and Cable providers don't always offer all the channels that are available in your local area. In fact, many broadcast stations provide free additional regional programming. These channels cover local news, movies/entertainment, sports, children's programs, cooking shows etc.
3. HDTV antenna transmits free over-the-air signals.
There is no need paying for some of the content gotten from the satellite or cable. Every local news, sports, entertainment, sitcoms, weather, kid's show, cooking shows, and movies are made available free of charge with an antenna.
4. Check your HDTV antenna before you purchase.
Most rural areas don't have signals for hi-def broadcast, so you have to check whether or not over-the-air services and signals are available in your neighborhood before buying the HDTV antenna.
5. There are both channels, and sub-channels.
Every broadcast station sends out signals on a channel (frequency). This channel will offer many 'sub-channels' that contains your programs. For example, a frequency broadcast on channel 8, would appear as a sub-channel group 8.1, 8.2, 8.3, etc., on your TV. Every channel, apart from its primary service, can broadcast additional program for 1 to 5 sub-channels at the same time.
6. HDTV antennas are a big compliment to any satellite or cable subscription.
Complimenting your TV set with an HDTV antenna will be essential any time your satellite or cable blacks out. During unfavorable weather or other emergencies, you will always be informed whether you will be able to receive OTA signals to your TV. The HDTV antenna service is similar to that of radio; its frequency is less subject to interruption.
7. HDTV antennas have both interior and exterior varieties
You have to bear this in mind before purchasing an HDTV antenna. The exterior antenna receives better broadcast indicators than the interior antenna, but the interior one is easier to handle for and is more secure during unfavorable weather condition.
8. Buildings bend, tall trees, and hills can deflect and weaken its signals.
The HDTV antenna signal has a 'line of sight' type of signal. Typically, the more you raise your antenna, the better signal you will receive. Antenna signals travel through the wall and another surface. So if the signals are obstructed, they will become weak and disrupted. Any signal that is unobstructed will be very bright and clear.
9. HDTV antennas are highly affordable.
The HDTV antennas are very cheap and affordable. They vary in cost from $25 to $150, so you can choose the one that best suits your pocket. Also, no price is attached to over-the-air HDTV solutions. You will receive broadcast signals (if any are available in your area) immediately you set up your antenna.
10. HDTV antenna will not perform magic.
HDTV antennas come in two forms in terms of its signal direction- Directional (narrow focused) and Omnidirectional (multidirectional). If you're residing in a rural area that has poor signals, a directional HDTV antenna will be a nice option for you so that you will be to change the antenna direction and have a greater chance of receiving high definition signals. If your area has strong and better signals, then go for the Omnidirectional HDTV antenna.
HDTV antennas also have varieties of sizes and shapes. Every one of them is designed for a specific condition. Well-designed antennas, like the patented Tapered Loop, are tuned for specific geographical challenges and frequency ranges, which will enhance your signal quality.
Conclusion
If you want to enjoy your TV viewing, HDTV antenna will help you to achieve that. Its customers appreciate it because of the quality of its movie-theater photo. The use of satellites and cables has their advantages and disadvantages, but the HDTV antenna is the best option for high-quality TV service. These 10 basic facts discussed in this post will help you to make the right decision while choosing the HDTV antenna that will meet your specific needs.
Disclosure: We might earn commission from qualifying purchases. The commission help keep the rest of my content free, so thank you!