Wearable technology is a phrase that many of us may not be entirely familiar with. In simplest terms, this is a technology that involves devices such as watches, patches and other augmentations that can be worn on one's body much like any other accessory.
Although such advancements have only been around for a few years, they have already made a lasting impression upon our lives. What are some of the main benefits that this type of technology can provide and what can we expect to experience in the near future? The answers to these questions will prove to be quite surprising.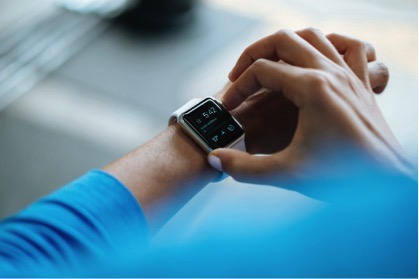 Convenience
The most apparent benefit is that this technology will provide us with access to the services that we are most accustomed to. We can check email, update our social media status and (in the near future) even purchase goods and services through such devices. No longer will we be required to haul around a bulky laptop or fall victim to the whims of an older smartphone with poor reception.
Marketing
From a business angle, wearable technology offers a host of advantages. Much like the recent advancements in the field of m-commerce, wearable devices will support an even stronger relationship between a company and a client. Communications can take place without any delay and marketers will be able to understand important metrics such as location and buying habits.
Health and Fitness
This is one of the applications that we can currently enjoy. Many wearable technologies are meant to be used to monitor our health. Variables such as blood pressure, heart rate and jogging times can be displayed and recorded for future analysis. However, advances in the near future thanks to access to high-speed resources such as fibre broadband may prove to be even more interesting. We could come to a point when "virtual" doctors will be able to monitor our health in a real-time scenario. This is very important for those who may have existing medical conditions or live on their own. If a problem occurs, the proper emergency services can be notified even if the victim is found to be unconscious.
Security
Some analysts have observed that another windfall of these devices is their ability to provide second-to-none levels of personal identification. For instance, a small "patch" on one's forearm may serve to ultimately replace a traditional key. We should keep in mind that these benefits are still a few years off. Nonetheless, there are already a few systems that now use this principle in terms of vehicular access.
This type of technology would have been considered science fiction only a mere decade ago. Still, we should fully expect it to become an even more integral part of our lives within the next five to ten years. While some have raised understandable privacy concerns, the truth is that these advanced communications could eventually come to replace the personal computer, the laptop and even the smartphone. Only time will tell!
Disclosure: We might earn commission from qualifying purchases. The commission help keep the rest of my content free, so thank you!