Almost all budget projectors I've tested have the native resolution of 720p and that was not enough for me to enjoy video content. I looked for some full-HD projectors but they were still quite expensive. The WEWATCH Vision V50 has the original price tag of $179 but it would come down to just $89 after applying coupons on Amazon. This is a crazy price for a full-HD projector, so we tested it to see if it is really a good deal.
Disclosure: We received the projector in exchange for the review. Our experienced reviewers perform thorough research and testing of different products to make your purchase decision easier.
Unboxing & Video Test
Features & Picture Quality
Inside the box, the projector comes with a remote control, a power cord, an HDMI cable, an AV cable, and a screw for height adjustment. The setup process of this projector is super simple; You will just need to find a placement for it, plug it in, connect to a video source, and start watching content. All control buttons are placed on top of the projector but I prefer using the remote control to keep the projector stable. There are also 2 dials for manual focus and vertical keystone correction (up to 15 degrees). My only problem with the design is that the plastic lens cover is a little difficult to remove sometimes.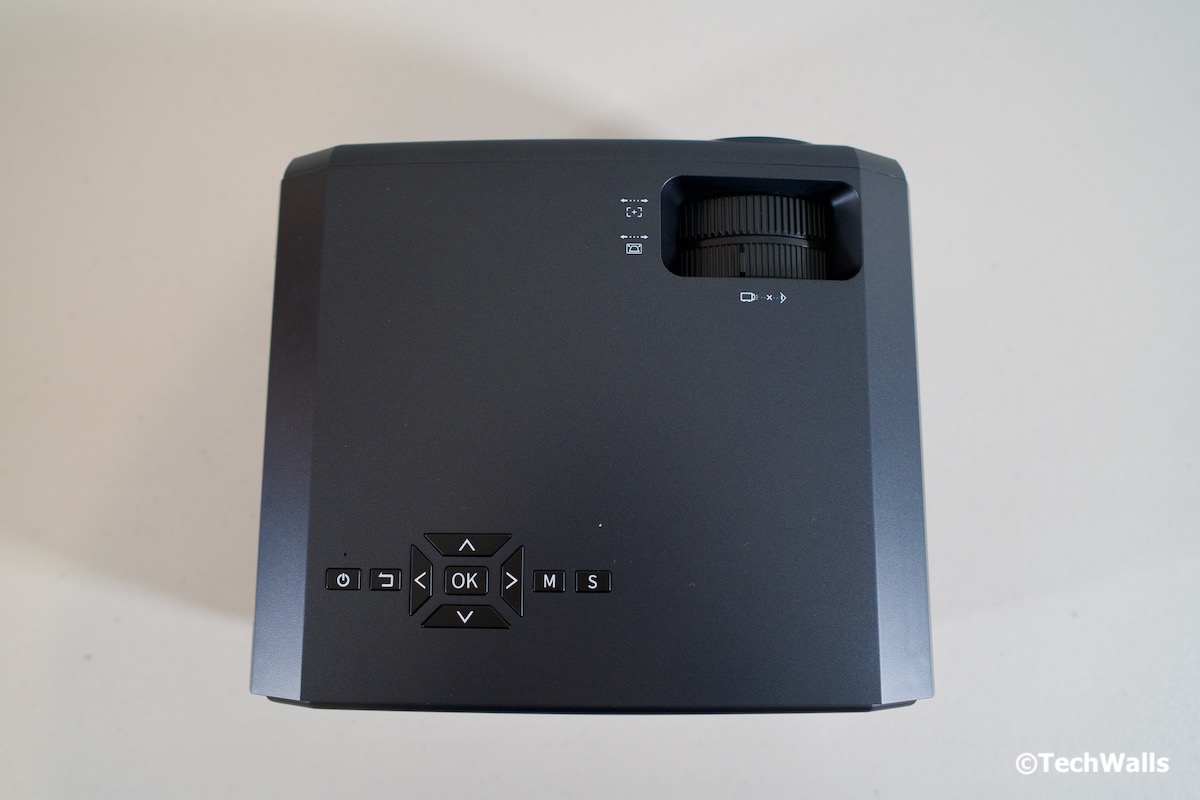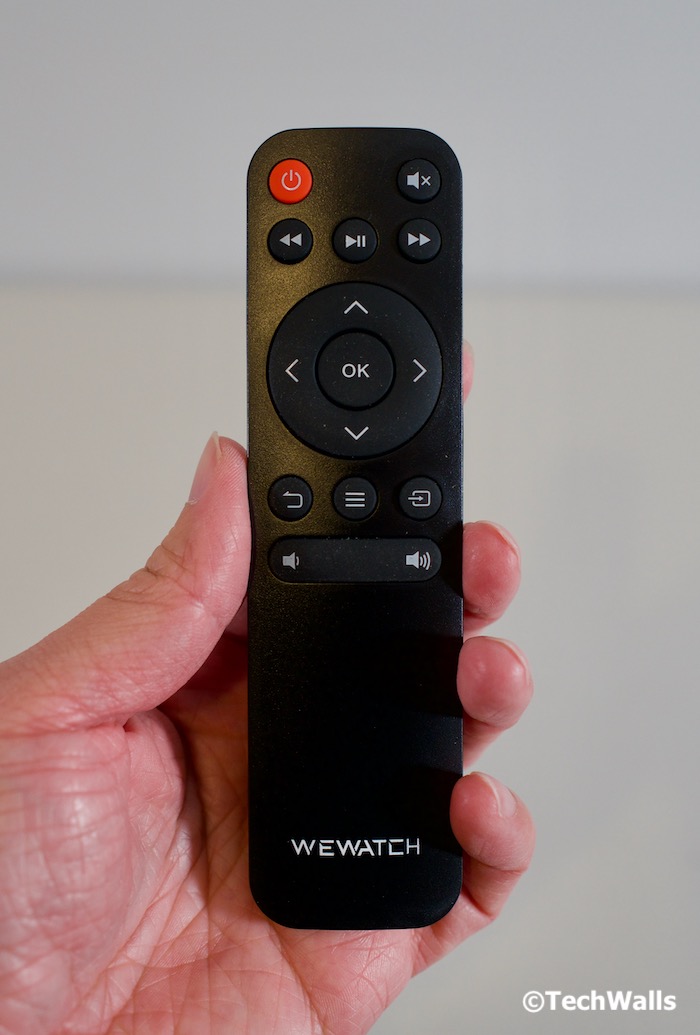 The WEWATCH features a Wi-Fi connection with Android or iPhone, however, you won't be able to cast content from your phone to the projector due to copyright protection. Therefore, if you want to watch content from video streaming services like Netflix or Disney+, you will need to plug a Google Chromecast, Apple TV, Roku, or Amazon Fire TV Stick to the HDMI port. In my test, I used my Windows laptop as the video source.
The Bluetooth 5.1 connection is much more useful as it allows me to connect to wireless speakers or headphones easily. The built-in speaker of this V50 is not good enough to enjoy music or movies, therefore, I'd highly recommend using an external sound system.
There are some other connections like SD card or USB, however, the HDMI port is recommended for the best picture quality. According to WEWATCH, the product can project to a 36- to 200-inch screen but my room is not big enough to test that maximum size. I mostly projected to a 60-inch screen and sometimes move the projector further away (about 8ft away from the screen) to get a 80-inch screen.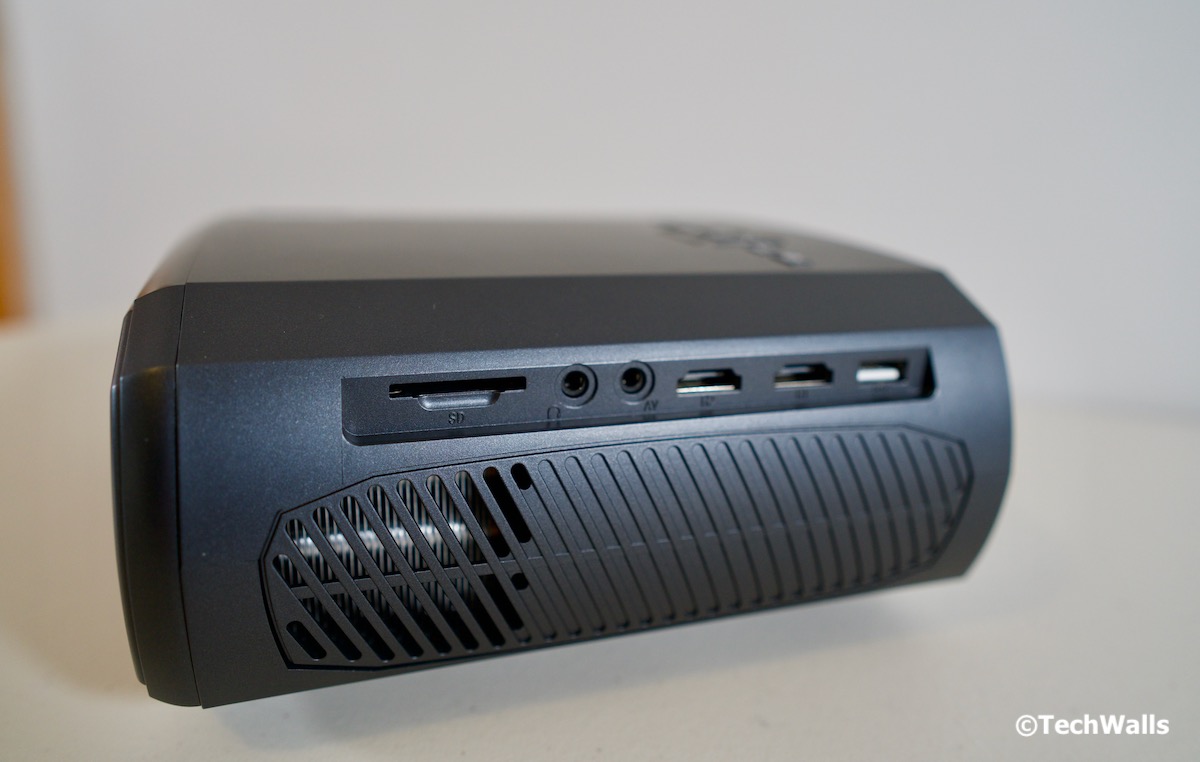 The specs of the Vision V50 are impressive, boasting full-HD 1080p native resolution, 230 ANSI lumen (Over 15000 Lux) brightness, and 1500: 1 contrast ratio. Its real-life performance didn't disappoint me. The lamp is incredibly bright and it allows me to watch movies even when the lights are on. Of course, the picture quality is at its peak when viewing in a dark room. You can check out the video test under different lighting conditions in the video above.
What surprised me the most is the 1080p native resolution. It is hard to imagine how this budget projector can deliver such bright, clear and detailed image. I watched some movies on this projector and really enjoyed the experience. Sometimes, I thought that I was watching on a TV. The performance is comparable to a $400 projector that I tested a few years ago. The picture looks really sharp, especially in the center area of the screen; It looks a little blurry near the edges but it is still acceptable because most projectors have this issue.
Overall, the WEWATCH Vision V50 is great budget projector and I hope this deal will last longer. If you manage to grab the deal or buy it for less than $100, we highly recommend it.
Disclosure: We might earn commission from qualifying purchases. The commission help keep the rest of my content free, so thank you!